April 11th 2023, Monterrey, northern Mexico.
I spent the night in a sort-of Jury's Inn type hotel in the middle of Cuidad Victoria, a city in north-eastern Mexico and a decent jumping off point for the Mexico/Texas border, if I decided to head straight for it. Not very far south of Victoria, at a place named Sabino del Obispo, there was a roadside poster showing the faces of 23 men, ranging in age from 43 to 16. The small settlement immediately beside the poster had an Appalachian quality to it, such was the level of poverty. The 23 had disappeared over the years and the posted was an appeal for any information to be given to the authorities — a Mexican version of looking for people "disappeared" by the IRA. There was no time span covering the period of their disappearing, nor individual vanishing dates — just a series of faces peering out and presumably lying in shallow graves somewhere or incinerated.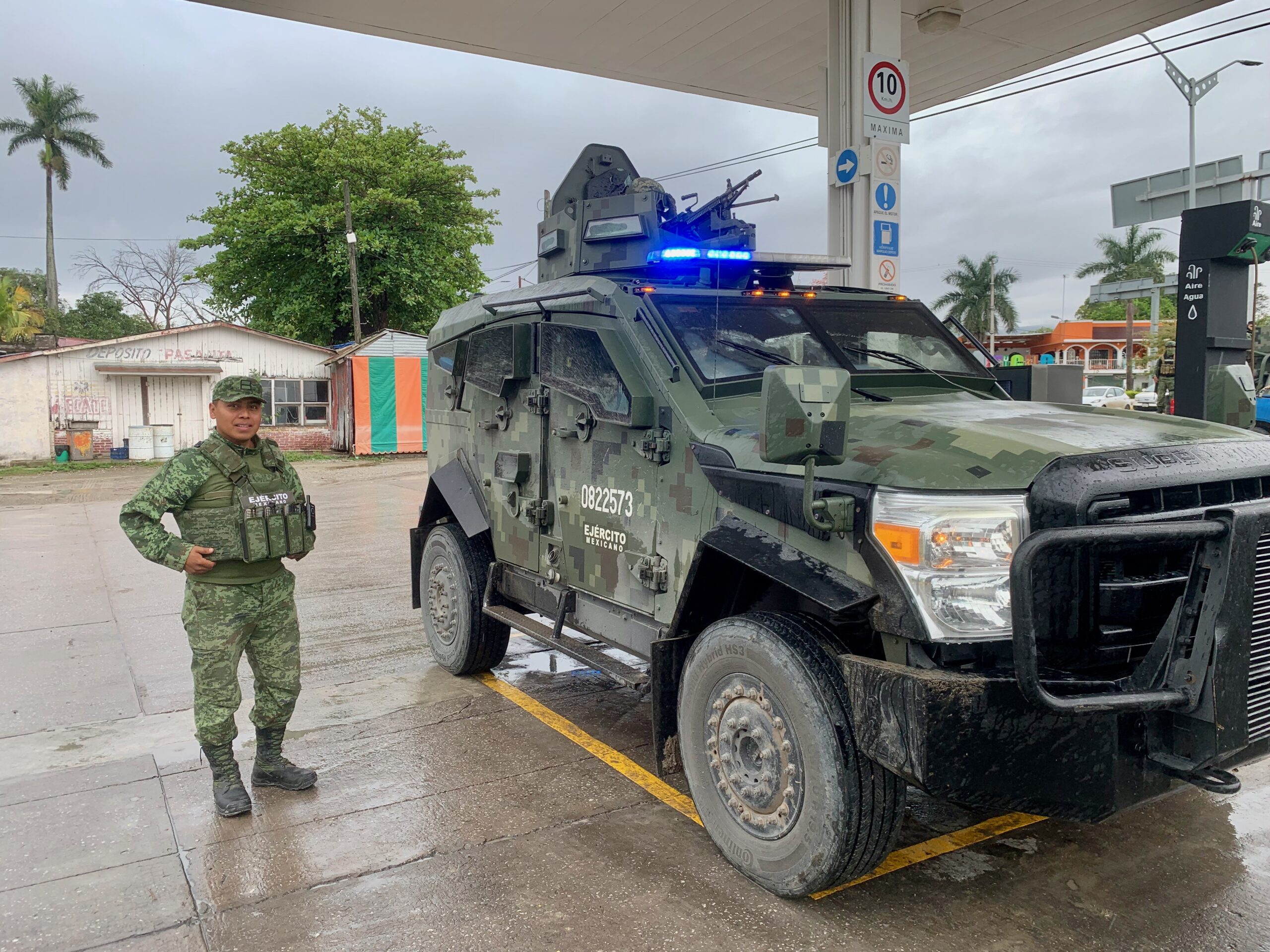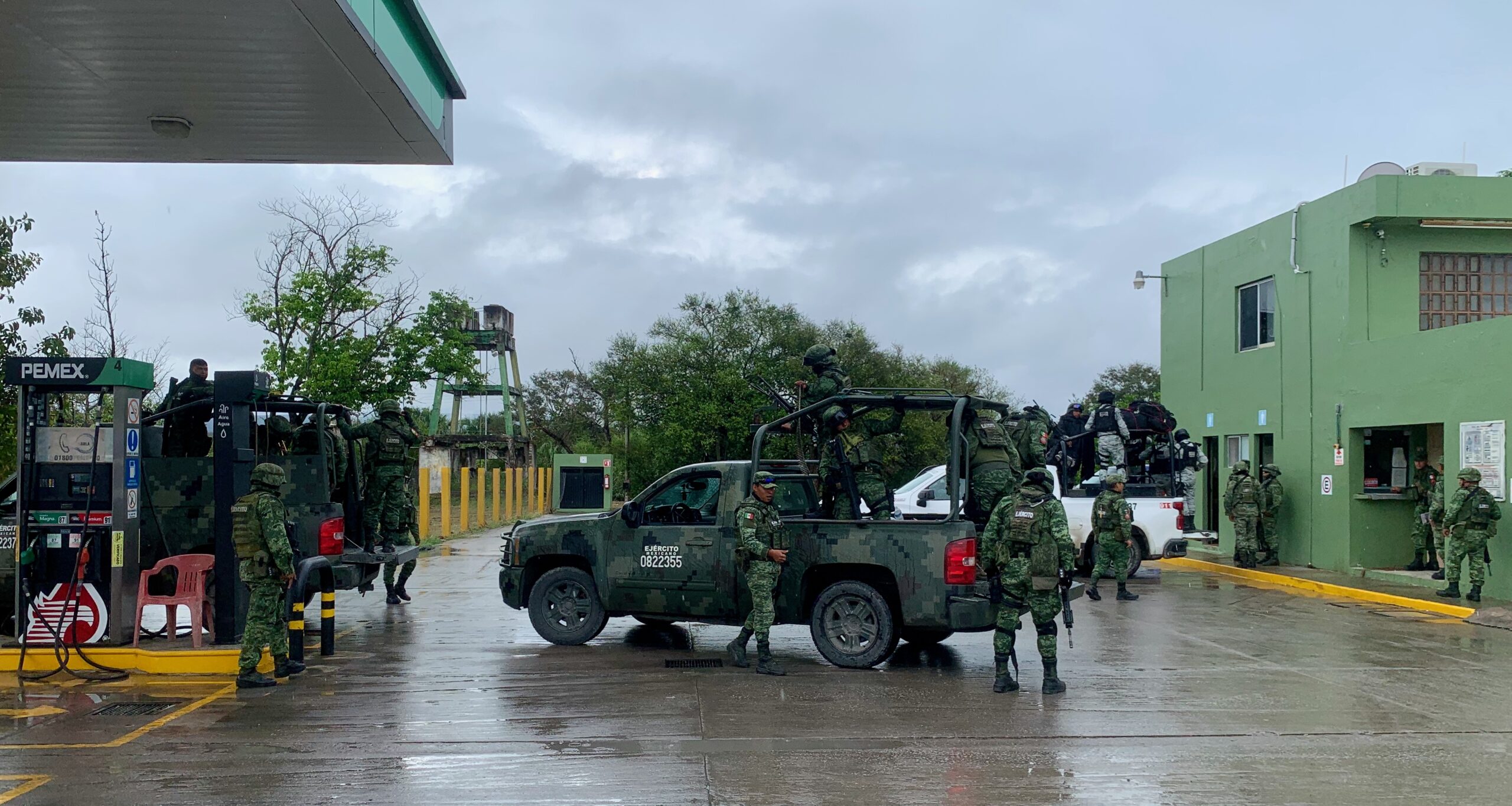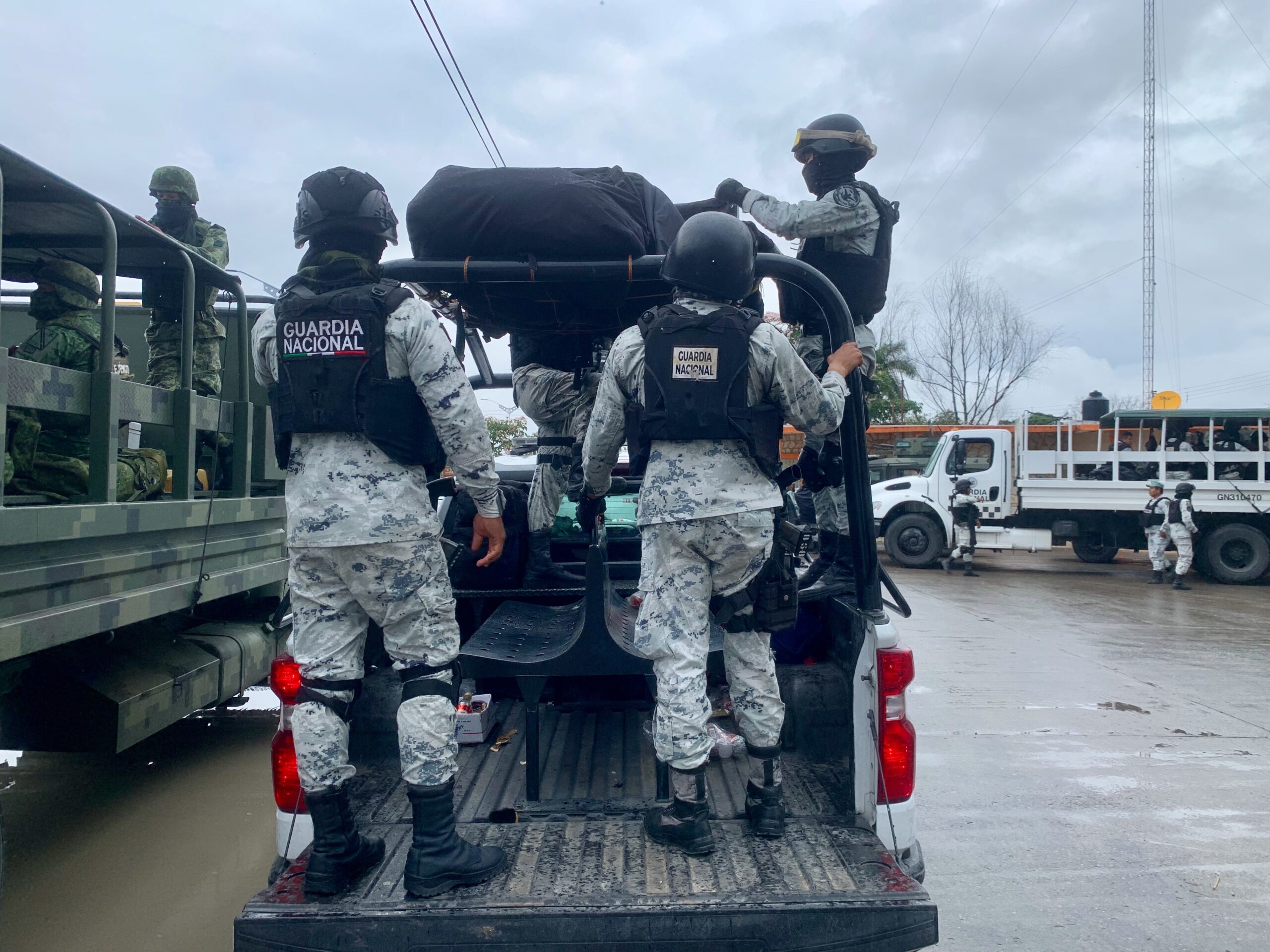 Further on and running out of petrol, I pulled into a filling station and while filling up, a major army and national guard convoy pulled in behind me. They were armed to the teeth and, as is the custom with military and paramilitary in these parts, were all clad in Robocop-style body armour protection with hinged kneecap and elbow coverings, shin and chest guards, military headgear and balaclava-style face coverings. They were friendly enough, some, though not all, even happy to have their photo taken. Yes, a senior man told me, there was a lot of guerrilla activity in this area but not now. Now, everything was tranquilo, that great Spanish word indicating it's cool, it's calm, no worries etc etc. The dullness of the landscape was relieved occasionally by a blossom tree or panoramic view of a volcanic plug mountain to the east of me.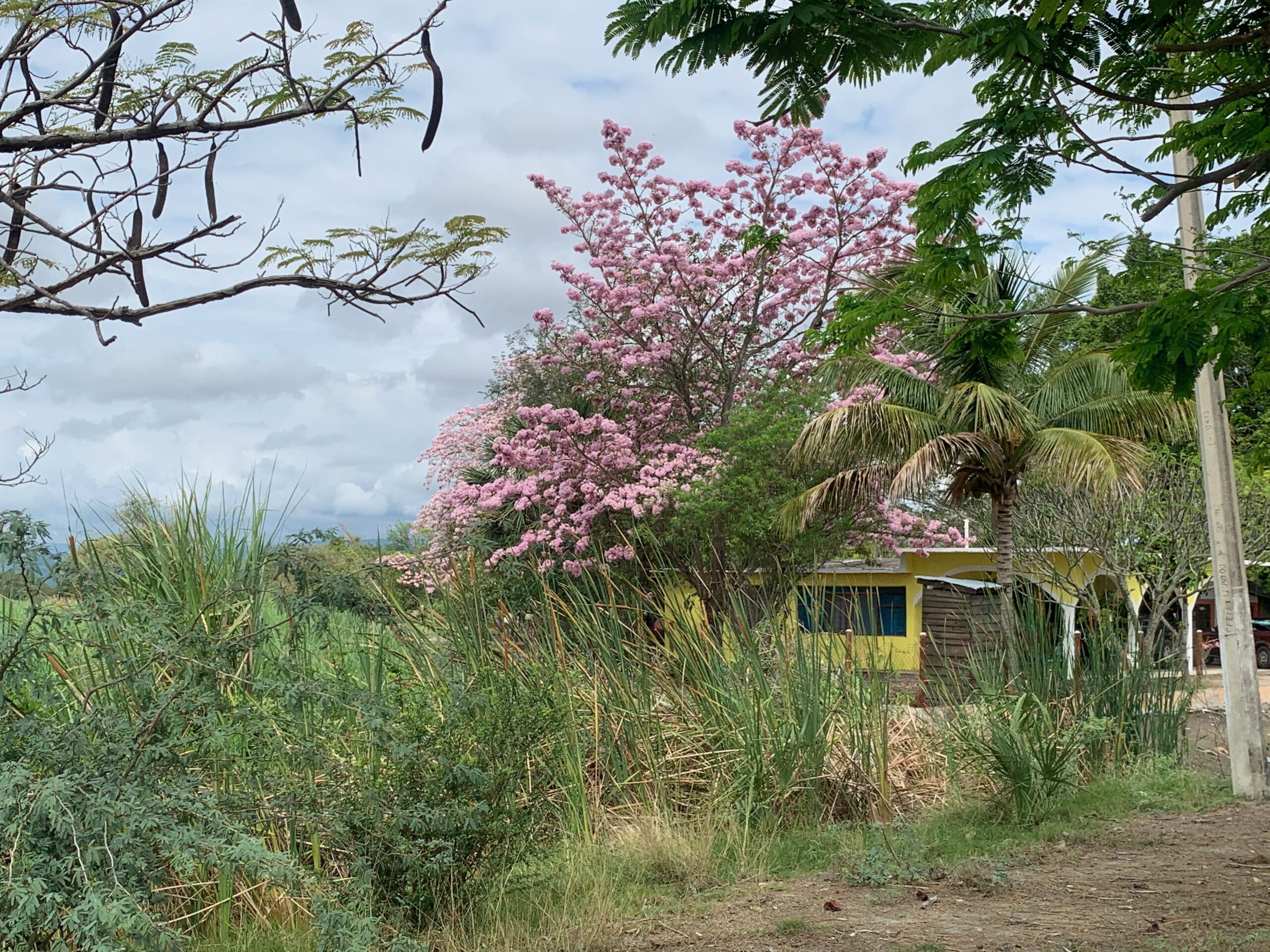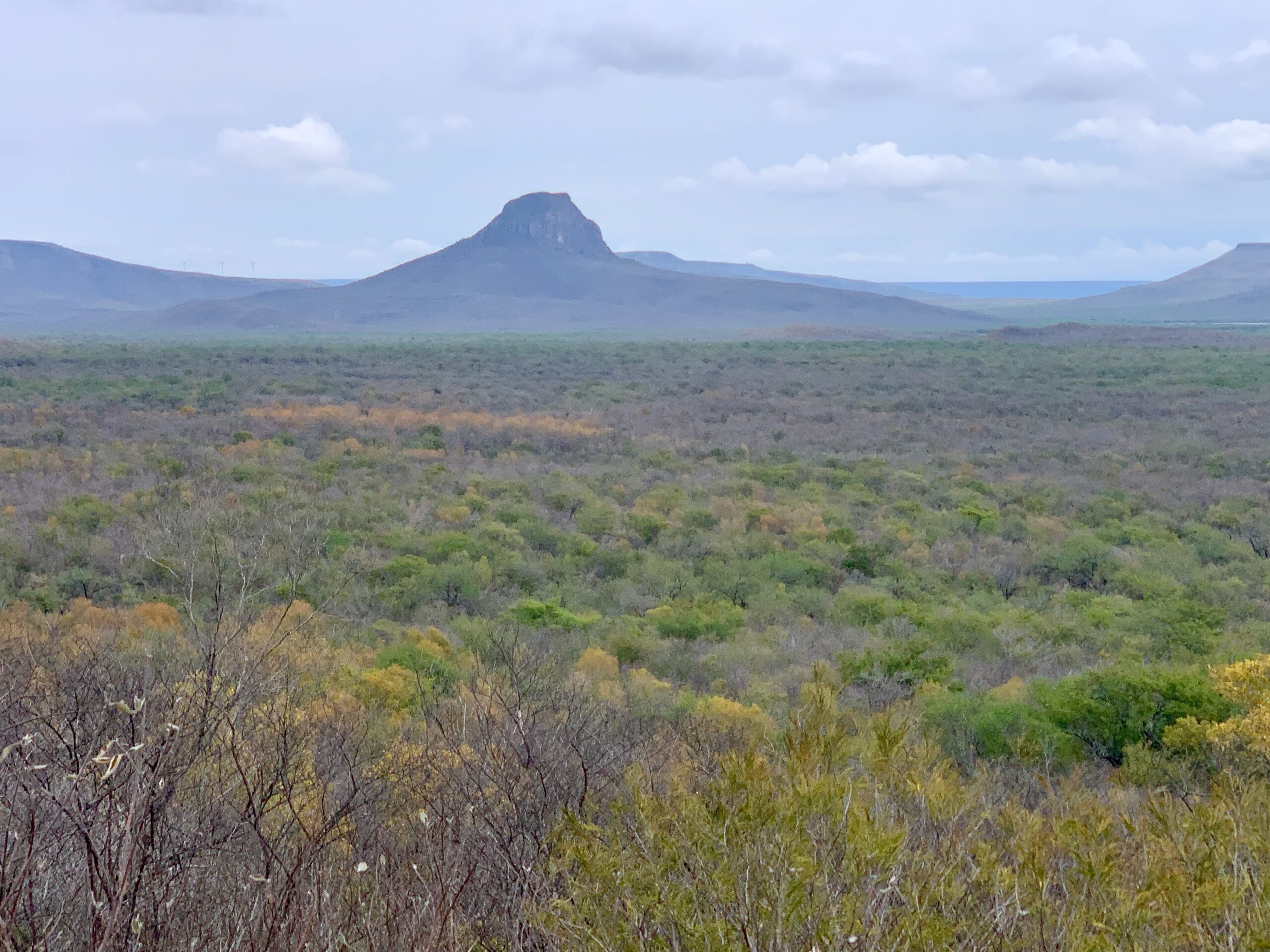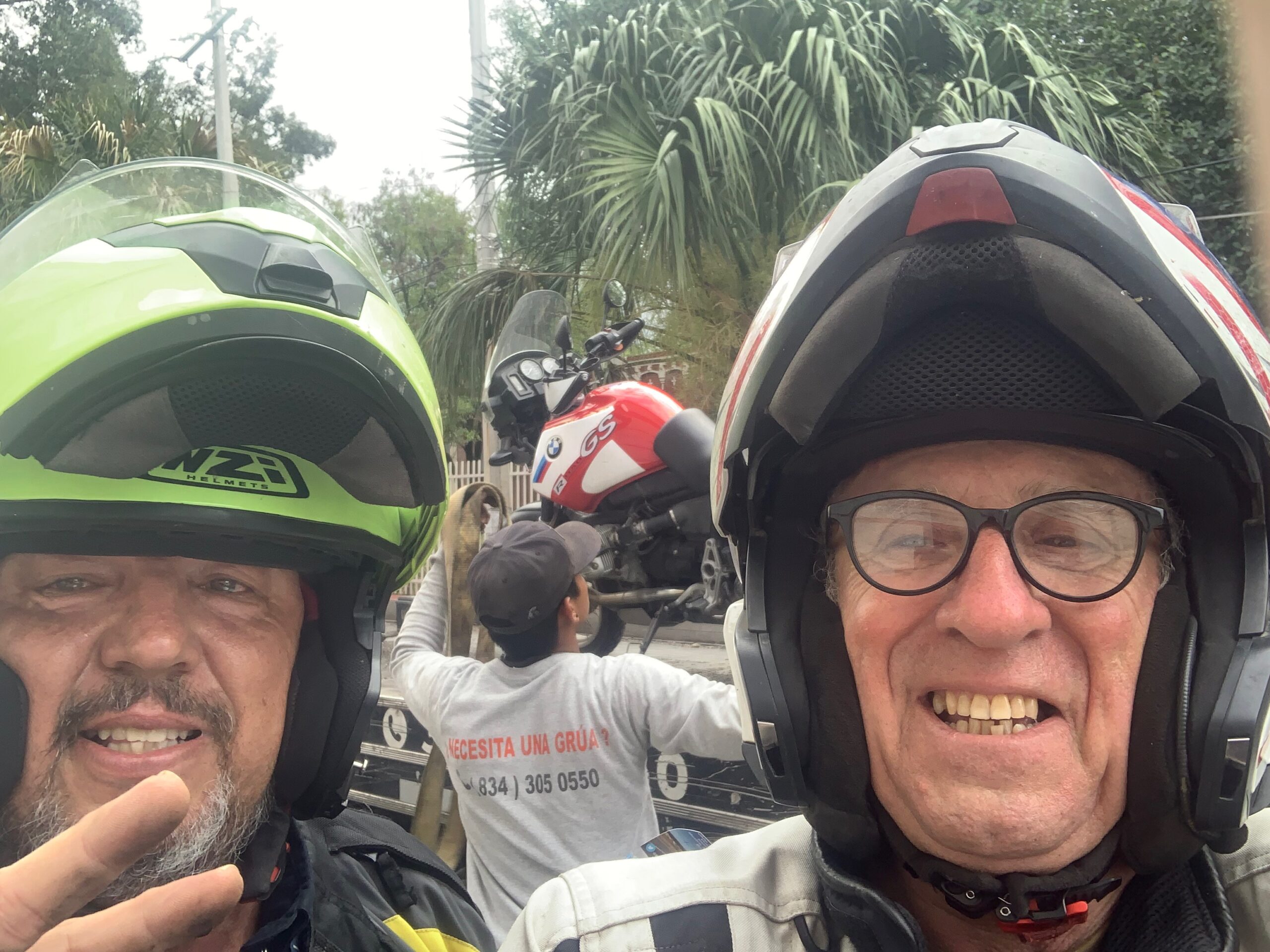 Heading off from Victoria next day, the first thing I come across is Carlos, a biker not much younger than me, pushing his GS1150 towards the back of a pick-up truck. The 1150 has a special place in the GS pantheon partly because when first made (in 1999) it was a great leap forward in BMW design and technology that today is the GS Adventure (my bike), and partly because it was the bike used by Ewan McGregor and Charlie Boorman in their 2004 road trip, The Long Way Around. The man pushing the bike was Carlos de la Garza and I could see he was struggling so I stopped to help. The bike was eventually winched onto the back of the low loader and would not take long to fix: it was just the clutch cable that had snapped. Carlos thanked me, we hugged, exchanged details and I rode on towards Monterrey.
The ride was pretty uneventful (thankfully), through rather dull and mostly flat countryside, with a flank of good-sized but not huge mountains to the west, their peaks shrouded in low cloud. Much of the plain was given over the sugar cane production and to fruit trees, small green lemons in the main as far as I could tell. At one stage the road passed by an industrial scale cattle ranch. Thousands of animals were crammed into large pens on the shoulder of a slope and it looked to me likely to be their last place on earth. There was no grass — too many feet for that — and so I assume they were munching grain or something similar. It was not a pretty sight.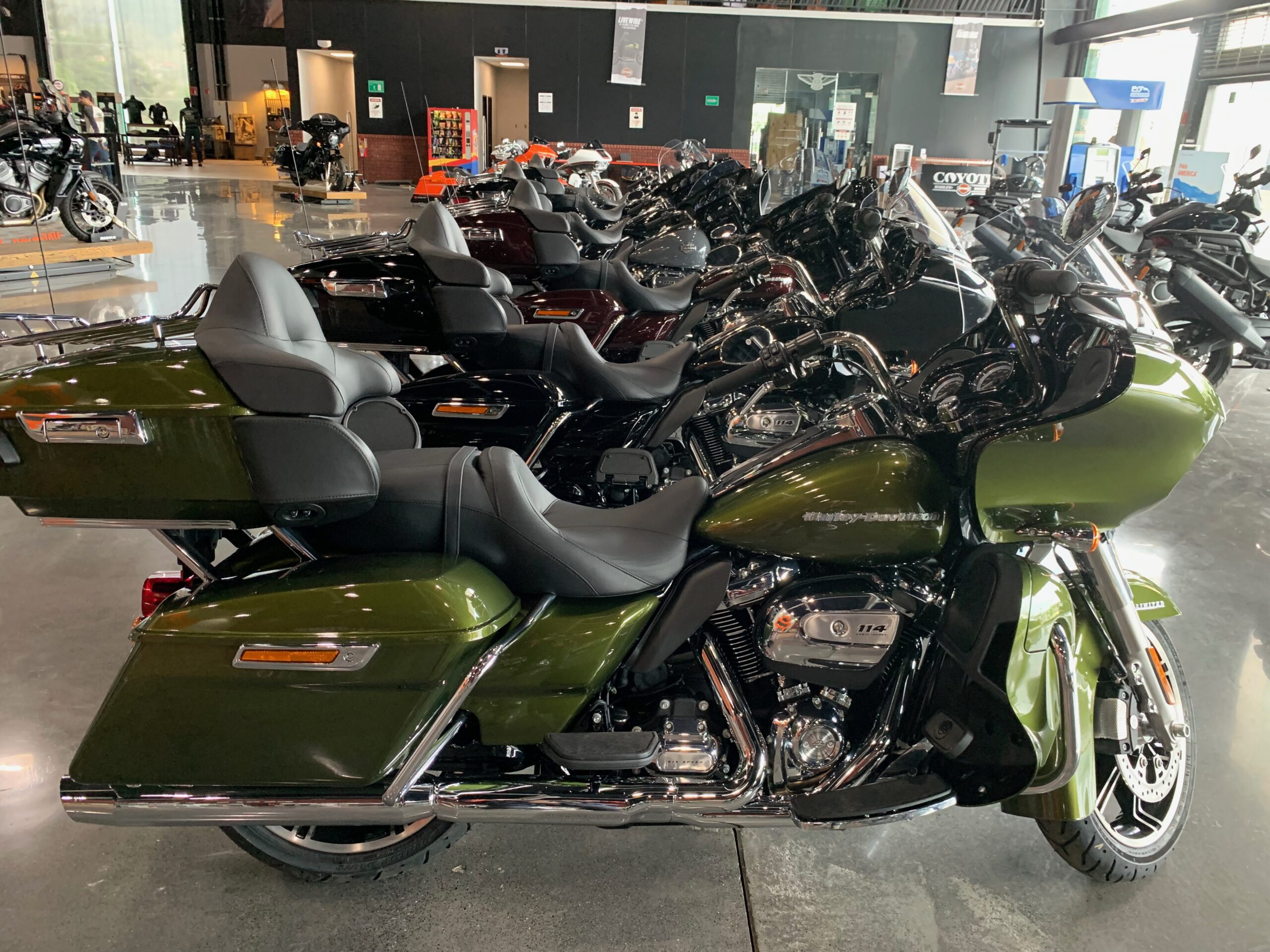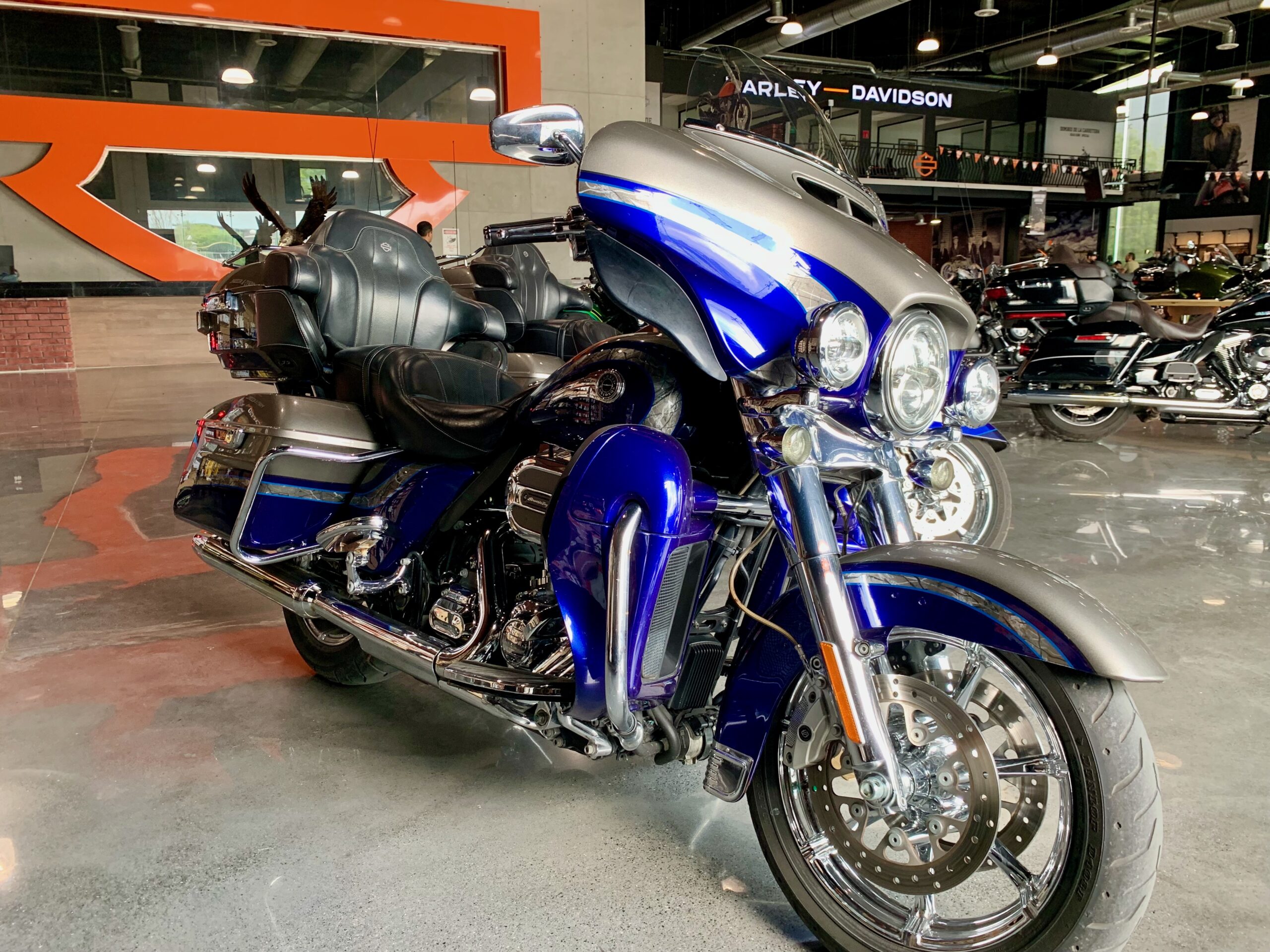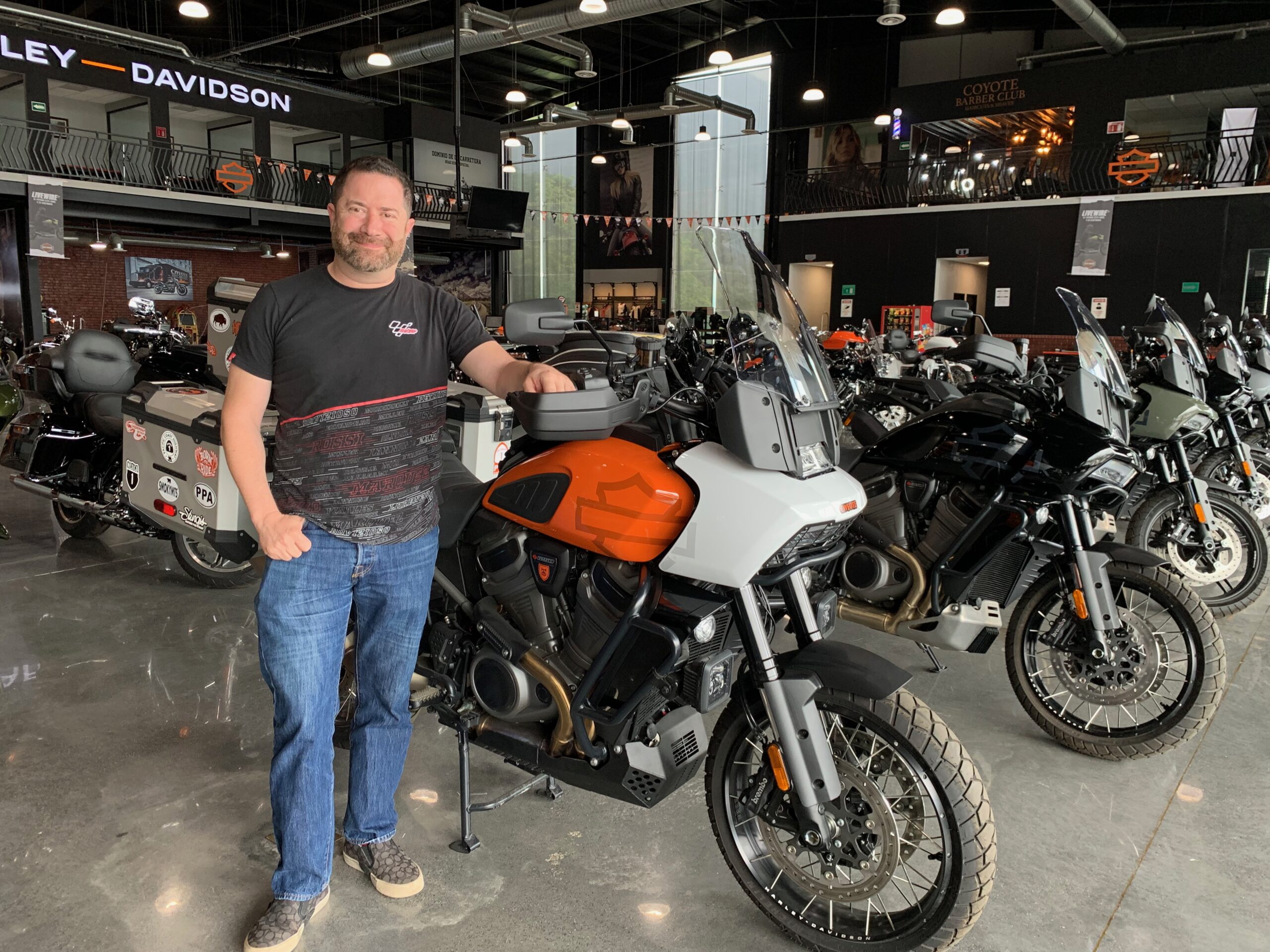 About 20 kilometres outside Monterrey as the road, Highway 85, swept down and to the right, there was one of those big corporate signs — a single stem giant pole with the company name/log on top. It was for Coyote Harley-Davidson Motorcycles and I thought, yeah, we'll have a look at that. I turned into the carpark and stopped right in front of the entrance, switching off the engine and dismounting. Inside, one is enveloped immediately in the Hayley-Davidson womb-like experience: it's all black and orange and everything, everywhere says Harley — even the barber's shop. What is it about Harley owners and their hair?!?!?
The selection of vehicles was impressive and really well displayed, giving enough space to each model to walk around it and have a really good look. Which was what I was doing when Fernando Buentello asked if he could help. I said I was just looking, that I was from the enemy camp, was a journalist and travelling to Alaska.
Where to, he asked.
Prudhoe Bay, I said.
I go there every year, he said.
Get away! Every year?
Yes, he goes there every year, though not last year. Fernando basically runs Coyote Harley — I'm not sure if he owns the franchise but he runs the operation, as presented to the public. This weekend, he is hosting about 30,000 bikers, many of them from Los Angeles, who will descend on Mazatlan Sinaloa, on Mexico's Pacific coast, to be met by bikers from various parts of Mexico, including Monterrey. It's the largest biker rally in the country and Fernando invites me to join them as he shows me around the dealership, the largest Harley dealership in Latin America. The place is absolutely fantastic — a total Harley experience, if that's your thing. Every type of Harley is there, from the flying armchair, batwings of the LA freeways, as I call them, to the newer enduro model, the Pan America, that Harley is using to try to break into an end of the market dominated by BMW and KTM. Out back, there is a huge Bar-b-Que area where visiting bikers can hang out.
I ask Fernando about the best place to cross into Texas — immediately north of here, or east at Matamoros? He recommends going straight north and crossing not later than three or four pm. "The problem here is the drug dealers try to use migrants as couriers," he said, urging no stopping until the actual crossing.
He invites me to have a good look around and stay as long as I want, but he must be off to arrange the big outing. There is a dinner later, I am welcome to join. In the meantime, he offers to have his workshop wash my bike, which is 1,000 per cent filthy, at this stage. Delighted, I accept with thanks — a really nice man and what followed was nothing to do with him, or Harley.
Outside in the — largely empty — car park, there's a bloke who introduced himself and says he a journalist and something along the lines of Mexico's biggest/most popular YouTube journalist. Can he interview me? Sure, I say and so we end up chatting for maybe 20 minutes about my trip, why I am doing it, what I have like, and what not, and what I have learnt. I explain that I am writing for the Irish Times, my old newspaper, for my own website and also doing a book. He wants to know how I am "monetising" my work. I'm not, I explain, I concentrate on the work itself. How long will I be in Monterrey? Maybe three days, I say, adding that I want to do some work while here.
He said that he and his camera-operator colleague can get me accommodation for free in a really nice motel in close to the center of the city. It's not like the motels I see all along the highway, is it, I ask? No. no, they say. It's a really good, clean place used by lots of bikers. It would be their pleasure to have me stay there. They ping me a locator, tell me to ask for Alfonso and, after collecting my fantastically clean bike, I thank them and head off.
It takes a while, but eventually I find the motel and it is as my nagging doubt had it — a brothel. I've seen so many along the way all through Latin and Central America to know exactly what these places are. I drive in because that's the only way to turn around and immediately, three or four young women approach, smiling and apparently delighted, like really pleased, to see me — me! It's all hola, hola! and that look that says you can spend the night with me and we're gonna have sooooo much fun together. Each of them was under 25, at a guess, and I wondered whether any of them started out as a migrant from somewhere further south.
I asked was Alfonso here, just to be 1,000 per cent sure I was not barking up the wrong tree and there was some lovely biker hostel around the corner. No, he was away right now, I was told, but we can look after you.
No, gracias, I said, turning the bike around and driving out. Before leaving the vacinity, I texted by erstwhile professional colleague. "This is a brothel. Not for me, Gracias . . . " and then a very unsmiley face. I drove away absolutely furious with the little prick.
Later that evening, the text exchange continued.
Him: ok. . . is very secure.
Me: Security not the issue. Morality is the issue; exploitation of women and young girls is the issue. Would you be happy for your daughter to work there? I withdraw permission for you to use any of the interview or images you made of me today. You are not a journalist; you are a pimp.
Him: is not that kind of place … trust me …
Me: Goodbye.
Him: but I you no agree with the interview is ok. Don't worry, i do not gonna used.
Me: Good.
Him: i really hope you believe me. Anyway im at your orders. Goodbye.
He has 174,000 subscribers on YouTube and over 15,000 followers on Twitter. Isn't it just great how anyone can be a journalist these days!