May 19th 2013, Anchor Bay, California.
The coast of central California as one progresses north takes one's breath away. Ragged with cliffs and inlets, the Pacific — blue and sparkling on this sunny , early summer day — has carved out bay after little bay and the land rushes down from the ridge of mountains that parallel the sea.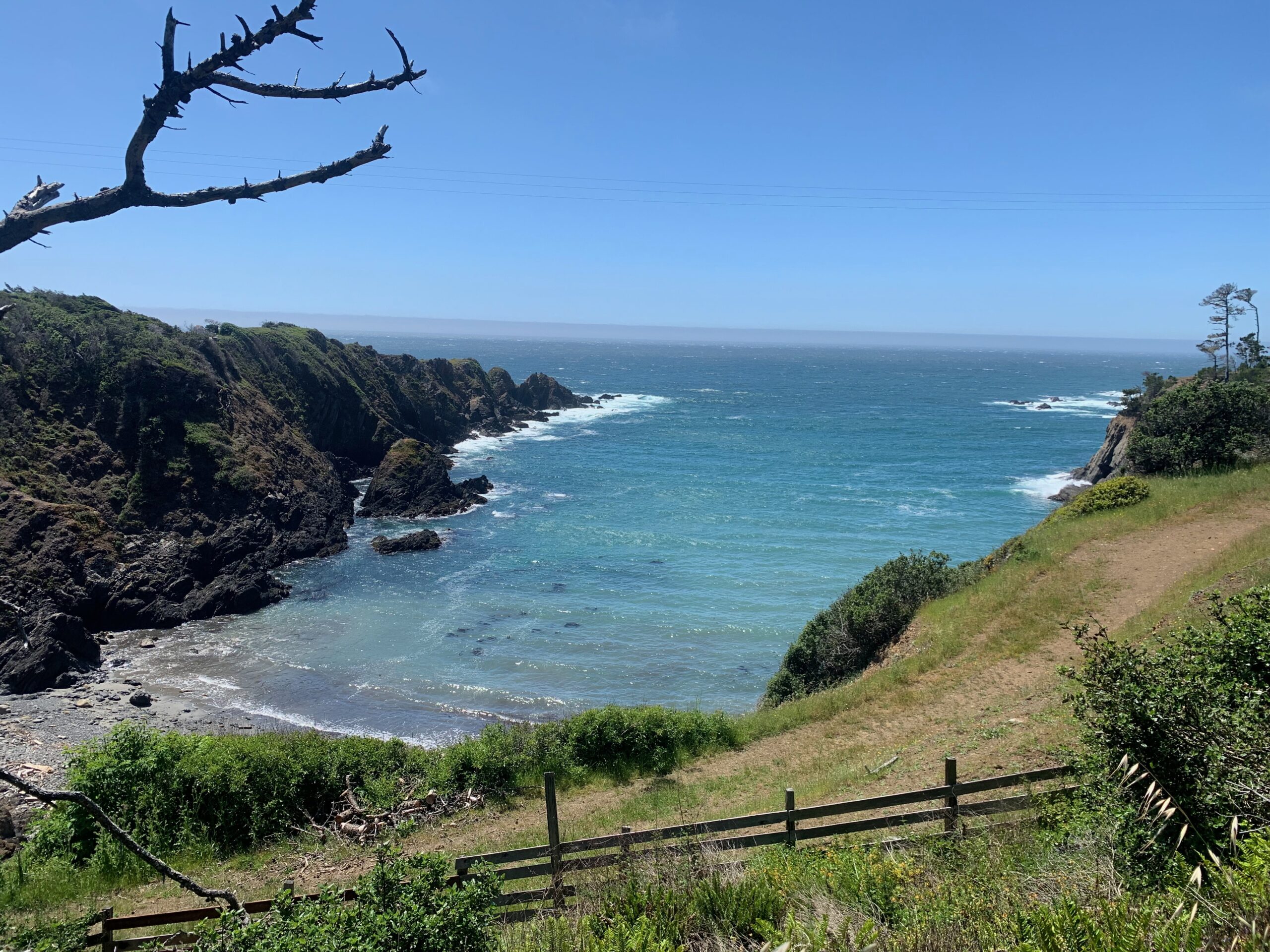 I stopped in Gualala outside the supermarket where I wanted to get a bottle of wine and a tin of something or other for dinner, knowing that wherever I found to camp probably would not have a shop. As I got off the bike, a fellow approached me and started chatting — about biking, about the area and about what was I doing. And within a sentence or three, he was inviting me back to his house and suggesting I could drink my wine there and not to worry about finding a campsite 'cus I could sleep the night at his place as well.
He seemed normal, sane and pleasant. But I still accepted his invitation by joking that if I came back to his house, I guess we'd both find out which one of us was the axe murderer. We laughed. Ha ha ha. But David (76) — and his fiancé Shao-ying — turned out to be the sort of gracious, kind and interesting hosts that make casual and random 24 hour encounters among the many things that make independent travel worthwhile.
I followed David's red Toyota pickup truck a couple of miles north up the coast to Anchor Bay and his and Shao-ying's home on Fish Rock Road, a narrow one at right angles to the coast that went slightly up into the hills. A wooden name sign over the front door porch says Enchanted and the house is indeed enchanting — a beautifully designed and maintained timber home that backs onto a redwood forest, where the ground plunges into a steep-sided small ravine so that the entire house seems suspended amid the trees.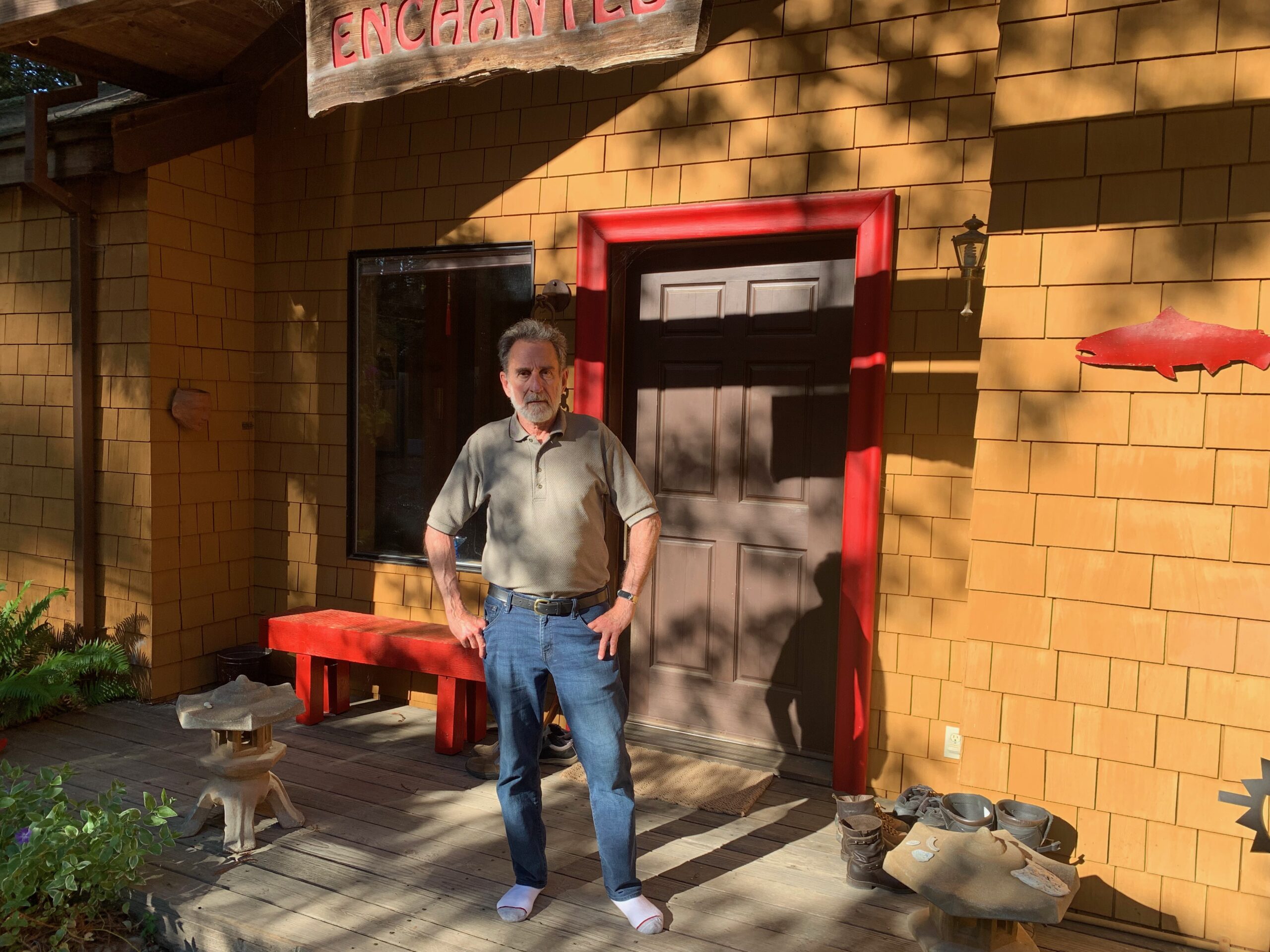 What is suspended among the trees is what David calls his Ewok Outpost, named after the small furry Star Wars creatures that inhabit Endor, the fictional woods in the moon. David's Ewok Outpost is what my wife would call a Gin Platform. It's a timber deck with seating that is bolted into the trunks of three very large redwoods about 20 feet up and from which the ground falls away almost vertically. Sitting there, as we did drinking Pepsi (at least initially), was like sitting mid-air in the middle of the forest. Having it made was "probably the best money I've spend in the last 30 years", said David, a retired environmental compliance officer at Berkeley college and later at the San Francisco Medical Center, who comes here every day just to relax and watch the forest.
He bought four acres of it in 1977. The redwoods are everything you expect: tall beyond belief, great sturdy trunks reaching perhaps 100, maybe 150 feet, ramrod straight into the sky. At the bottom of the ravine, there's a stream. The forest floor is covered in ferns and small flowering plants. In 2014, the home adjoining David's forest came up for sale and he was able to buy it and decamp there for ever.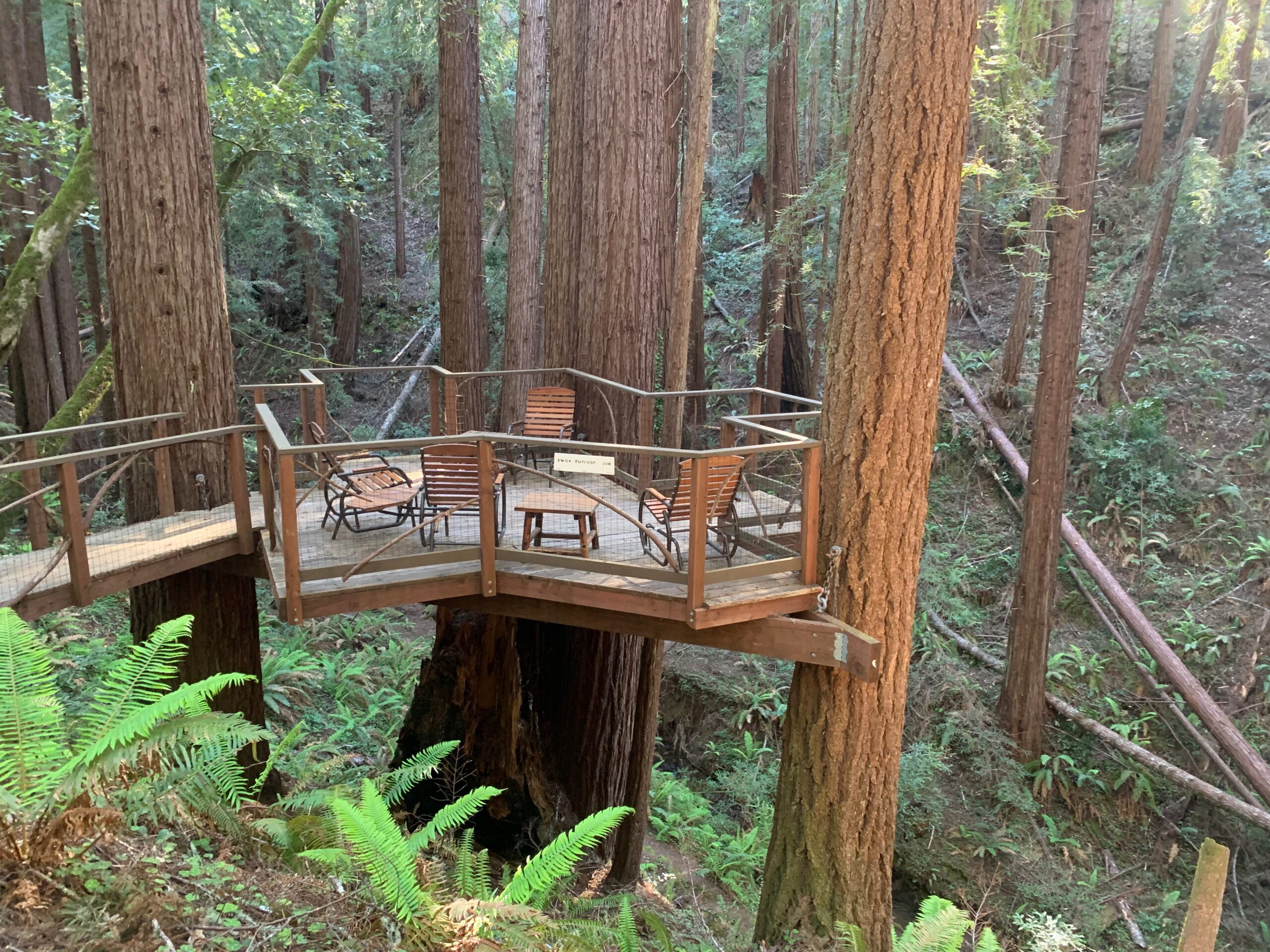 As he says, when you are inside the house, "you feel you're in the forest rather than living next to it".
The home is essentially a shingle-clad, rectangle built on the shoulder of the valley and parallel to it. Picture windows at the rear bring the forest right into the house. It is three stories but, because it takes full advantage of the steep sided valley, it appears from the road to sit low, almost like a bungalow. It was built by an American architect, designer, muralist and painter named Millard Sheets (1907-1989). He earned his reputation designing some large-scale statement buildings for the Savings and Loan Bank in California, where he was born, and, during the second World War years, aviation school buildings in California, Arizona and Texas. He also designed huge mosaics for buildings, and promotional posters for Trans World Airlines (TWA) and various other companies in the travel business, such as American President Lines. And did well financially from some property dealings along the California coast near Anchor Bay.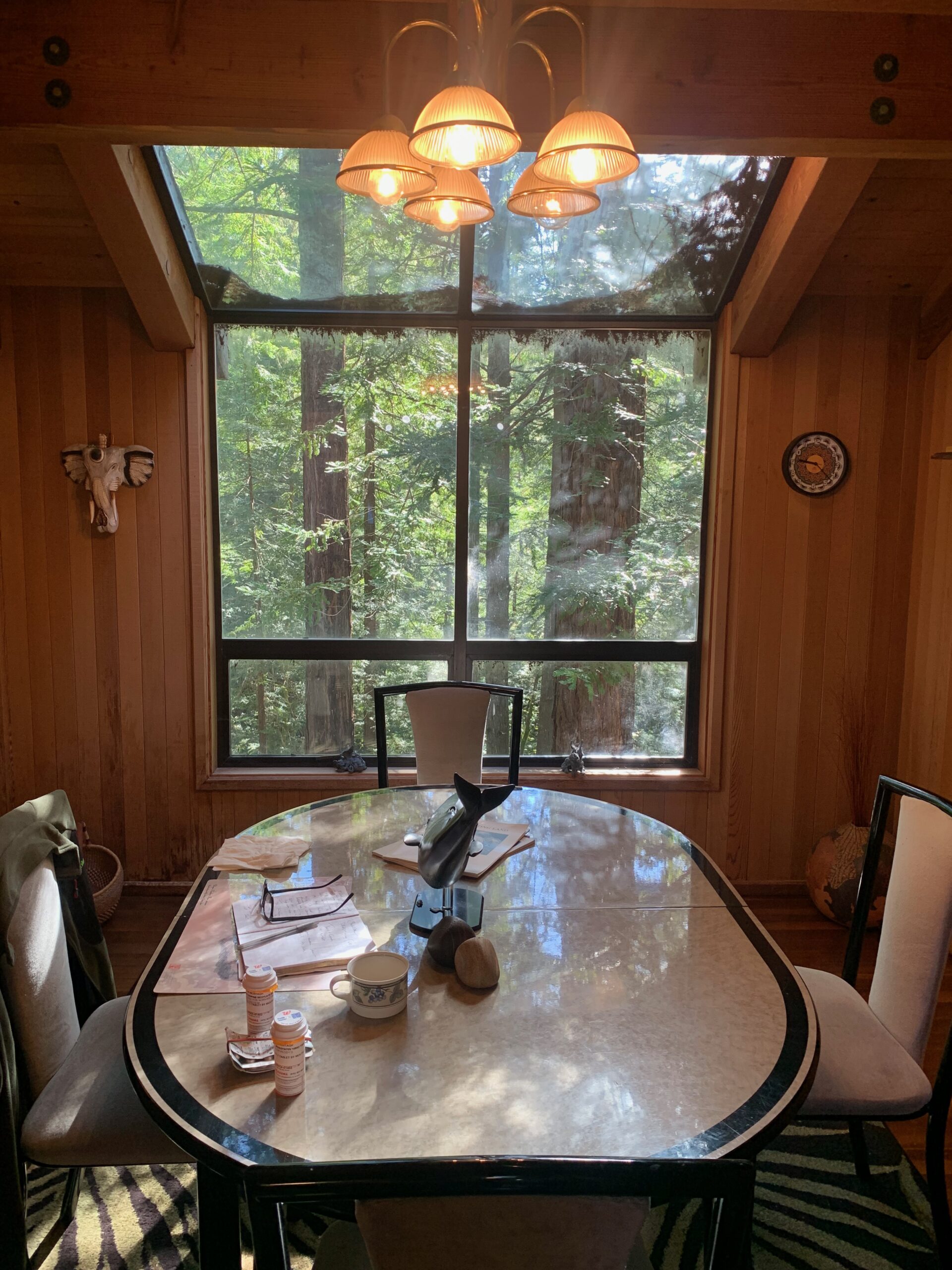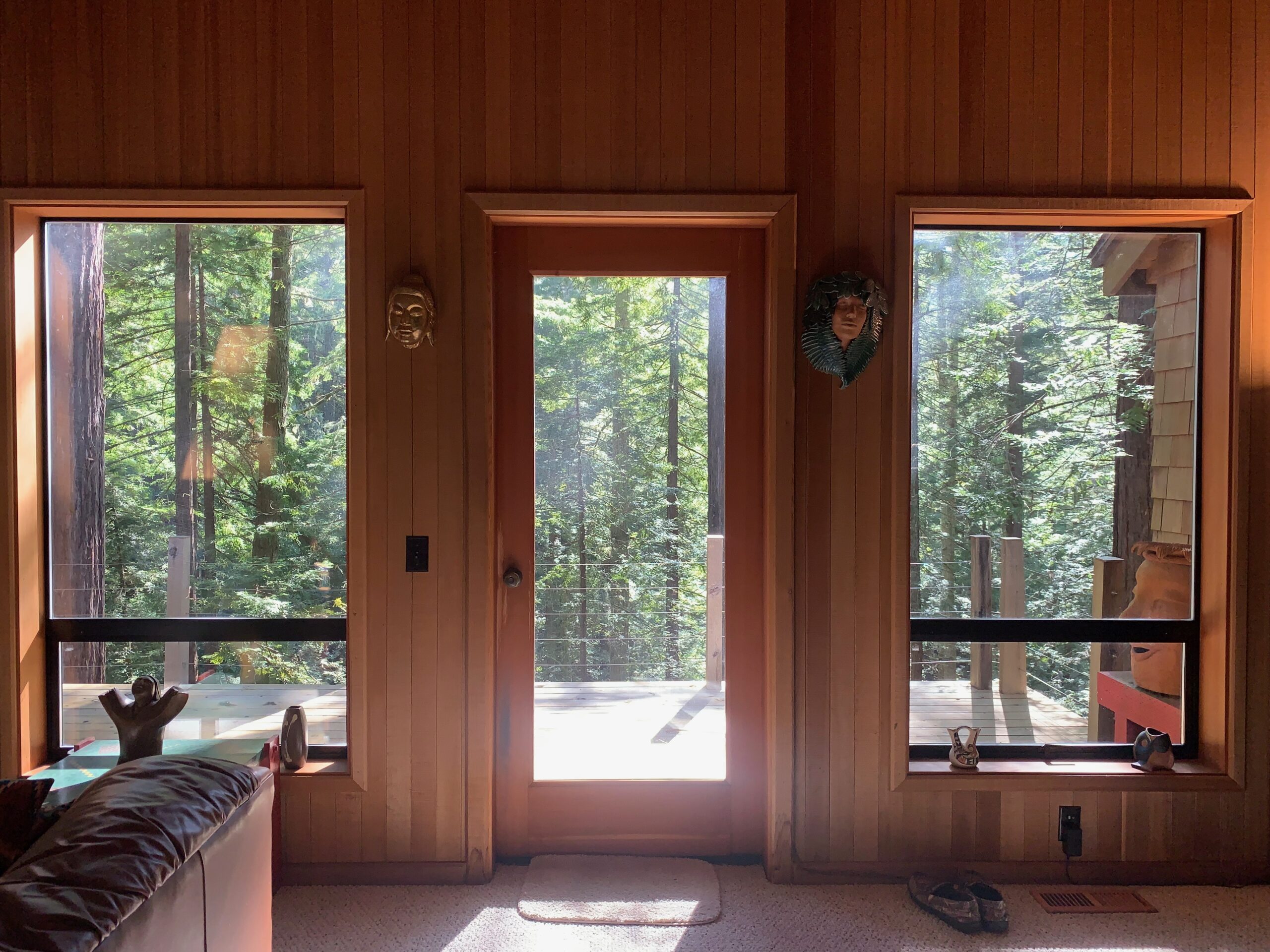 The second owner after Sheets was another David. "He was a psychic," says the current David. "He said he lived in the 7th dimension and was trying to progress to the 12th. He was a little out there."
Well, it is California . . .
Enchanted is indeed enchanting. The main living room onto which the entrance door opens, is all windows to the forest and made of timber, but not so dense that it is suffocating. The ceiling is as high as the roof and so the room, with an open plan dining area and kitchen, feels huge. I sat there as Shao-ying and David between them rustled up a delicious meal of ribs and an oriental chicken soup which I suspect owed much to Shao-ying's Taiwanese background. We drank wine and, joined by neighbours David and Cindy, swopped stories of travel and life and politics. Next morning, Shao-ying, who is an acupuncturist, showed me how to sit and stretch my spine, exercising each individual vertebra.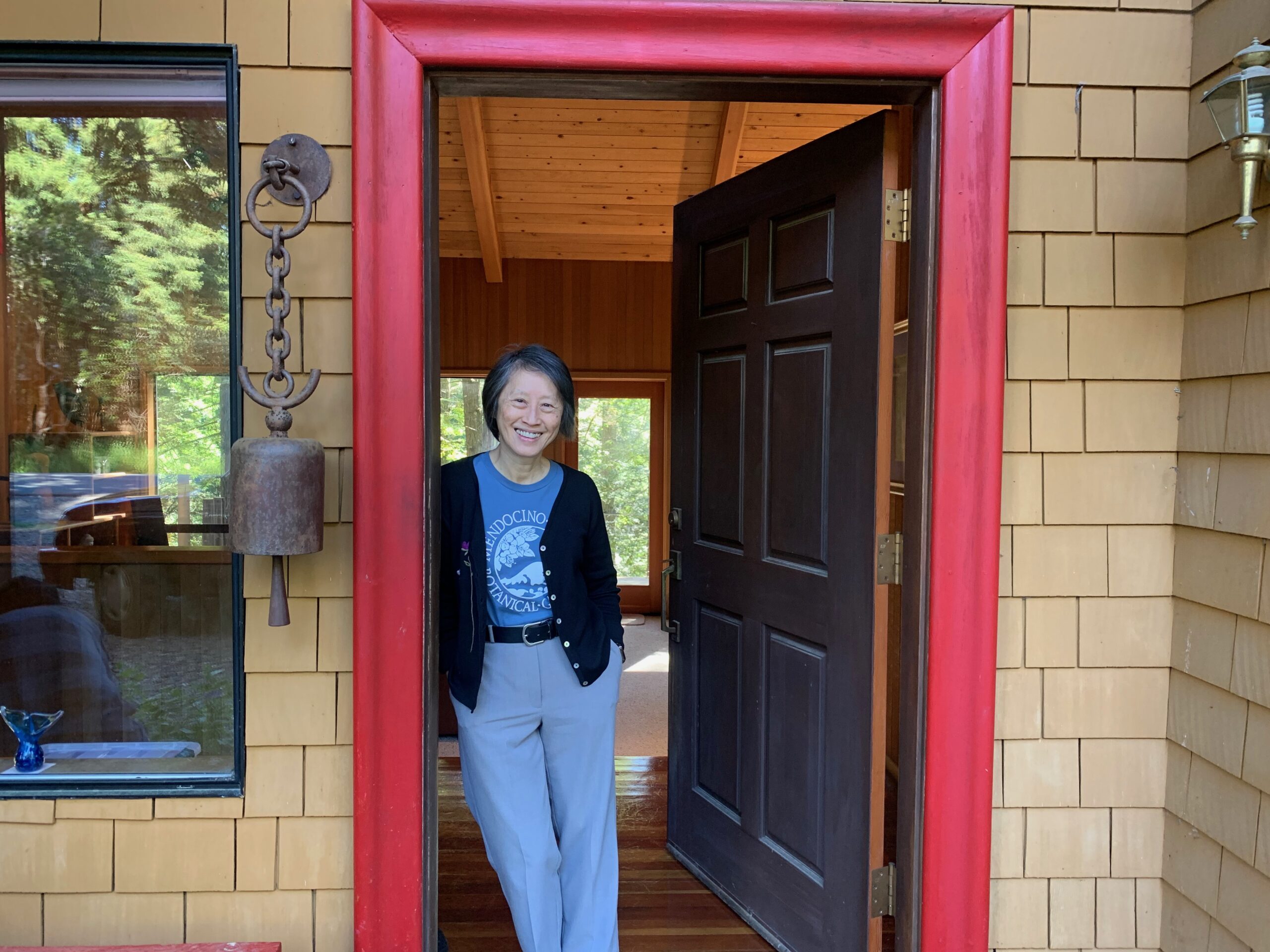 David whisked me off further up the coast to show me Bowling Ball Beach, so named because of the large spherical sandstone rocks that emerge out of cliffs which are being eroded by the sea. Movements in the earth's crust upended the originally horizontal sandstone into vertical cliffs. When worn down by the sea, what's left are parallel lines that look like they could be bowling lanes — hence , with the spherical stoners, the name, Bowling Ball Beach. David says there are only three: this one, another in Montana and a third in New Zealand.
The sea erosion is so severe that the days are numbered for several clifftop homes, all million dollar plus places in a stable seaside location but now, some of them at least will be close to worthless. A little further along the road, we stopped at Alder Creek, an apparently hum-drum small valley with a bridge over a stream that runs into the sea, and a few ramshackle timber farm buildings. But the land of the northern side of the bridge is part of the North American Tectonic Plate, while the land on the southern side of the bridge is the Pacific Plate.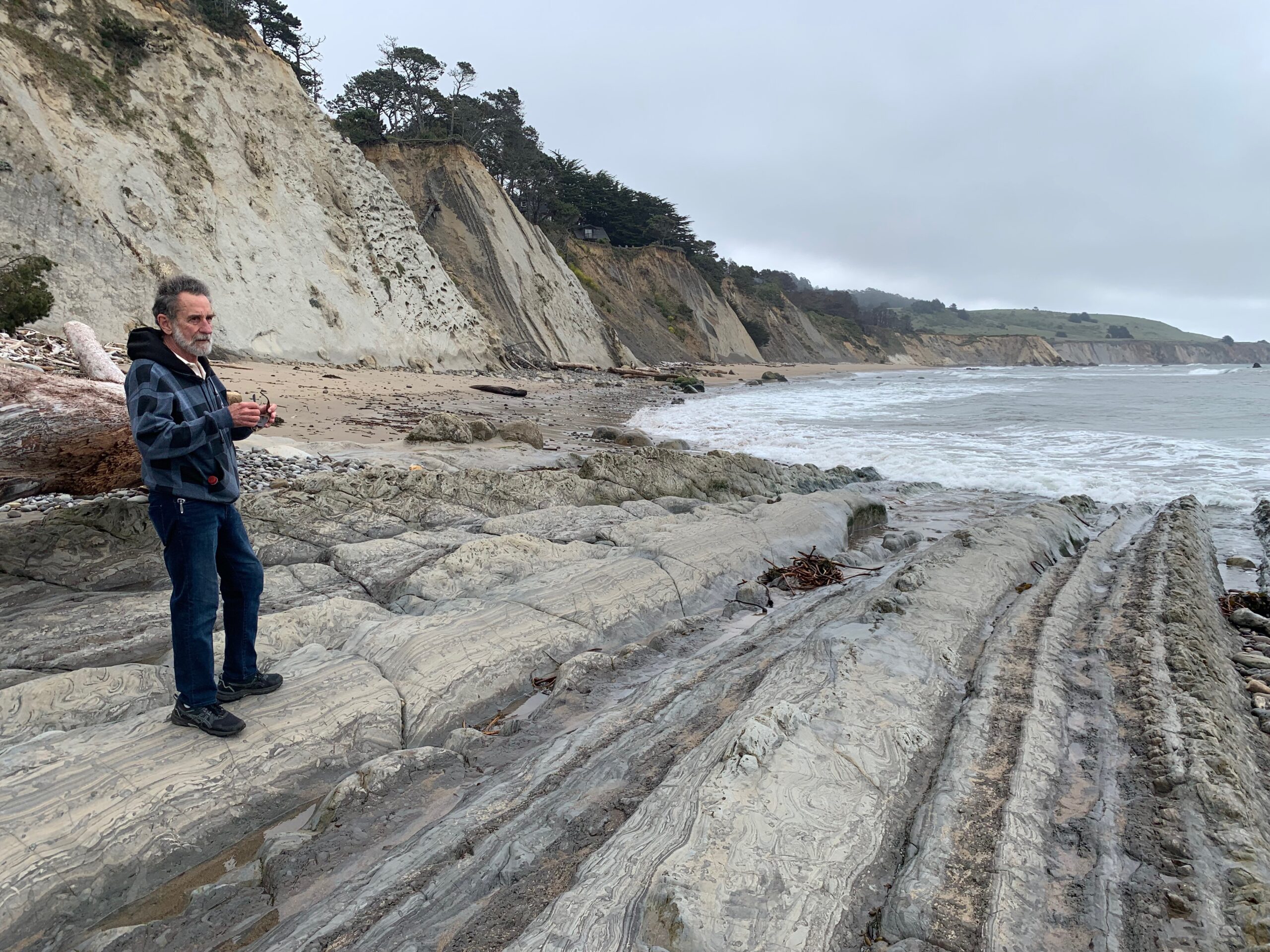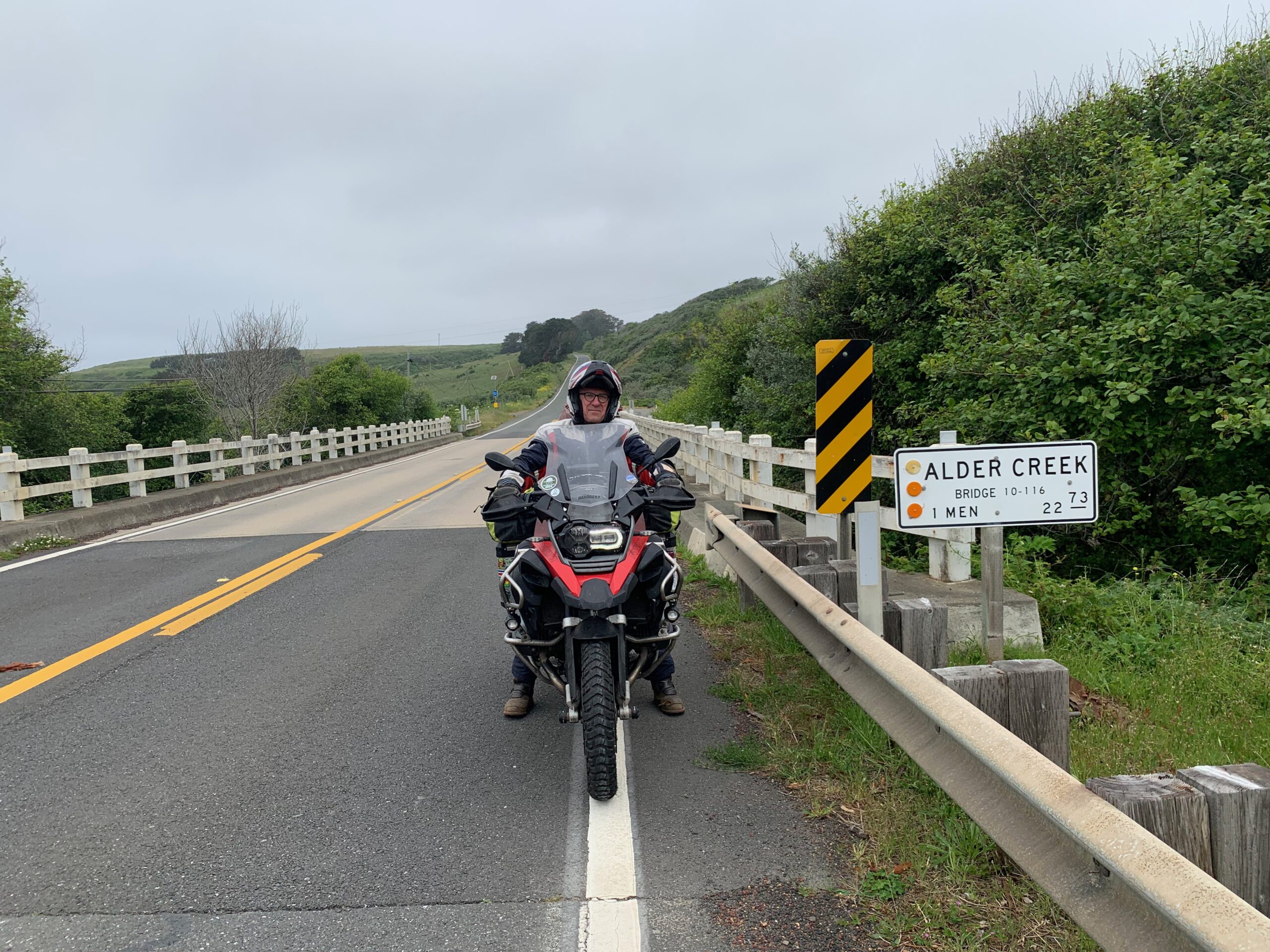 And so I cross directly over the infamous San Andreas Fault, that great rupture in the earth's crust whose two sides are moving in opposite directions. Earth scientists predict that California eventually sever its attachment to the rest of the US and sail off into the Pacific — a prospect one suspect's many of the state's more liberal-minded residents would quite welcome — no less than would many conservatives in America's so-called red states like to be shot of California.
Are there ever earthquakes, I asked David.
"Oh for sure," he says. "There was one a couple of weeks back."
"Did you feel it?"
"For sure! Seemed like everything jumped a foot."
Further along the coast still, we stop for a goodbye sandwich at Elk, where the local garage and the small grocery store-cum-cafe are straight out of central casting Americana. The garage has been going since 1901 and is still run by the Matson family. They have had several dealerships, including for Studebaker cars, a vintage poster for which has pride of place inside the hardware and general store attached to the still functioning garage and towing service. I bought a pamphlet of local poetry and we got two paninis from the store-cum-grocery (a pastrami and a smoked ham and pepperoncini), retiring to eat them sitting on a wooden bench overlooking the foaming, turquoise Pacific.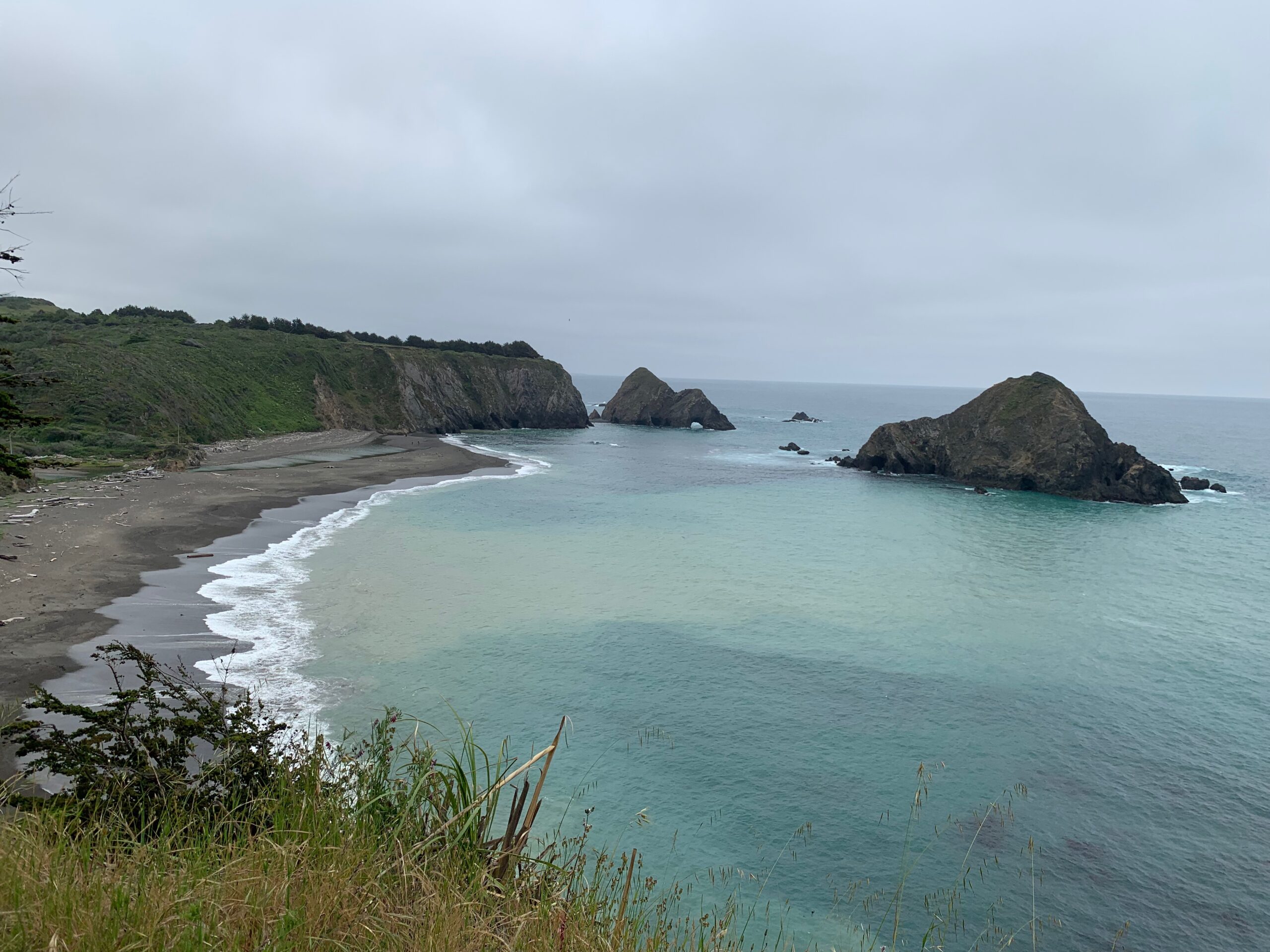 How can one repay such spontaneous friendship and generosity as that shown by David and Shao-ying? I guess simply by saying thanks and offering the same in return.
Guys, Ireland awaits you . . .