Peter Murtagh at Camp Los Planes, Panama.
The defunct army camp at Los Planes, some 460 kilometers west of Panama City has a new lease of life. Notwithstanding the fact that many of its timber clad buildings are literally falling apart, the former military base in the middle of a small, isolated pine tree forest in the mountains of the Central America country has been turned into a reception and processing center for thousands of refugees and migrants who have crossed from Colombia.
It is the final such center in Panama for the migrants, some of whom will stay a while in the old camp as others make their way, as soon as they can, to the frontier with Costa Rica, about 90 kilometers away and from there, they hope, to the United States or Canada.
Busload after busload of the migrants come to the camp every day. On February 15th, a bus missed the slip road into it and plunged down a steep bank, killing 40 migrants on board. Each of the six or eight double-decker Volvo and Mercedes busses I saw arrive last weekend (March 11th) had a passenger capacity of 80, according to their drivers, and each appeared to be full.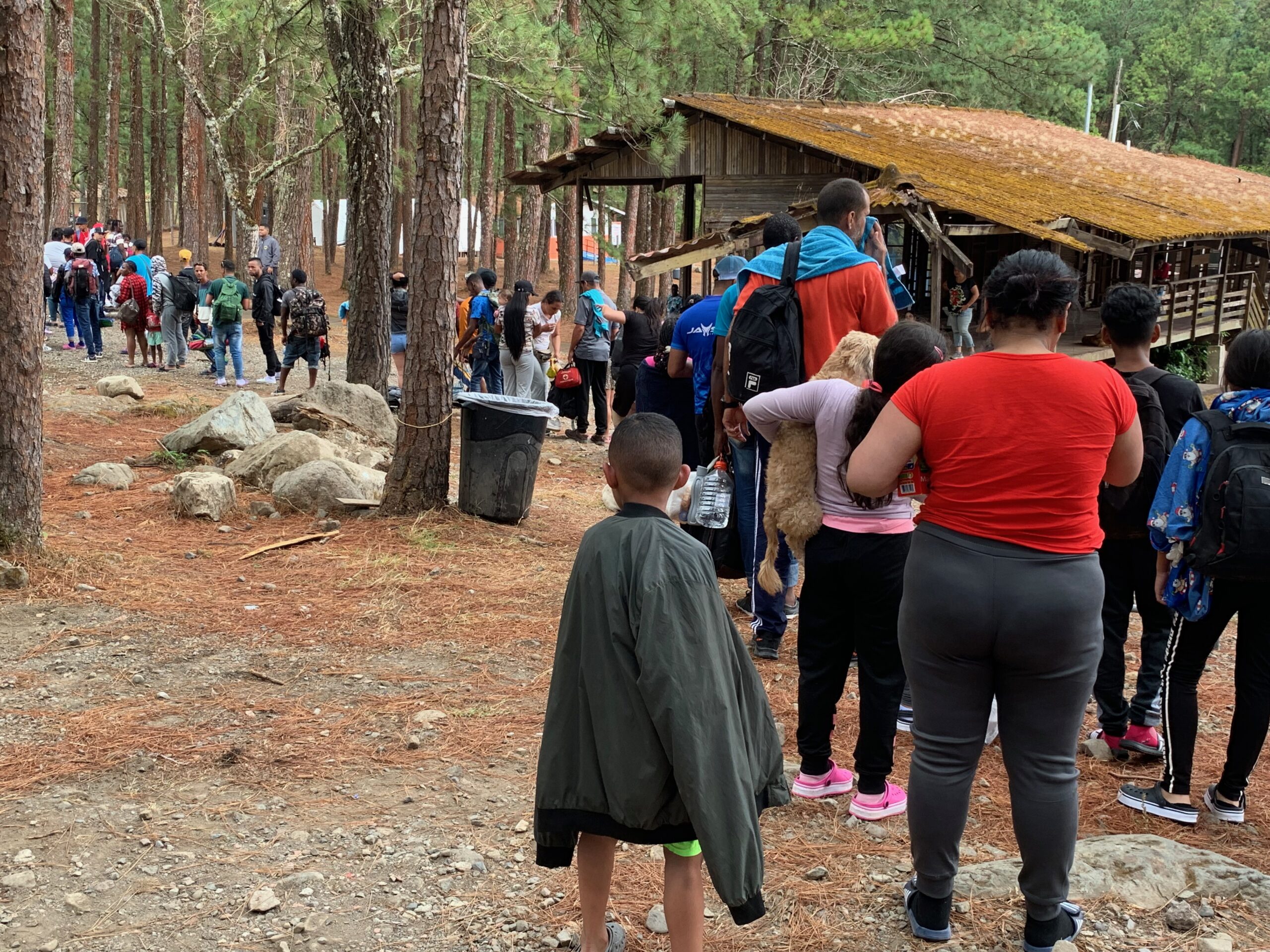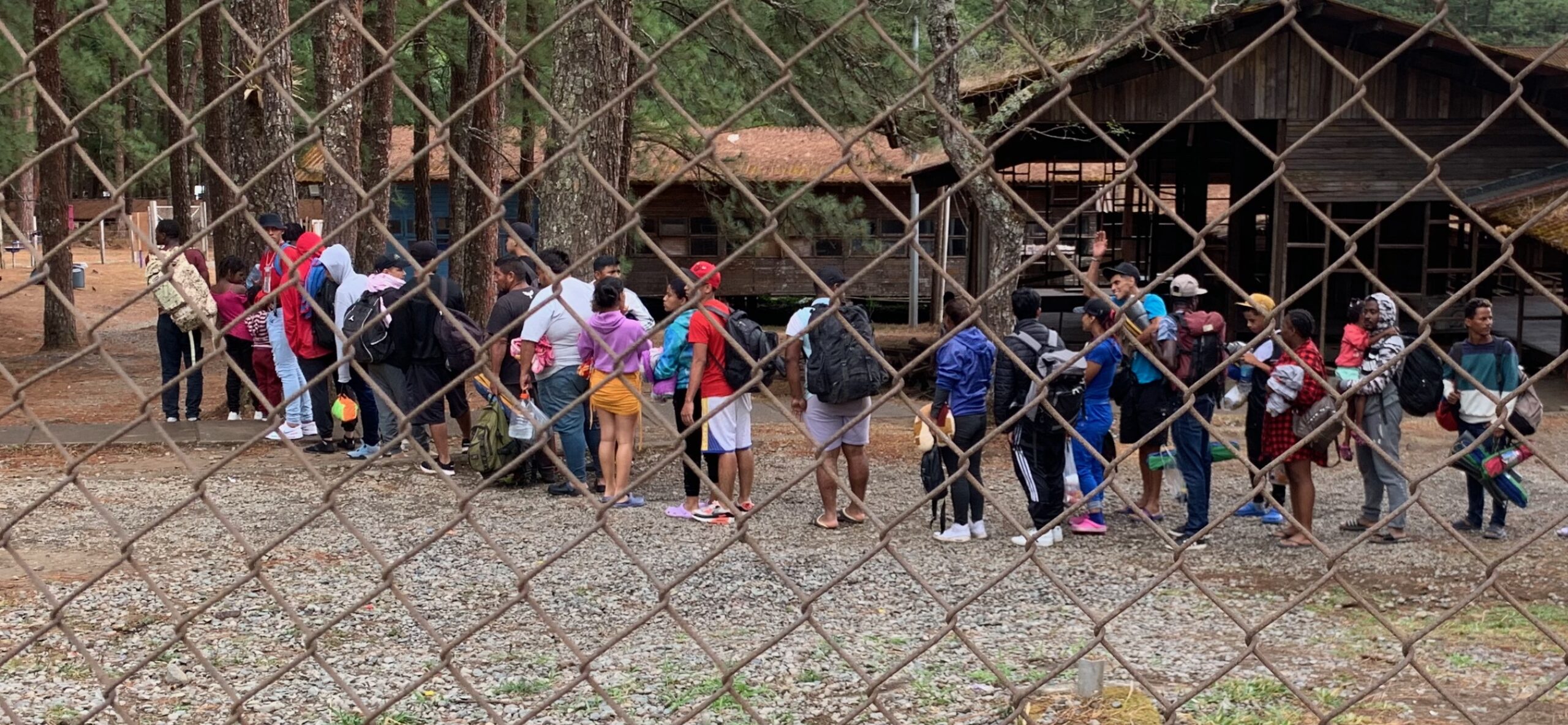 A Panamanian migration official said that approximately 1,000 migrants a day were arriving at the center — a number that chimes with an estimate given to me about the numbers leaving Colombia to hike across the Darién Gap, the roadless jungle and swamp area the separates Colombia and Panama, and about which I wrote in Weekend Review on March 4th. (see: https://www.irishtimes.com/life-style/travel/2023/03/04/in-a-small-northern-colombian-town-migrants-pursue-the-dream-of-a-new-life-in-north-america/)
The busses arriving at Los Planes last weekend, queued on the slip road, their passengers mostly waiting on board. But in turn, each eventually drove sufficiently past the entrance gate for their doors to be opened to disgorge passengers inside the camp.
It was an extraordinary sight. A procession of men, women, children, and in a few cases family pets held in arms, disembarked the busses. One woman had a prosthetic leg; several woman carried babies; a teenager carried a dog. All the migrants lugged their possessions in plastic bags, small rucksacks and, in a few instances, suitcases.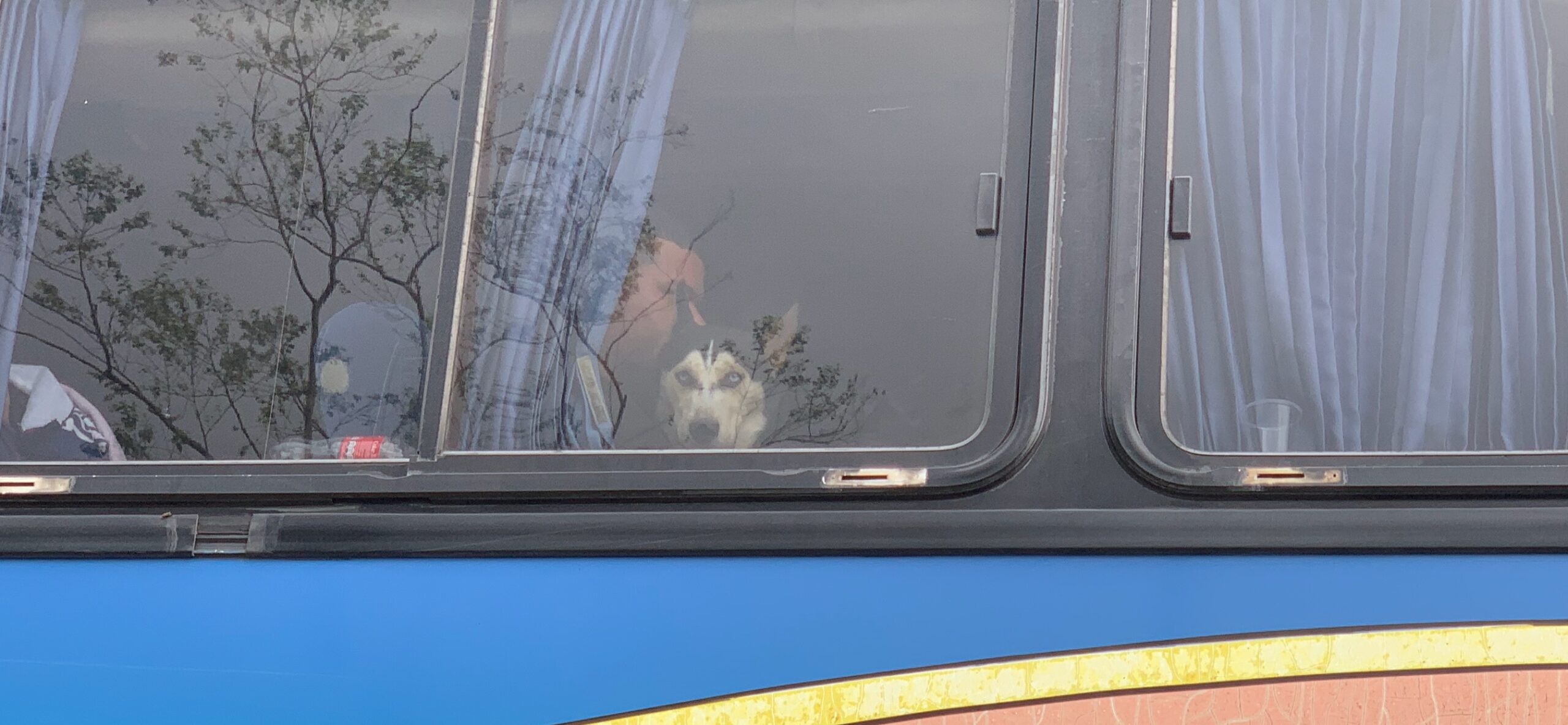 Once off the busses, they formed a line across part of the camp, through pine trees and along a gravel path leading to an open-sided building where, it appeared, someone was taking their details. On the public side of the chain link fence surrounding the camp, a man sold sweets and some food — fruit and polystyrene containers with dinners inside. Occasionally someone would leave the queue and buy food through the fence.
As the processing of arrivals continued, most of the migrants whose busses had yet to cross the threshold of the camp stayed on board them. But some of the passengers on one got out to stretch their legs or have a smoke.
One man managed to tell me he was from Beijing, despite having no English. His right ankle was badly swollen and had a reddish bruise mark on it. I asked if he had walked from Colombia, making a walking sign with two of my fingers. He said he had, across the Darien and indicated that was where he fell and injured his ankle.
He was unable to tell me his name or age because of the mutual language barrier. His friend, also from China, was similarly unable to help.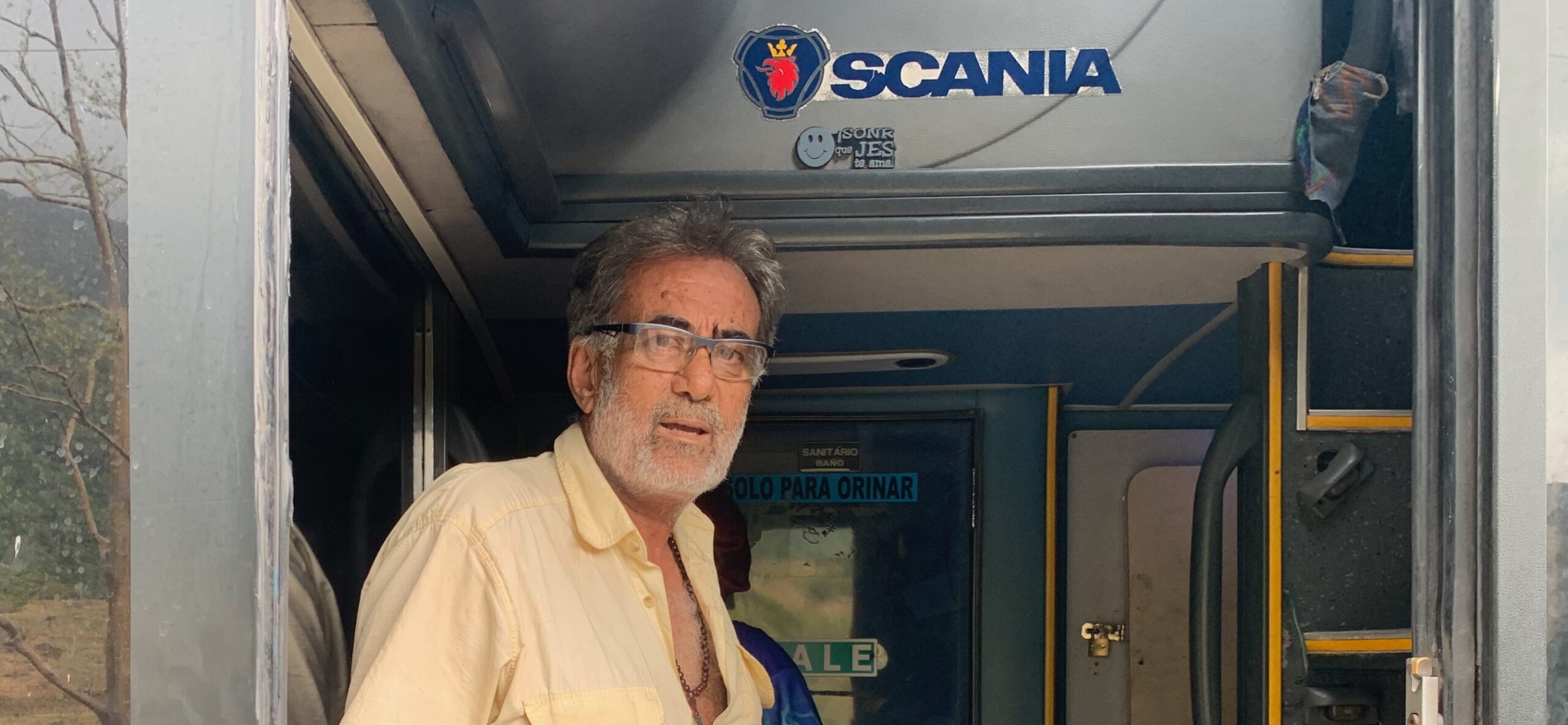 Another man who spoke good English said he was from Lebanon, via Ecuador. How did he get into Panama, I asked him.
"Like everyone else," he said, "I walked it."
He wanted to get to the US but was not sure where in the US.
"I have some friends there," he said, "I don't know exactly where but I have some directions."
Just then, the bus driver announced that everyone had to get back on board as they were going to enter the camp. On the steps of the bus, the Lebanon man said he was 67 years old and had been in Ecuador for three years — but life there was not good, he said. He had a wife in Lebanon.
"The situation is very bad. I need to help them. What can I do?"
It wasn't a question; more of an explanation for his migration.
He said he would not have made it through the jungle of the Darién had it not for a new friend, the man standing beside him by the step of the bus. That man said his name was Calib, that he was 27 years old and was from Venezuela.
The Lebanese man said: "He's a good guy. He help me till now. I tell him you are my son now."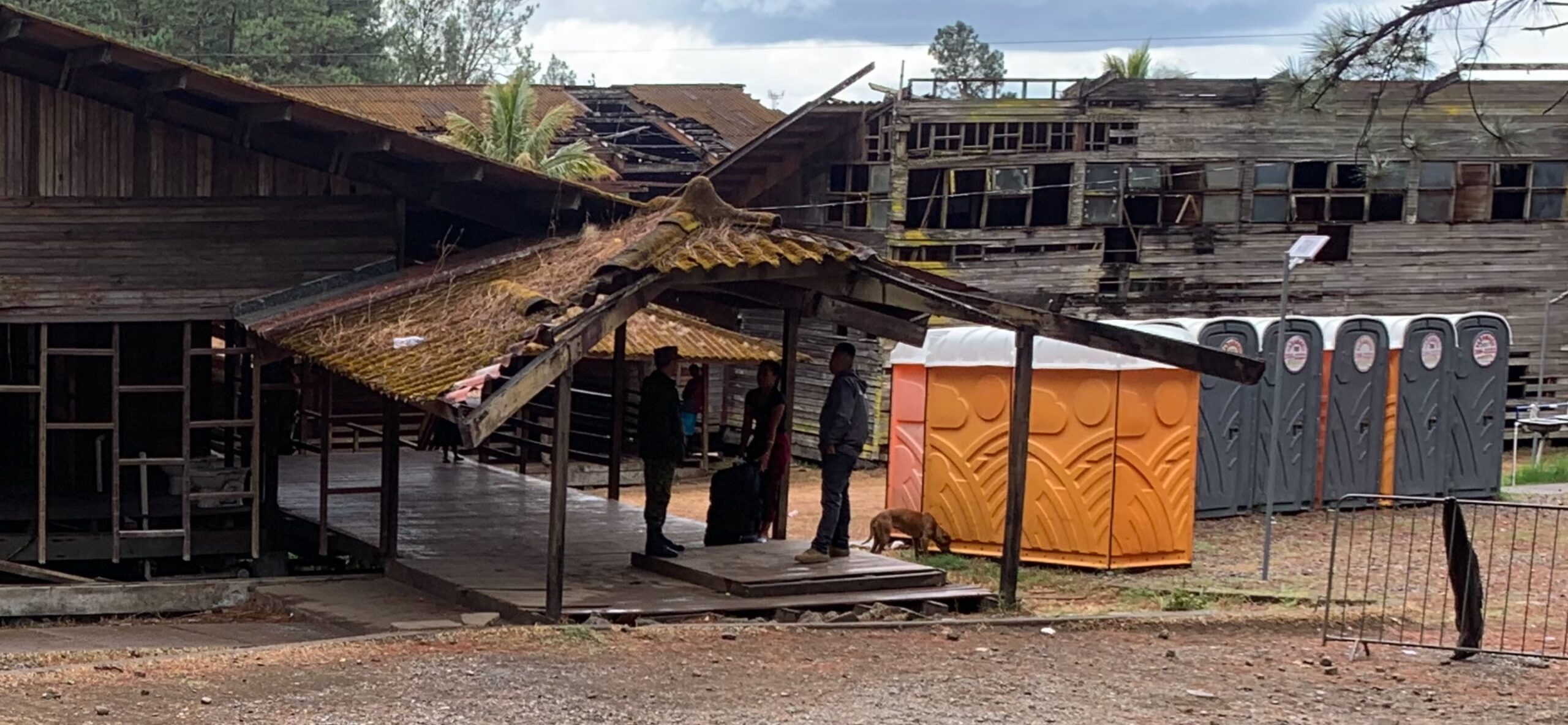 As the busses were arriving, a heated discussion was taking place immediately outside the former army camp in what appeared to be a small bus shelter. It was between migration officials who run the camp and some local people. The local people said were unhappy about the lack of onward transport for the migrants and about facilities at the camp.
Despite officials engaging with them, voices were raised frequently in apparent exasperation.
After the meeting ended, one of the locals, Anayansi de Miranda, who lives nearby, spoke to me.
"If they [the migrants] no have money, they stay here until their family send them money," she said.
She said the migrants paid $40 to get to the camp from Panama City. Taxi drivers at Los Planes charged $5 to take them to David, the nearest city from where they would go to the frontier, 270kms away. She said the usual fare for that journey was $2.
Anayansi said the migrants were being ripped off and some had to stay at the camp until relatives could get more money to them, presumably via internet banking which migrants could access on mobile phones.
There were no proper facilities at the camp for the migrants, she maintained. "No installations have for the migrants," she said in broken English. There was "mui malad cocina", a very bad kitchen.
It was not at all clear from outside of the camp where migrants staying over would sleep. Most buildings that could be seen were in an advance state of disrepair and partial collapse. At one open sided timber building, clothes were hanging out to dry, suggesting, perhaps, that people were sleeping inside. Several rows of portable toilets could also be seen.
It is understood that one of the services given to migrants when they arrive is a medical check. On my way up the mountain to the former army camp, two ambulances passed me on the way down and, given the paucity of homes or anything else near the camp, I suspect both were taking unwell or injured migrants to hospital.
The Panamanian government runs several what are known as Estación de Recepción Migratoria (ERM). Two are in the Darién, close to the border with Colombia, and the third is at Los Planes. Officials there were extremely reluctant to talk about their work, even to disclose seemingly uncontentious information such the number of people helped and the services offered, such as medical assistance, to the migrants.
"We have about 1,000 per day," government official Derek Onavis said, "we are working right now."
He said further information could only be had from the migration office in David, between 8am and 4pm.
First published in The Irish Times on March 16th 2023.