January 25th 2023, Cabo Blanco.
There are a couple of ways out of Paita. One is directly back onto the Panamericana. OK. So we know what that heralds — a flashy duel carriageway north and out of Peru. The other is a lesser, local road that hugs the coast and eventually, maybe 80 or 100 kms later, joins the PanAm and then whooshes on up to the frontier with Ecuador. I know what the first option will be like so let's go with dunno, which actually turns out to be a grand road. It wends its way through a series of villages tucked into oasis-like valleys separated by lengthy swathes of dune desert plateau. At a place named El Alto, which is perched on top of some cliffs as you'd expect with that name, there's a suggestion of a beach down below, at Cabo Blanco, which sounds good.
The road starts plunging through chunky, bare rubble mountainside, down through twists and turns and switchbacks, none of them with protective walls or crash barriers but that's OK because the vista beyond is fab — a panorama of wide blue ocean, and this time it's an azure blue, not that muddy brown seen earlier along the north Peruvian coast. This has a Caribbean feel to it.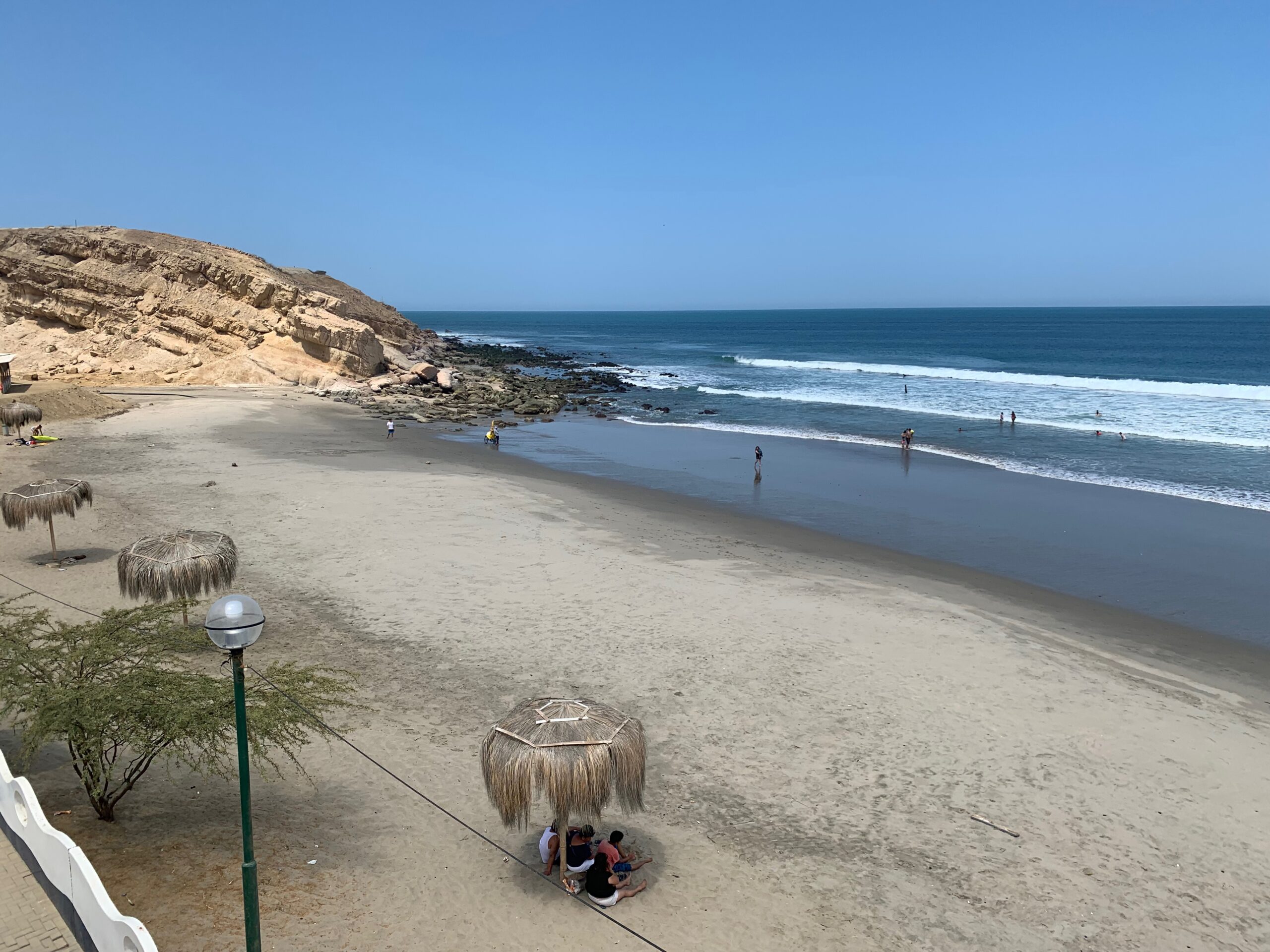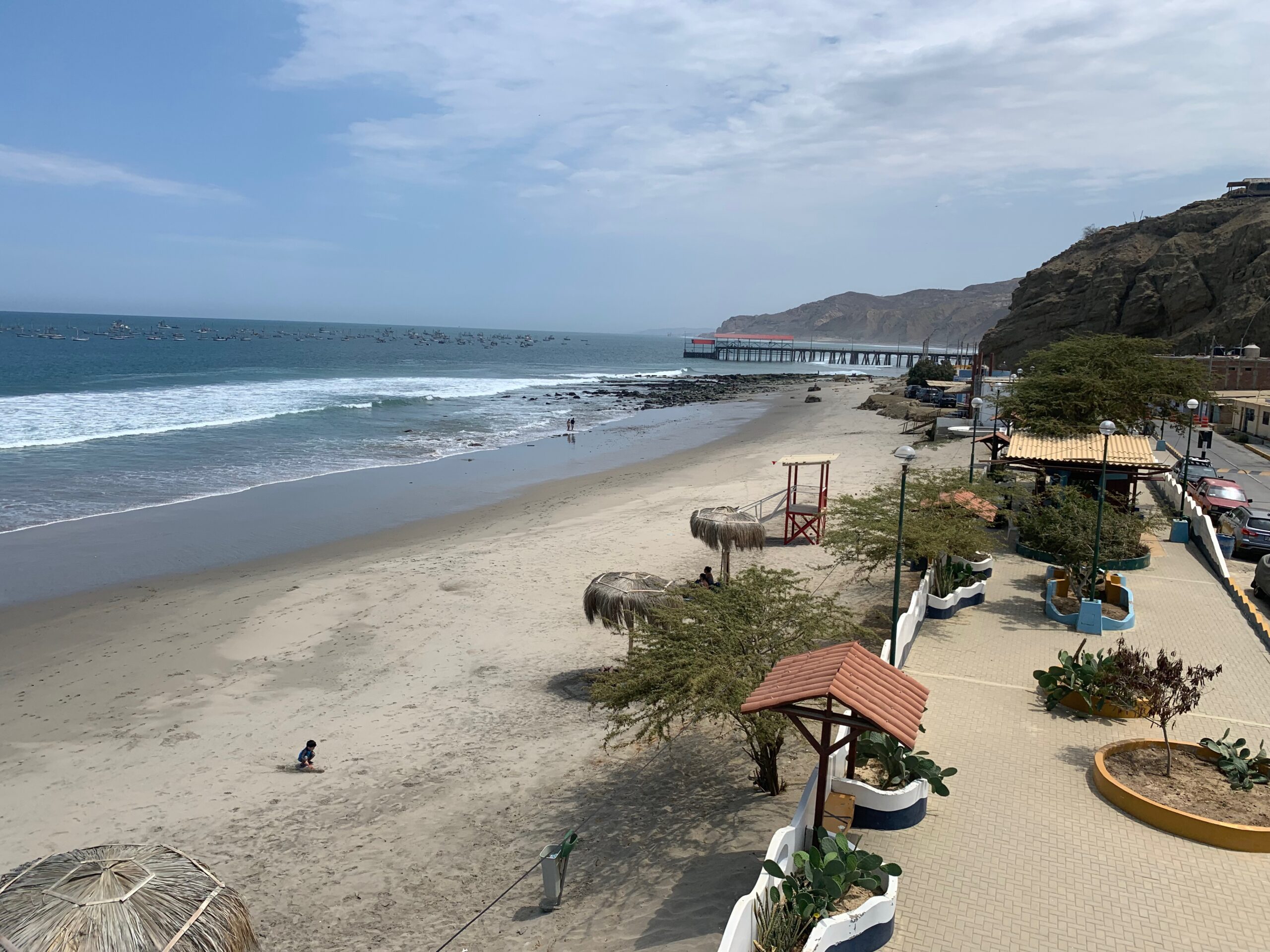 The clean beach at Cabo Blanco.
At the bottom of the road, it becomes a short, simple drag by the beach, a lovely, clean sandy beach of maybe 150 meters and without a hint of litter anywhere — amazing! The road goes on but only for a couple of hundred meters before disappearing around a headland. The drag has very little on it but it too is clean and the promenade is really well kept — all freshly painted with places to sit and beds for small trees and cactus plants. There's an officious bloke at the start of the drag, manning a barrier preventing vehicles going any further. He directs me into a car park and won't entertain the notion that I might actually continue along the road. And so I park and start walking along the seafront, clunkily in my biking gear, and in the pounding heat. There's a cafe/restaurant named the Black Merlin which looks like it might do breakfast . . . and it does! So very soon, I'm sitting there, munching away on bread and jam and coffee and fresh orange juice, looking out a flotilla of small sail and fishing boats just off the beach, and an inshore petroleum rig, and I start to notice all the marlin fishing photographs on the restaurant walls. Men, with or without parties of admirers, standing beside vast fish, usually three or four times as tall as they are, suspended upside down by their tails, with their killers standing proudly beside them, fishing rod in hand. And, I guess inevitably, there he is — Papa himself — Ernest Hemingway in all his degenerate glory.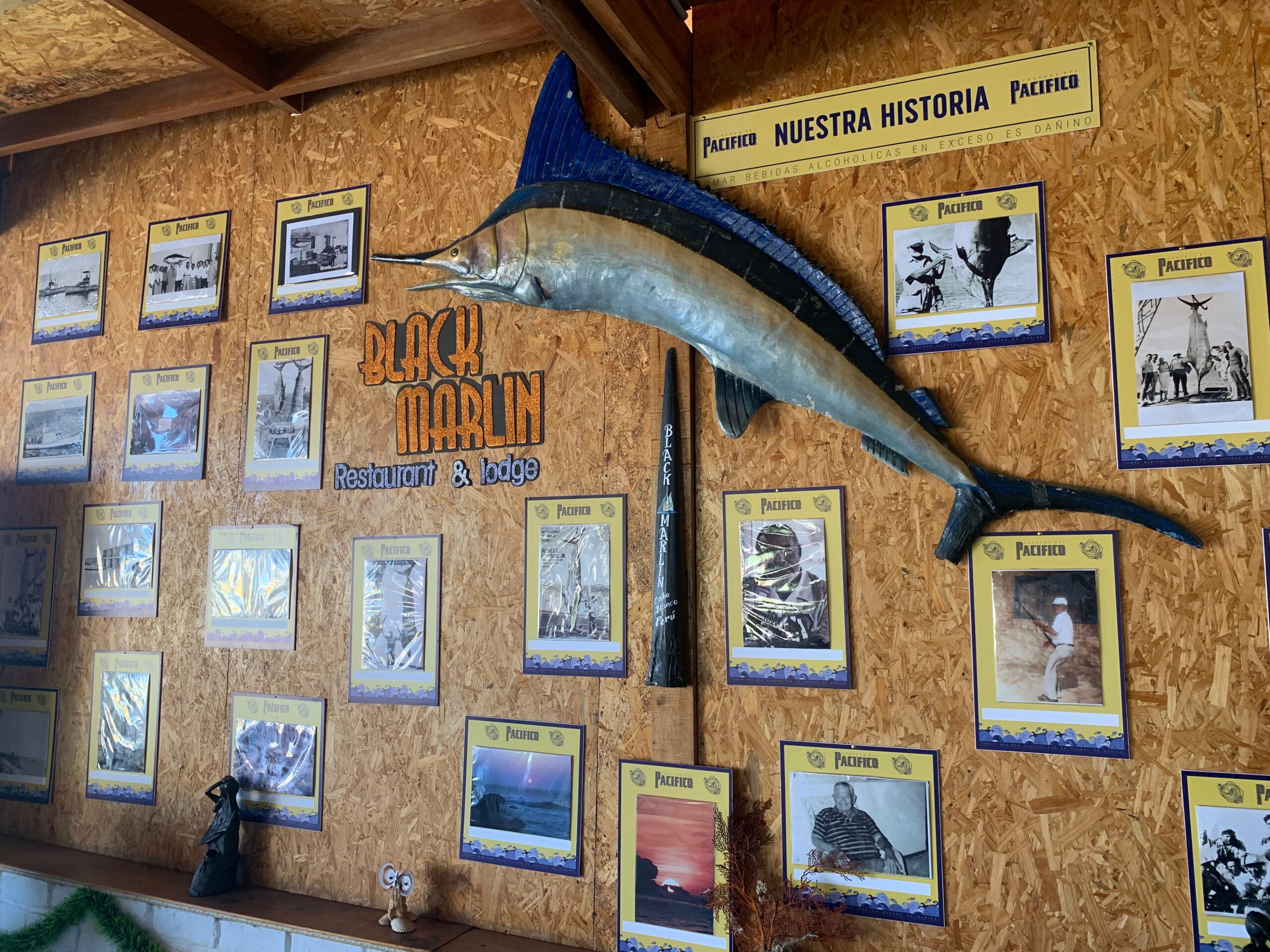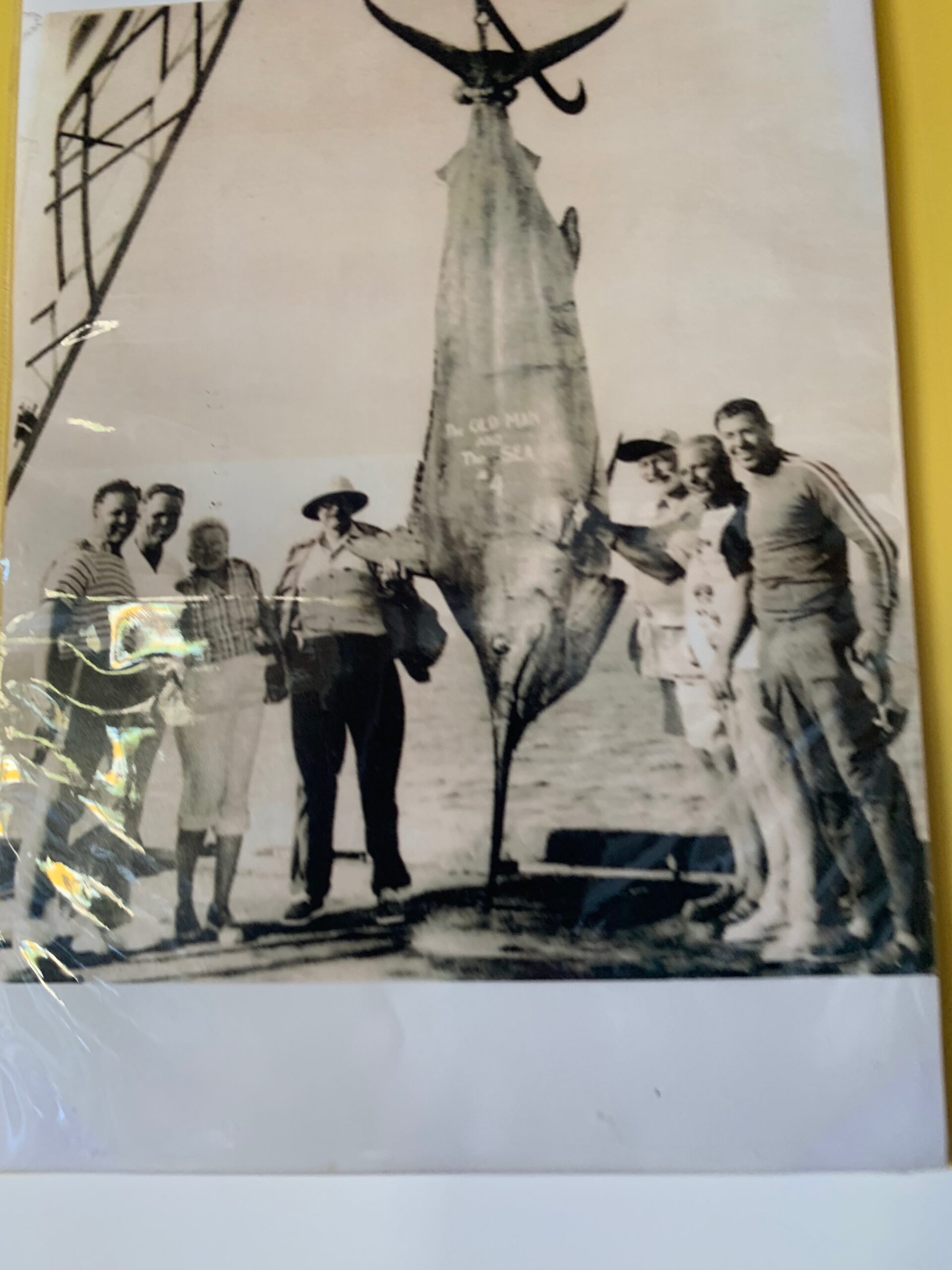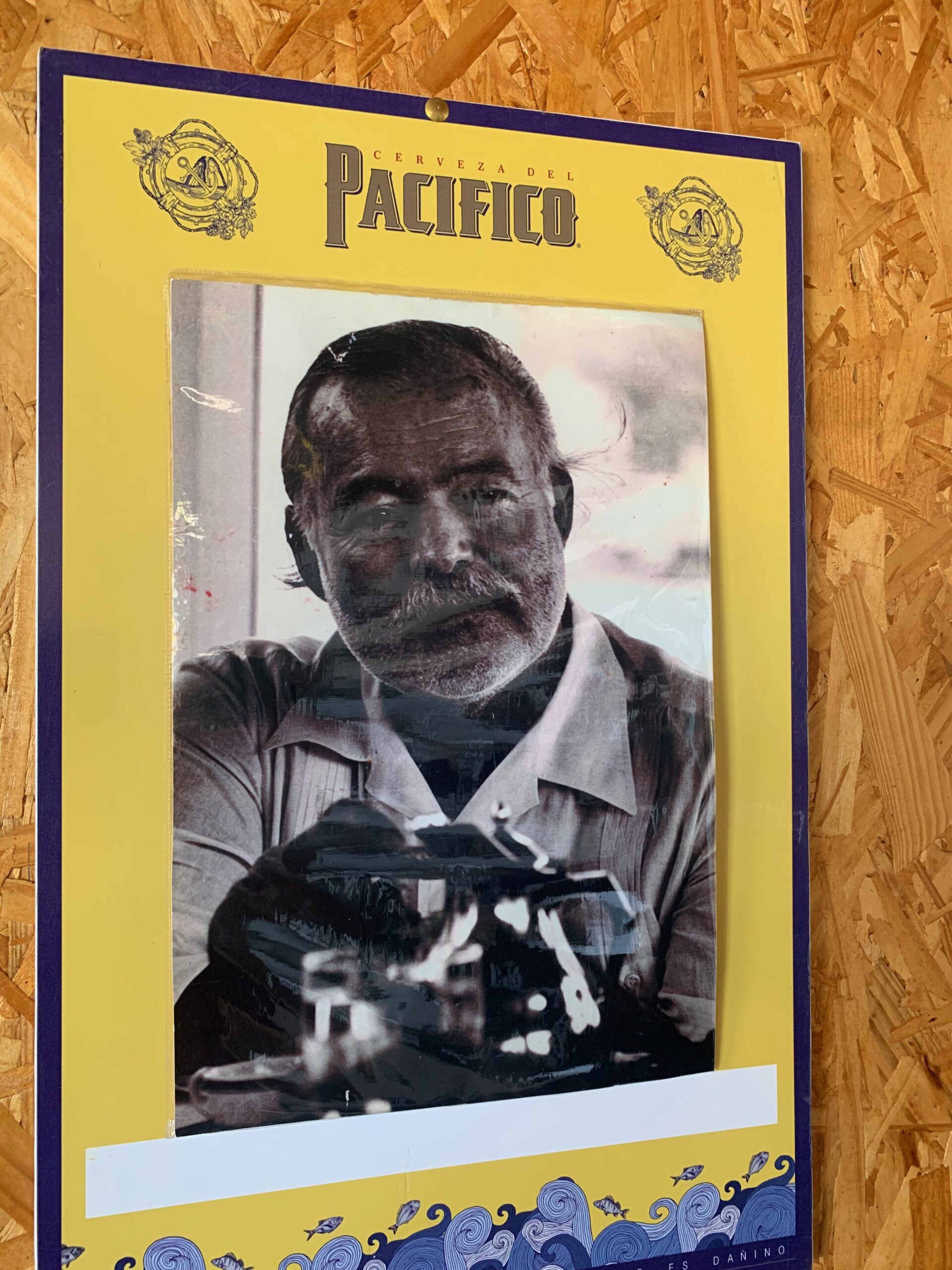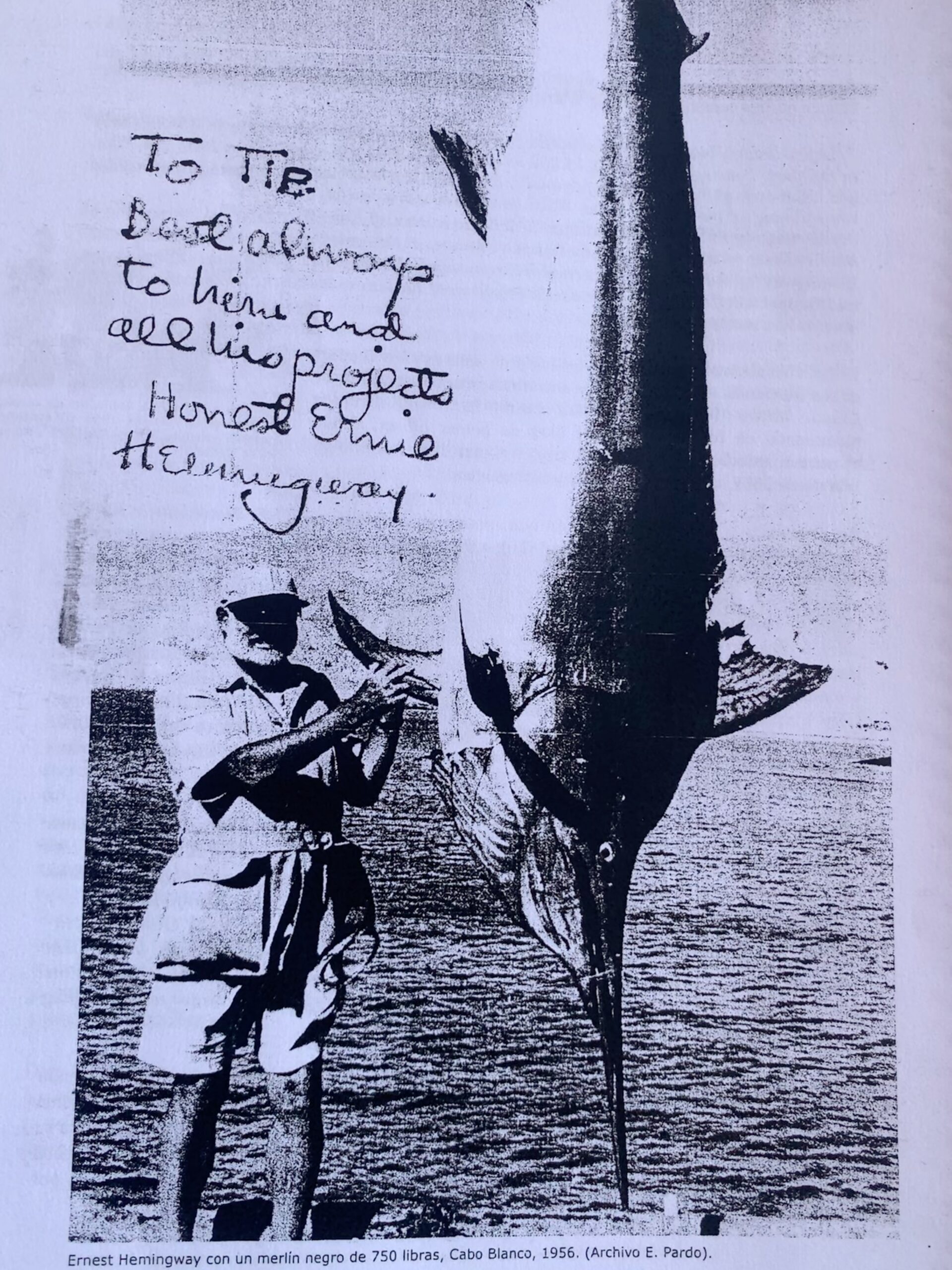 Hemingway had a very big impact on me in my teenage years. I devoured A Farewell to Arms and still think it is one of the best novels written. Ditto For Whom The Bell Tolls and even the mention of A Moveable Feast has the smell of roasting chestnuts in the Jardin de Luxembourg fill my nostrils. I loved his terse style and the fact that he began as a reporter. I wanted to be a reporter. The macho thing never got to me; I was never that and never felt it was something to emulate. But what did get me was the full on way Hemingway lived his life. I'd much rather that it had not involved killing animals for sport. That I can't abide but his general zest for life, his lust for living, for food and for drink, and for adventure — that appealed to me and still does.
Hemingway was only 57 when he came to Cabo Blanco in 1956 and then for only 32 days but he was already in steep decline. At the end of 1955 and before his Peruvian escapade, he was bedridden and had been told by his doctor to lay off the drink, advise he was unable to take. Cabo Blanco has been dining out on this old man and the sea ever since his month-long visit. The sea because this is one of the few places in the world where Black Merlin live, in large numbers and close to the shore, attracted apparently by two currents, El Niño and the Humboldt, as well as the mackerel who themselves came for the anchovy. The Merlin were fished easily, according to restaurant owner, Francisco. And the old man? Well because that was what Hemingway was by then — 13 years younger than me now but in his head, an old man who was depressed and aging rapidly, and his body wasn't in good shape either. Within four years, he put a shotgun to his forehead in his hunting lodge in Ketchum, Idaho, and pulled the trigger. (Across four generations, five Hemingways have taken their own lives.)
Hemingway came to Cabo Blanco because this was where much of the filming of the screen version of The Old Man and The Sea was done. Spencer Tracy played the old man. By coincidence, by former reporting colleague, Patsy McGarry, whom once as Irish Times foreign editor I dispatched to Cuba, returned from Havana with a present for me — a Cuban copy of The Old Man and the Sea signed by Gregorio Fuentes, former skipper of Hemingway's boat, the Pilar. Fuentes claimed, and maybe this was his dining out story, that the old man character in the novel was based on him. Who knows but the little book from Patsy remains greatly treasured.
In Cabo Blanco, Hemingway held court, at the Cabo Blanco Fishing Club, and in local bars, as photos in the restaurant show. He looks — to me at any rate — a lot older than 57 and, like some photos in bars and cafes around Estafeta, the famed bull running street in Pamplona, he cuts a rather pathetic figure. They've put up a bust to him along the seafront and one of the bars displays a large picture of him behind the counter. The Cabo Blanco Fishing Club was a bit of a magnet for rich Americans (not unrelated to the fact that rich Americans ran it — founding membership cost $10,000) and in the 1950s it played host to Marilyn Monroe, Paul Newman, James Stewart, Humphrey Bogart, John Wayne, and Nelson Rockefeller.
Those heydays are long gone now.
"Rich Spanish, Germans, and Italians still come here to fish," says Francisco. But it's not the same; there are fishing restrictions aimed at preserving Merlin stocks and catches are to be returned to the sea, not suspended from a quayside gibbet. So the days of really big game fishing are over even if the memories linger. Cabo Blanco's future may be more in surfing than macho Merlin fishing. Hemingway is said to have fished every day he was here and of all the famous habitués of the club, his is the image that dominates the restaurant walls and adjoining bar. In a 2011, 215-page history of the club, 19 pages are devoted to Papa. He didn't manage to catch anything weighing over 1,000 pounds, a trophy known as a "grander". The grander record for the largest fish ever caught on a line anywhere in the world remains held by Texas oilman Alfred C. Glassell Jr, who landed a 1,560 pounder here in 1953. Hemingway's best at the club was a 910 pounder, which ain't half bad either. No grander has been caught for over 50 years.
I'm eating tonight 'neath the photos of the man himself. I'll have plain fish a la plancha, some potato and salad. I might have some wine too . . . Sadly it will be bloody awful red wine and dulce at that. They don't have Margaux.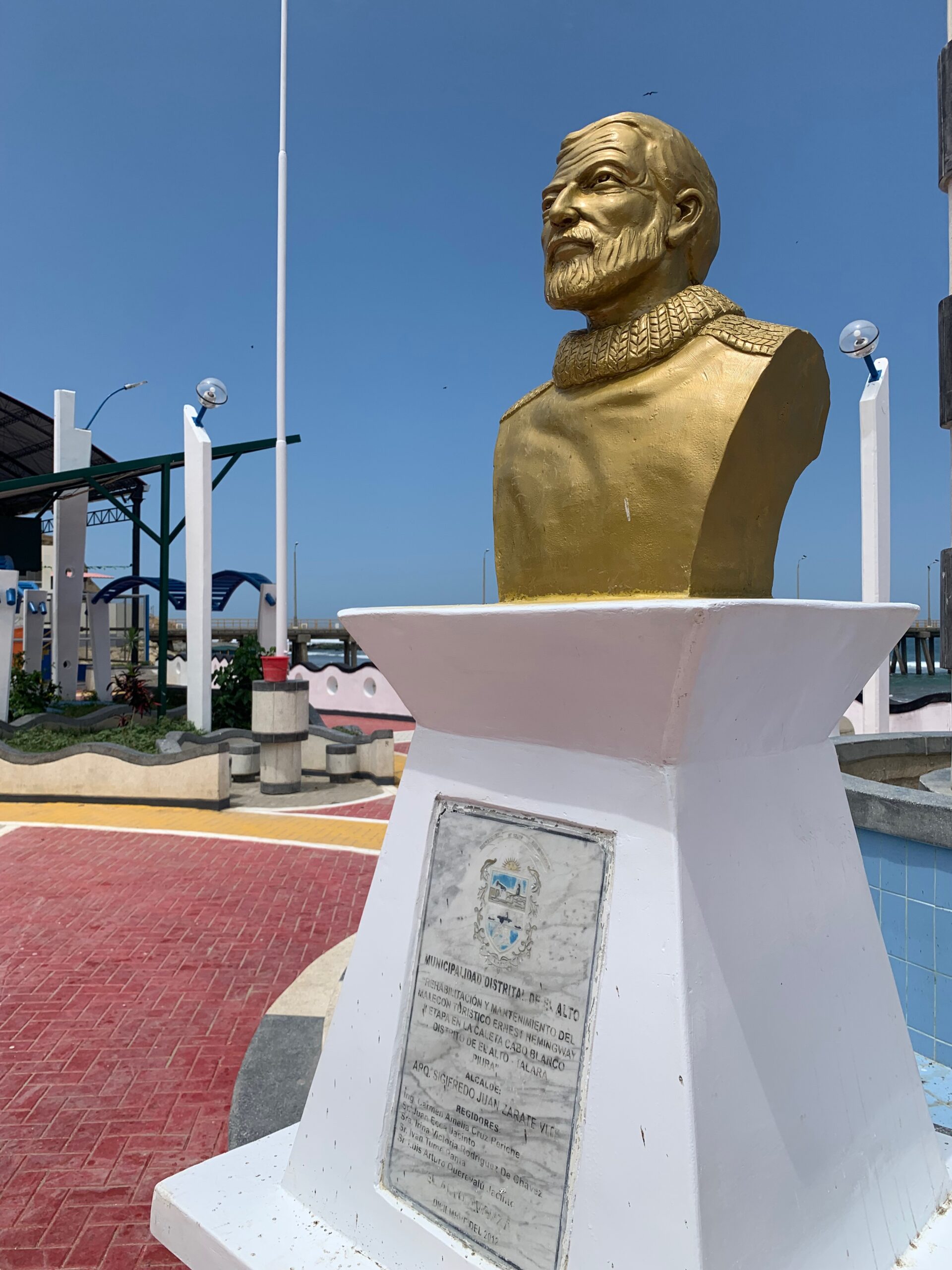 Hemingway's bust on the seafront at Cabo Blanco.