December 28th, Villa Alota, Bolivia.

For the first time on this adventure, I am about to enter pastures entirely new to me. Before this visit to Chile, I had already been to Patagonia, to the Central Valley and to the Atacama. But never to Bolivia; never to Peru and, even though neither is exactly what you'd call the dark side of the moon, I felt a bit nervous.

Whatever. Off I went — north-east out of Calama and towards the Bolivian border, aiming for a frontier crossing at Ollagüe. For a time on the Chilean side, the road ran along the flank of a string of volcanoes straddling the frontier, the last one of which was active, a puff of smoke released from just below the lip of its cone every couple of minutes but the landscape was noticeably less "deserty" than further south. This wasn't the deep Atacama; there were plants, albeit desert plants but plant life, and therefore other forms of life too. And before the frontier while deep in a sort of altoplano among the volcanic peaks, there was a large salt lake, with water and some birds paddling about. Guanacos ambled to the water's edge to drink. It was odd to see life in such a harsh, seemingly barren location. . .
Ollagüe is essentially a train stop on the Chilean side of the frontier and exists because of Chile's victory in the War of the Pacific which it fought against Bolivia in the late 19th century, with Peru dragged in on Bolivia's side because of a secret alliance between the two. It was also called the Saltpeter War, which tells you what it was actually about. At the time, Bolivia controlled much of the Atacama north and east of Antofagasta which it regarded as part of its country. Having lost the argument in battle, in 1884 Bolivia accepted Chilean occupation of the entire region and in 1904 signed a treaty ceding all of Antofagasta Atacama to Chile and so creating the national boundaries as we see them today.

So Bolivia became landlocked but part of the deal was that Chile granted Bolivia unhindered commercial access to the Pacific by a rail link, across the Andes and the Atacama and down into Antofagasta. Ollagüe is the Chilean railhead of the line out of Bolivia. God, but it's a desolate place today. I mean it has no earthly reason to exist: it is at 3,660 meters above sea level, nothing grows here and it appears to have no purpose other than to receive the trains from Bolivia, from the city of Uyuni and, beyond it, the Bolivian capital La Paz, which means no more really that inspecting them and allowing them pass. There's a big fat railyard with maybe a dozen tracks all flowing east/west and, spread around the facility, which is littered with the detritus of railway — piles of old timber sleepers, twisted rails, other bits of discarded metal and some abandoned cargo carriages. Lots of buildings too — early 20th century wooden ones that must at one time have served as offices and/or waiting rooms.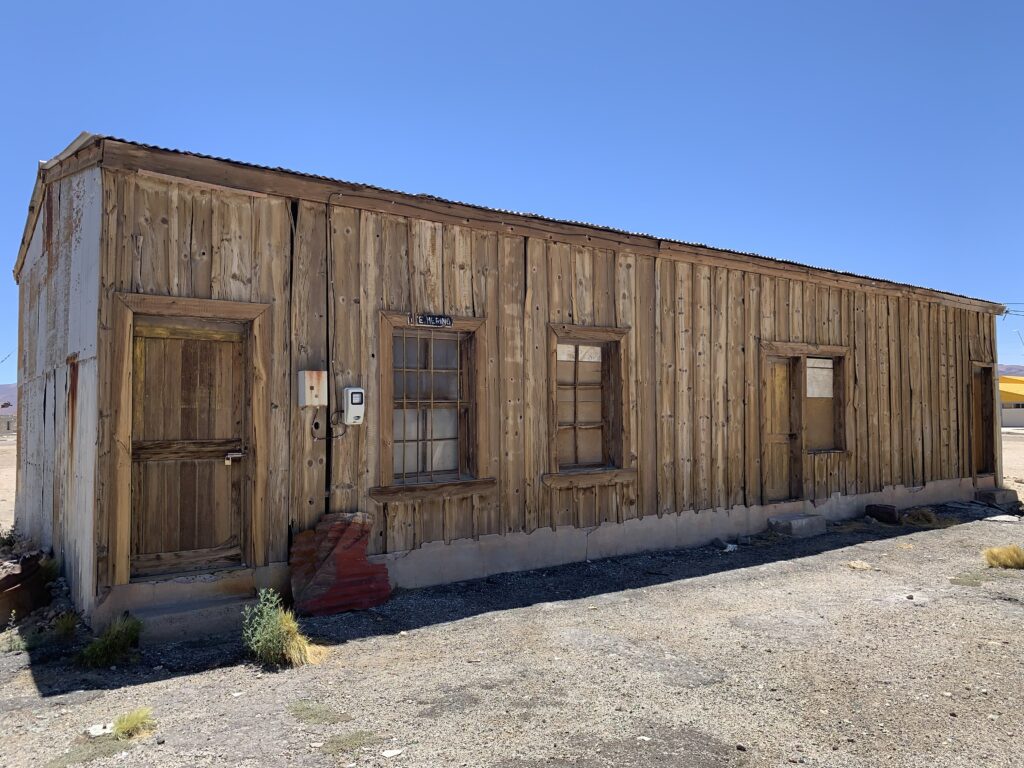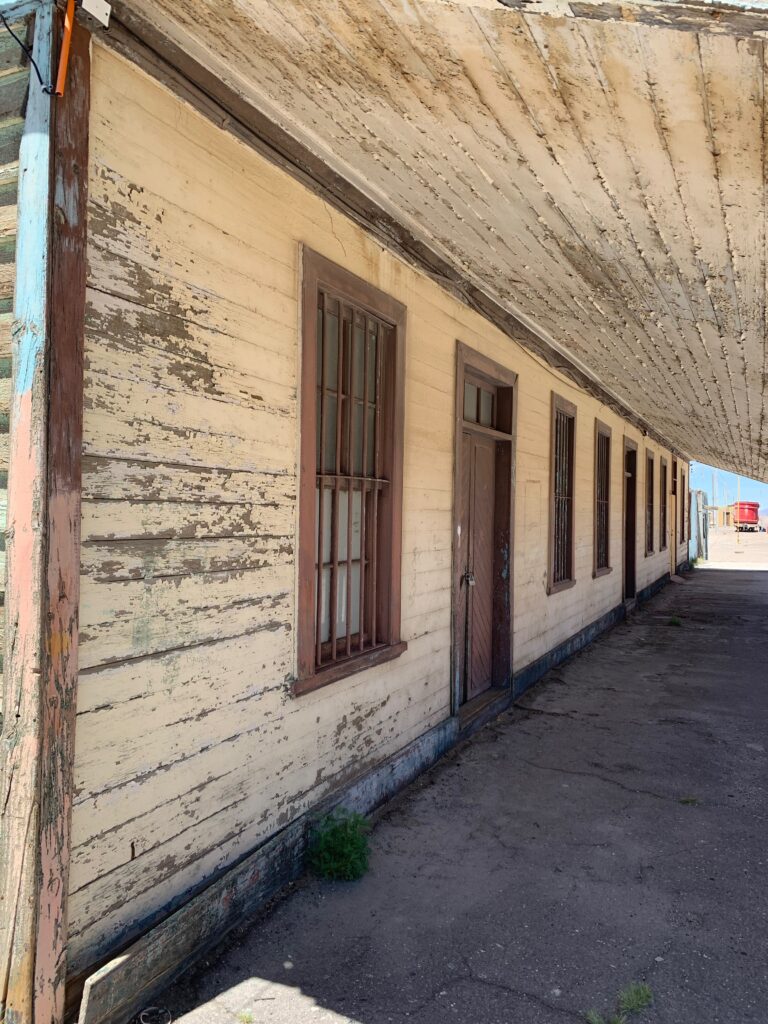 When I'm there, there's a line of bright orange, closed door cargo carriages, each labelled Ferroviaria Andina, a Bolivian passenger and cargo train company that operates a service on narrow gauge lines criss-crossing Bolivia's altoplano, its high plateau between La Paz and Uyuni. I'm wandering about the railyard unimpeded and approach the only bloke I see, a fellow in a hard hat and denim jacket peering under the carriages.
"Aduaña (customs)?" I ask. "No," says the man, who is Bernardo, "mecánico." We chat briefly and he tells me that the border inspection takes place at the actual frontier which is a kilometer or two further along the road and that the carriages are carrying zinc for Antofagasta.

The only other thing of interest in Ollagüe is a giant metal condor (pictured above), standing on the ground, its wings half open and its neck outstretched. Its 10 or 15 feet tall and looks as much like a oversized chicken as a condor.

Down at the frontier, there's something of a queue, on either side, because the staff inside the customs and passport frontier terminal building are having lunch. I park, go into the building and sit down beside another biker. He introduces himself as Michael Brinch and he turns out to be particularly good company, allowing lunch to pass without too much frustration as the queue grows ever longer. Michael is from Roskilde in Denmark, a place I happen to know, started adult life as a civil engineer and worked variously for Lego as a systems manager and then in their education department, before becoming a software trouble shooter and systems manager at a video technology company. He's a really positive guy and is one of those people who can instinctively analyse personal situations, take a positive approach and come up with a solution. He lost his wife to cancer over a decade ago when he was in his mid-40s. When his wife was dying, she told him to go on living life to the full and to do everything that he wanted to do. "And so that's what I'm doing," he said. He's 57 now and looks fit and bright and brimming. I hope he's going to come to Ireland soon and maybe we'll do some of the Wild Atlantic Way together. In the meantime, he blogs on alwfh.dk and is worth as follow.

As we waited — he coming from the Bolivian side and heading south into Chile, and me going the opposite way — he marked my cards.

"Just about 50 kms after the border," he said, "there's a section of the road, it might be five kilometers long, that's all sand and its really, really hard. I came off twice. It's awful; just be careful."

Once the passport and customs guys finish lunch and get back to work, the queue runs down quickly and there's no pushing or shoving to get ahead.The train heading to the Pacific is one of the first to get the all-clear and trundles away to the tender mercies of Bernardo. Michael rides down into Chile to meet his children who are on their own South American adventure, while I go in the opposite direction. And instantly, it is immediately obvious that I have left Chile. Now I am in a different country, a country that is poorer and where the infrastructure is not as good. The road deteriorates so rapidly that it quickly gives up and becomes a dirt and gravel trail but it's OK because its hard and well ridden. I keep an eye on the mileage, waiting for the 50k mark and Michael's warning. In fairness to the Bolivians, a new road is being built and, for large stretches riding on the old, far from adequate road, the new one, a perfectly flat tarmac affair, nicely elevated from the surrounding desert landscape, follows essentially the same route but is for now sealed to traffic. Its maddening that it isn't open. The route, the 701 to Uyuni, drops down just after the frontier crossing before turning east and, in a big arc, swings further east and then north, eventually to Uyuni — a journey from the frontier of about 230 kms.
And then, suddenly, what Michael warned of is there in front of me: about five kilometers of the road — narrow, twisting and turning, up and down over hillocks and around acute bends, snaking its way through a desert, boulder strewn landscape . . . and virtually no hard surface or defining edges, nothing but deep, powdery sand.

"My mistake was to approach it too fast," Michael had said to me. "I must have been doing 15 km/h." As a result, he came off twice but without, thankfully, hurting himself.

I went at it very, very slow — first gear only and with both feet off the pegs, hanging down and skimming the powdery surface. Every now and then, the bike would lurch sideways, putting me off balance, or the front wheel would suddenly take on a life of its own, causing the bike to slew into a drift of sand and threaten to topple over. But it didn't. My feet would stop it but the strain on my upper body from trying to maintain an upright position, with the enormous weight of the bike itself, and all that it was carrying, was really great. Huge clouds of dust ahead, or observed approaching ominously via the rear-view mirror, put the heart crossways on me as each heralded an approaching truck — usually a monster Freightliner or, worse, some bashed up old thing with a devil-may-care driver at the wheel, and often moving at reckless speed. In fairness, some truck drivers were considerate and slowed, giving space for me to get through whatever awkward manoeuvre I had to but others, the majority, just put the foot down, blew their horn and ploughed on past. And so it went on: a straight bit of road for maybe two or three hundred meters would then change character suddenly and turn, usually the road dropping down, followed by another turn to straighten up again, before turning once more. And with each turn, the sand would be banked up on one concave side of the road. In conditions like this, once you've committed yourself to a manoeuvre, you can't change direction, or move with any sort of élan (unless you are on a specialist trail bike and are under 40, neither of which apply in my case!). You just have to get through it, very gingerly and deploying power to the rear wheel like you are teasing it. No great surges but kind of tickling the throttle and clutch, so the wheel digs into the sand and grinds forward but doesn't spin. My new tyres were really good at the job.
I didn't fall once and the sense of elation was heightened when, a kilometer or two further on, access to the new road was permitted. I opened the throttle and leaned into the curves as they approached, almost caressing the road as the bike glided through her paces with effortless grace. Riding like this (and it's not the speed, by the way, it's the sense of freedom, of union between rider and machine — that's the appeal), riding like this. . . well its the nearest thing to sex!
I arrived in Villa Alota, a half horse collection of buildings and a hostel on one side of the road, exhausted but feeling like I'd just won my first Under 10s football medal.