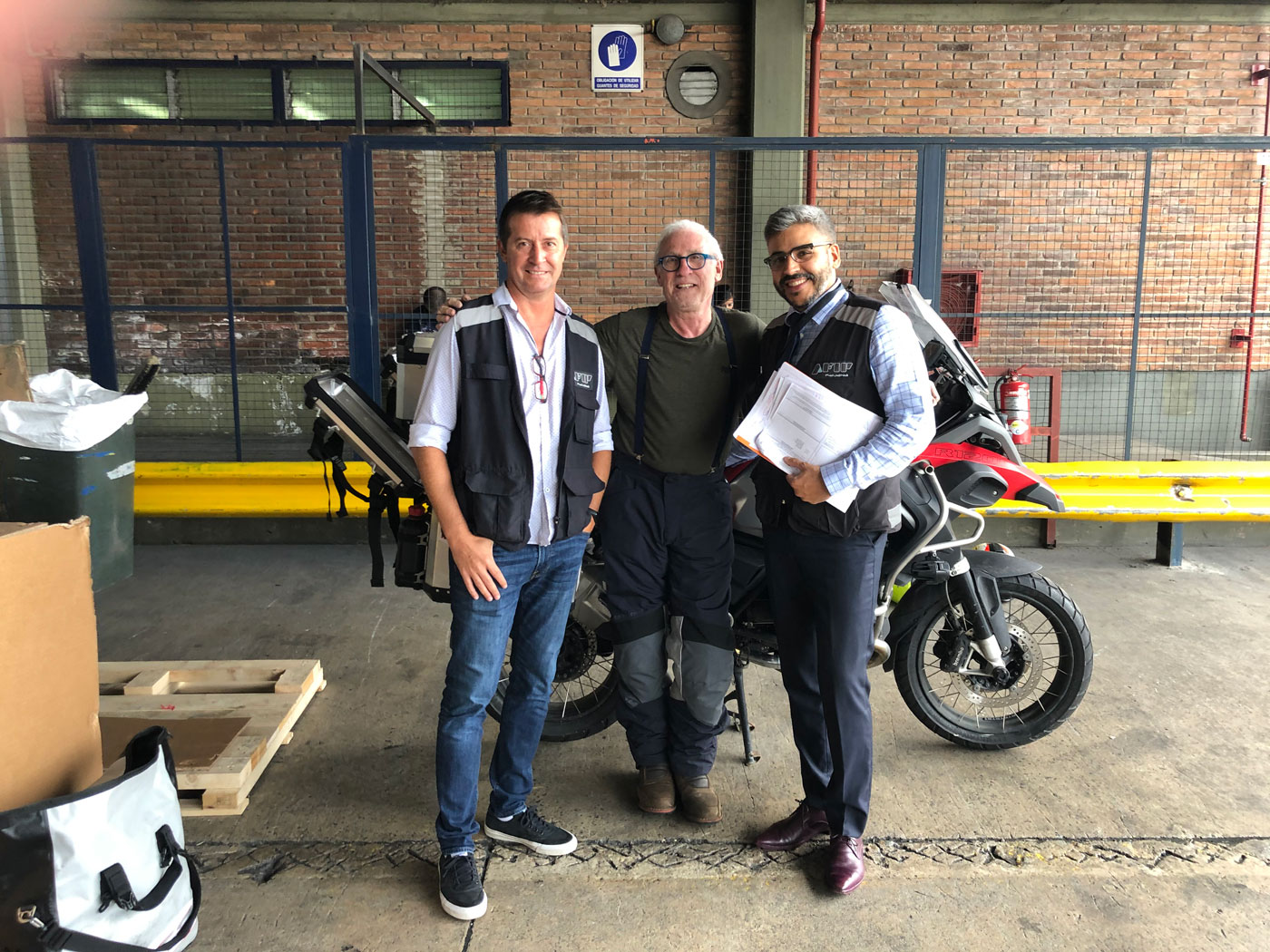 Monday, March 9th 2020
"Hello Peeeeter – how nice to meet you!"
Sandra gives me a firm handshake and leads me across the road to a well used Mitsubishi four wheel drive where partner Javier is behind the wheel, agitating the accelerator gently. Javi wants to get going. What awaits on the way to the airport to collect my bike is a stretch of the Pan-American Highway, which happens to be right beside where I'm staying, in the Susana Just Boutique Hotel in Vicente López, a north inner-city suburb of Buenos Aires. On this Monday morning rush hour, every one of the Pan-Ams jaw dropping 20 lanes is jammed bumper-to-bumper – cars, trucks and busses and kamikaze bikers zipping in and out of the lanes between them.
The drive to the airport is an hilarious joust (in a death-wish sort of way) between drivers, whose universe consists of them and them alone, and most of whom appear gripped by a kind of madness. No quarter is given to anyone and two wheels are fair game for nudging aside…
Javier emits gravelly groans every now and then as Sandra chats away to me sitting behind her.
The atmosphere is lightened with a conversation about the coronavirus, terrorism, peace in the middle east, Israel, Palestine and the manners, or lack thereof, of Israeli backpackers. Javier (55) and Sandra (54) are, it turns out, secular Jews, members of Argentina's not insubstantial Jewish community. Their experience is that, uniquely among younger travellers, Israel's youth, or a very large number of them, are devoid of manners and general social charm.
The backpackers would get on famously with Buenos Aires taxi drivers, I think.
Javier (Sandra calls him Javi, pronounced Havi) is a motor mechanic by trade and he and Sandra have been in the freight business for as long as either can remember. Both are bikers and their business grew out of fellow-bikers exploring Patagonia asking them for advice, usually about getting their machines in or out of Argentina, many of them having arrived ridden south from the US, or come across from Europe. What began as a series of favours grew into a thriving business involving them overseeing up to 500 bikes in and out of Argentina annually and generating a world-wide network of what are now friends.
Trading as DakarMotos, the couple are the Buenos Aires reps for Motofreight.co.uk and over the course of several months' exchanging emails, it became clear to me that they really know their stuff. Which is just as well as the bureaucracy and 'must-dos' attending the temporary importation of a foreign registered bike are considerable. My bike travelled with AeroMexico Cargo and left London in early March for Mexico City and from there to Buenos Aires, arriving the night before Javi and Sandra met me.
"OK," says Sandra as Javi parks the jeep at the airport cargo terminal and goes off to do other things, "I need you to come with me. There's a lot of walking, there's a lot of signing, you need to remember your passport number so you don't have to keep looking it up, and you need money. Customs take card but the rest want it in cash."
And with that's we're off; first port of call the offices of CMS, the handling agents for AeroMexico – and for Turkish Cargo and Avianca Cargo and Cubana and CargoLux and Qantas. The tiny reception office on the first floor of one of the airport's several office blocks is crammed as four men ahead of Sandra go through the motions of form-filling and signing to obtain the Air Waybill, the key document that will allow them retrieve from customs whatever it is they have had airfreighted into Buenos Aires.
A logistics company Ben Affleck look-alike is standing at the counter with a small rucksack of forms and folders. He takes them out one at a time and, using the counter as a desk, signs each in front of the receptionist. She observes he's doing everything correctly while simultaneously using the photocopier beside her, talking on a phone tucked between her right ear and shoulder – all done with good humour, helped along by Tina Turner belting out over a speaker What's Love Got To Do With It?
Our turn comes. I sign multiple forms and pony up $200 cash. "Why this," Sandra says to me, vocalising my own thoughts, "I don't know! You pay Motofreight already, so why this? I dunno but is way it is…"
Tina Turner takes the $200 and then photocopies the notes. Twice. I have to sign both sheets, one of which is given back to me, stamped and countersigned by Ms Turner. I will treasure it.
Then it's off to get the sanitation certificate. Why? Who knows! It costs 120 Argentine pesos which, at March 2020 exchange rate, is about €1.71 so I'm not going to get into a huff about that. Finally, before we can get anywhere near the bike, there's TCA (Terminal de Cargas Argentina) security clearance, which is granted, along with a badge to wave at security guards. This, I will also treasure!
Inside the TCA building everyone walks about with security badges around their necks and clutching either cups of coffee or folders, or both. It is clear Sandra is well known to everyone. In the key ground floor office, there are two women behind glass screens and they greet Sandra with air kisses.
"She will give you coffee," Sandra says gesturing to one of the women. "Look at her. She is beautiful. Never mind the other."
And with that, Sandra disappears through a door into what I assume is the warehouse where, hopefully, my bike awaits liberation. The beautiful woman goes to a vending machine and gets me a coffee with big smile before Sandra returns to announce triumphantly: "Your bike is here!"
Outside the warehouse, visitors are corralled between two large concrete barriers for safety as forklift trucks fly in and out, retrieving cargo. Eventually, one brings out a very large cardboard crate, inside of which is my bike tethered onto a pallet – in perfect condition with not a single item missing. All my loose belongings – my jacket and trousers, boots and gloves (now bone dry), tank bag and my two bright yellow, all weather bags – have been securely wrapped in cling film and have not been tampered with. Freed from the giant cardboard box that encased it and from the pallet, at the first pressing of the electric starter button, the bike snaps into life.
Shortly, two very cool looking customs officers Gonzolo and Christian, approach to carry out their inspection.
"Hi there," says Gonzolo in perfect English. Holding a clip board he goes around the bike looking, checking the engine and frame numbers and asking me to open the panniers. "What's in here?"
Obvious, simple question and, like an idiot, for some moments I can't actually remember.
"Eh, camping equipment in that one, I think. Clothes in the other."
"Ah," says Gonzolo, "where you going?"
"Oosh-y-ah," I say, hopelessly mispronouncing the Argentine capital of Tierra del Fuego.
"Ah! Oos-wy-a!" says Gonzolo.
"Si! And then Alaska."
The guys smile, wish me all good fortune, shake hands and pose for a photo. "Buen viaje!" says Gonzolo.
And with that, the other woman in the office relieves me of $700 customs fees. And she was actually veer nice a bout it. I sign a plethora of other forms (God knows that I committed to!), Sandra and Javier organise road insurance for me (for the paltry sum of $5 a month for Argentina, Chile, Peru and Bolivia), and they too pose for a snap.
And so it begins. I whizz out of the airport complex with a sort of generalised notion that if I can find Ruta 3, and go south rather than north, I just might get to Tierra del Fuego.
Javi and Sandra's fee? $300 and they were worth every cent!