January 19th 2023, Pacasmayo, northern Peru.

I spent a little time today seeking to reassure various people, not least my wife Moira that, whatever they might hear about Peru over the coming days, I was OK, far removed from the likely epicenter and well on my way out of here. I thought that whatever was going to happen would likely happen at the weekend — Friday or Saturday. Well, it happened tonight, or started to happen, and you may hear about it on the news when you wake up on Friday.

Serious rioting has erupted in Lima and part of the center of the city is in flames. The part is, incidentally, just a few feet away from the Plaza San Martin about which I write below. For much of the past 24 hours, protesters have been descending on the capital, demanding the government resign, the jailed president be freed and fresh elections held. Tonight/last night, they converged on the capital and, as happens in such situations, matters got out of hand. Just off Plaza San Martin, one of those late 19th/early 20th century statement buildings about which I write below, a former and vacant hotel, I think, was attacked and set on fire. The spectacular blaze has made for dramatic TV footage here and much ruminating by analysts and commentators about what the government can/will do next to restore order.
On Wednesday, I had to negotiate my way through a very serious blockage in Chao, south of where I now am. At that blockage, there were hundreds of buses and lorries stranded, immobile four abreast, and making the Pan American Highway impassable. Thousands of people were stuck on a road in intense heat and going nowhere.
No government can allow that situation continue indefinitely and for me, it is only a matter of time before the authorities react — which will likely mean the police and/or military going in and forcibly retaking control of the highways.

At the same time, protesters from all over south and central Peru were heading for Lima . . . and a reckoning was clearly on the cards. Last night, the crowds of protesters got out of control, to some degree, in central Lima and let fly. At the time of writing, the authorities have not responded with lethal force but TV pictures are filled with dramatic footage of the huge blaze and people evacuating their belongings and pets from nearby buildings. In other parts of the city, people are roaming, looking for targets on which to vent their anger.

Will they? Who knows? But it is clear to me that no government will allow the heart of its capital city to be set ablaze without reacting, and probably reacting with force. Because they know that if they do not, other centers of power will likely step in to, as they see it, stabilise a situation but in reality only make matters worse. We shall see.

I am in a seaside town, Pacasmayo, about 12 hours north of Lima, and will be heading for Ecuador over the next two days. Events will take their course but I hope the worst case scenario — extreme State reaction in the face of persistent street violence — does not transpire. Here's my report, written before tonight's events . . .
After Machu Picchu and a fairly horrendous journey back to Cusco (held up for hours by protesters in the middle of nowhere, in the middle of the night), I headed for Lima. I stayed there for two nights, partly because I was knackered and just wanted to rest. And partly because, while I was not in a fantastically fashionable, Five Star hotel, my hostel was about 10 feet from the Plaza Mayor, the historic city's centrepiece, home to its cathedral and presidential palace. Truly, it was a place of beauty and tranquillity, of wonderful architecture, some centuries old, some more Belle Époque-meets-Art Nouveau, a place of colonnades, restaurants and small streets bursting with charm. You could be here and forget, if only for a while, the slums and filth, the gargantuan quantities of litter and general human degradation that is, well, almost everywhere in Peru. I'd rather not be writing that but I'm afraid it is true, at least in my experience. And it's not that I blame the people as such: but this is the state of the country and, while individuals are responsible for their actions, this is a society of gross inequalities — inequalities of material well-being and of opportunity — and of bad government. My sympathies are with the protesters, especially the people I met on the road from Puno, through Juliaca and on to Cuscoe, because they were people clearly of modest means, to put it mildly, who just wanted a larger share of the national cake — a reasonable demand, it seems to me.
I went to Lima also because I wanted to witness an anti-government protest there, billed by my source as likely to be very large. Perhaps, after the carnage in Juliaca just five days previously, there would be trouble and if there was, or indeed whatever there was, I wanted to report on it.
Saturday evening came and I was told by The Guardian's man in situ, Dan Collyns, that the place to be was Plaza San Martin, a square on the edge of the historic center. I walked to it and what a treat it turned out to be in terms of beautiful buildings — statement 19th and early 20th century structures that would not look out of place in any central European capital city.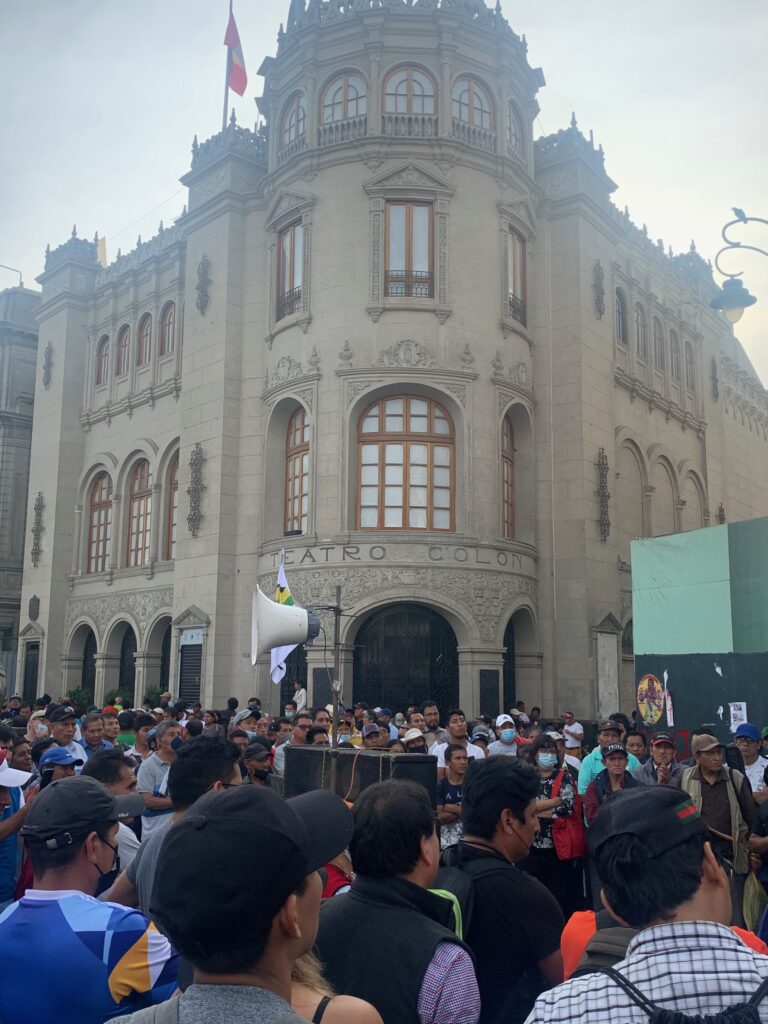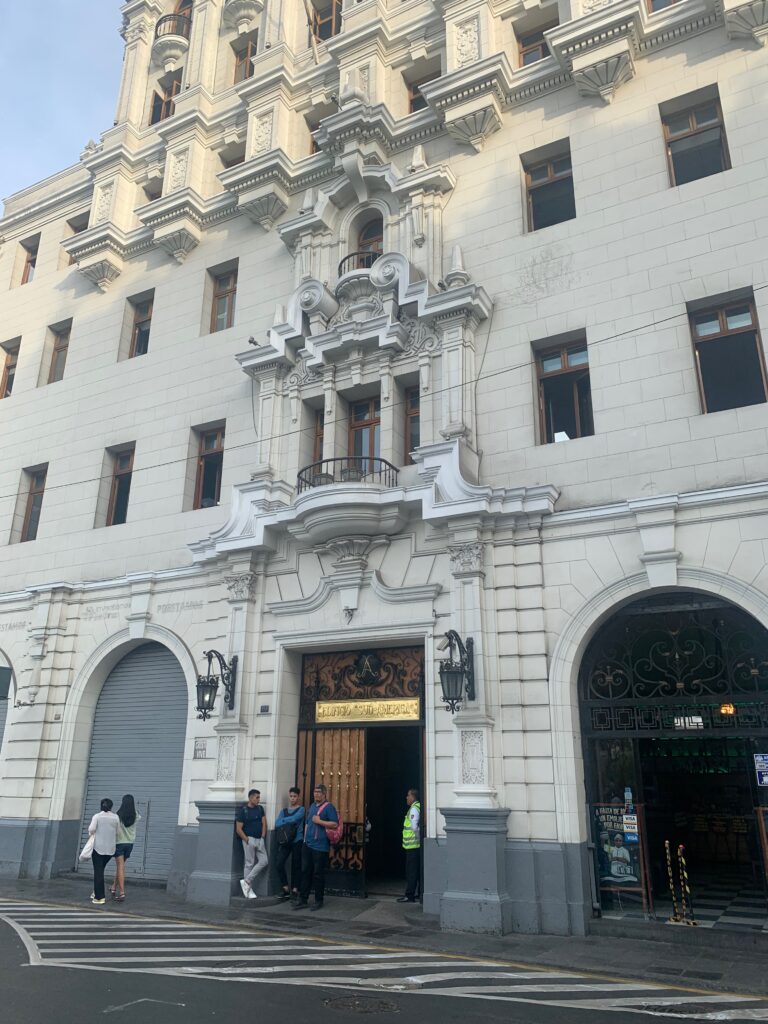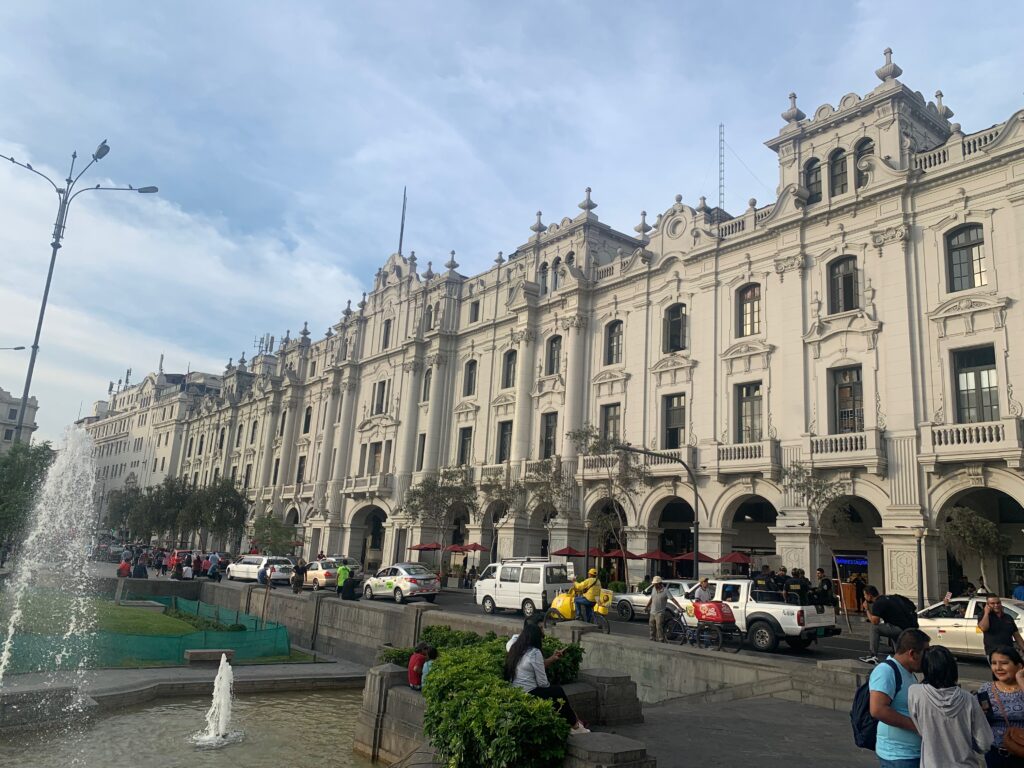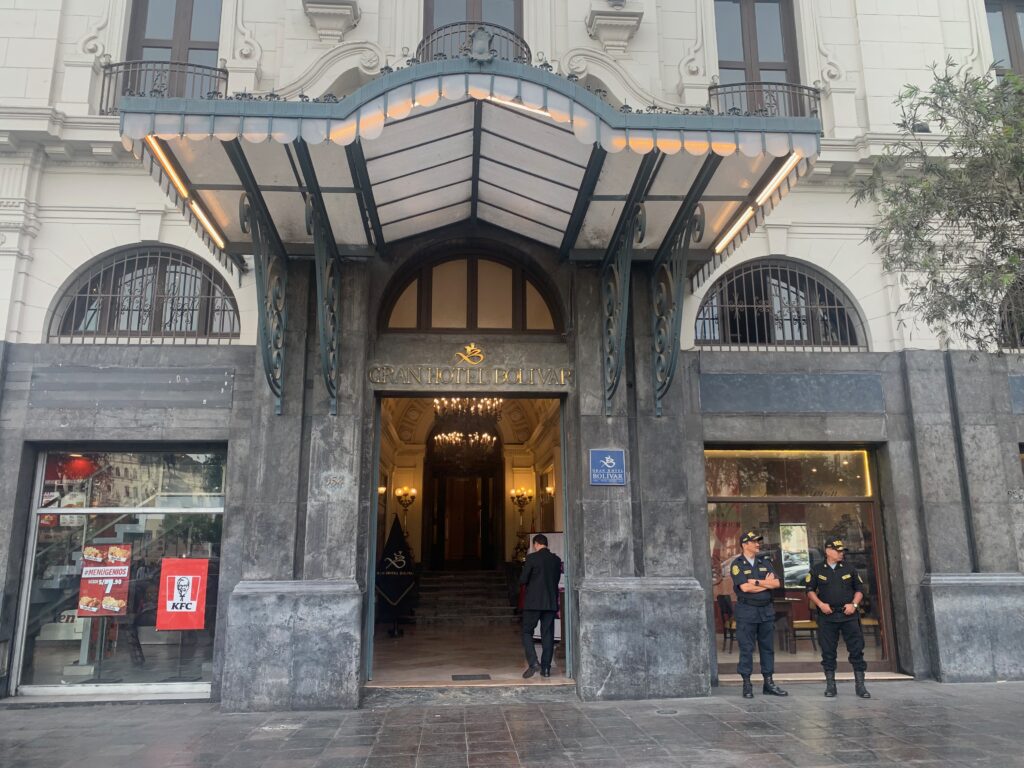 There was the Teatro Colon, a beautiful, corner building dating from 1910-1920 . . . dark since 2000 and awaiting new life as a "cultural center". There was the Edificio 'Sud-America', another sturdy but elegant statement building, well looked after and in use. One side of the square was taken over by a single block, with a colonnade at street level filled with shops and restaurants and something inside it that billed itself as a military hotel, whatever that was. On the other side of the square, near the theater, was the Gran Hotel Bolivar, which dates from 1924 and is still a hotel. They were happy enough for me to wander about inside, which is approached by passing a twin set of tall brass lamps leading to a hallway and then a rotunda with a magnificent Tiffany-style, domed glass ceiling. The elegance and slightly faded charm of the interior contrasted starkly with what was going on outside.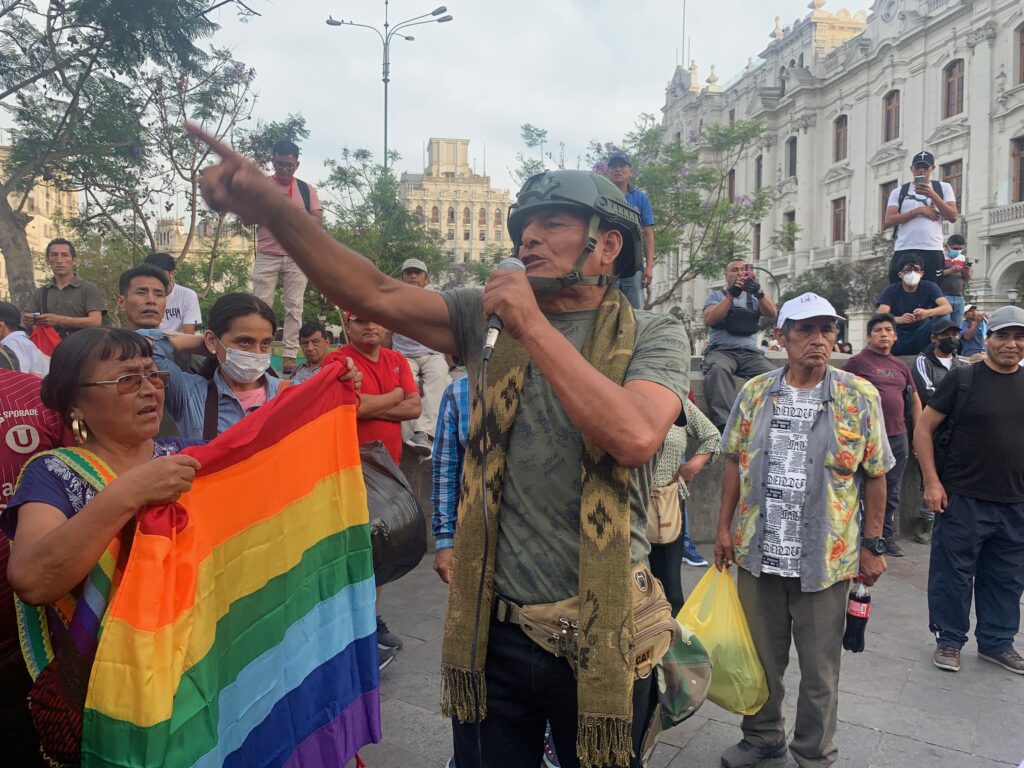 There, amid the roaring and shouting, hooting and braying, upwards of 5,000 protesters were gathering in what seemed initially to be a hopelessly incoherent manner — different clusters of people, with flags and banners, listening to different speakers. . . and all of them speaking at the same time through competing loud hailers! It looked like the people were never less united and I couldn't see them ever defeating anything at this rate. Between competing orators and passions, it was more Speaker's Corner in London and less a Risen People. But then, in an instant, it all came together and off they went — marching twice around the Plaza San Martin and then off into the modern city, with a police escort front and rear, a flowing mass of banners, flags, and little hand-held, hand pumped noisy horns and whistles. Eventually, I learnt that the destination was Miraflores — "the police station", I thought my informant protester — about 10kms away. Instead it was simply to Miraflores itself and to a small park there. But Miraflores turned out to be probably the most fashionable inner-city suburban place I had seen in Peru. It was dripping in nouveau riches wealth, high-rise modern office buildings, brand-name fashion outlets and the sort of chi-chi restaurants and resto-bars that go with them. This then was the "other Peru" and, it seemed to me, that the protesters were making sure the people there knew something was not right in what should be their shared society. They didn't just stay on the main route that led straight to the park. They wound their way around the residential streets behind the main drag, streets lined by either medium height apartment blocks or individual homes, many of them with that "architect-designed" look about them. My impression was not that the protesters were not saying "we're here and we're coming for you", even if that is perhaps what some of them might have thought. But they were saying "we're here and we are very, very unhappy; this is our country too and we're not going away".

The protest ended peacefully and quietly, and never had the appearance of finishing any other way. I went to one of the "resto-bars", had a burger and some craft beer and got a taxi back to bed.

Leaving Lima next day, eventually the Panamaricana becomes a proper road, not one overrun by market stalls, taxis and busses that stop just about anywhere they like and cause traffic mayhem. In one sense, it's all hilarious and very colourful. But in other ways — like trying to stay upright on a huge motorbike — it's a bit of a nightmare. You have to navigate around vehicles much larger than your own as they flit between lanes without a care as to other road users. There's no point in blowing your horn to warn them they are about to hit you. Everyone's blowing their horn all the time and so one more won't make the slightest bit of difference. Instead, I deploy my full repertoire of Anglo-Saxon abuse, which can be extensive, and that usually works. But once past all that, yes, the road, shears through flat and well cultivated countryside, much of it under sugar cane.

And then, quite quickly when you turn off the Panamericana to head inland on Ruta 16 travelling north-east, the road begins to climb back into the mountains. The Andes, and their huge footprint, are never far away. The road to Huaraz, some 200 kms off, travels the floor of a valley that twists and turns and worms its way upwards, slowly at first with a gentle gradient, and then in a more vigorous, more pronounced way. On the way, small communities are eking a living from the valley floor which is covered in mango, avocado and trees, the gnarled fruits of which I didn't recognise. There are some vegetables grown but it was mainly the fruits. I stopped at one of the roadside stalls, bought a mango and ate the whole thing in one go. It was sweet and runny and there was something deliciously decadent about just sitting there, looking at the lush valley floor and, above it, the arid, desert-like flanks of the mountains on either side, eating this sweet-tasting, luscious fruit, and the juice running down my cheeks.

There are groups of curvy switchback twists and turns on the road before it joins Ruta3N, which travels due north, hugging the flank of the main Andes range, all the way to Huaraz. I wanted to stay there as a base for traveling another road, one right around the mountain Nevado Huascarán Sur. At 6,768 meters above sea level, it is the highest mountain in all of Peru. Next morning, I awoke to see it in the near distance, a huge mountain of black rock and snow, almost Himalayan is scale and appearance.

I rode Ruta3 to Yungay and the turned onto the R106, the start of the loops around Huascarán Sur. It looked like it would be a magnificent road to ride. Immediately, however, and rather surprisingly, I am onto a dirt road. I thought it would end just as it left the small town and continued upwards. But no, sadly, it stayed like that the whole way up — up for some 25 kms through scatterings of small holdings where people keep pigs and chickens and grow vegetables in small plots to feed themselves, and maybe have a little left over to sell by the roadside. Increasingly as one rose higher on the single track dirt road, eucalyptus trees dominated and, with them, logging for fence posts, scaffolding poles and firewood. At the formal entrance to Huascarán National Park, a jaw dropping vista appeared — on either side of a valley, there were huge and almost completely vertical escarpments. And between them, the narrow gap, a vista closed off at the far end by a snow covered "lesser" mountain behind Huascarán Sur — Yanarrago, a mere 5,055m high. On the right hand side as I travel through, the cliff top vertically above me has a castellated and jagged top and, so close am I to the cliff face, that Huascarán Sur itself cannot be seen above the cliff face, save when dense but wispy cloud drifts aside for a minute or two, allowing one to catch a glimpse of the enormous mountain.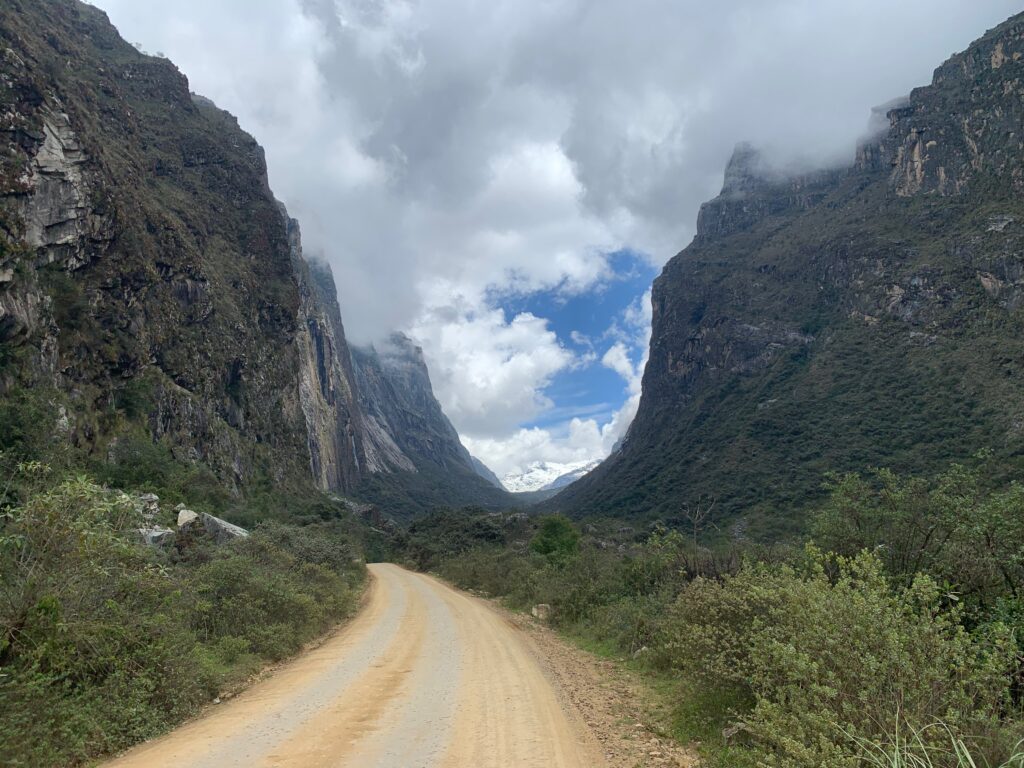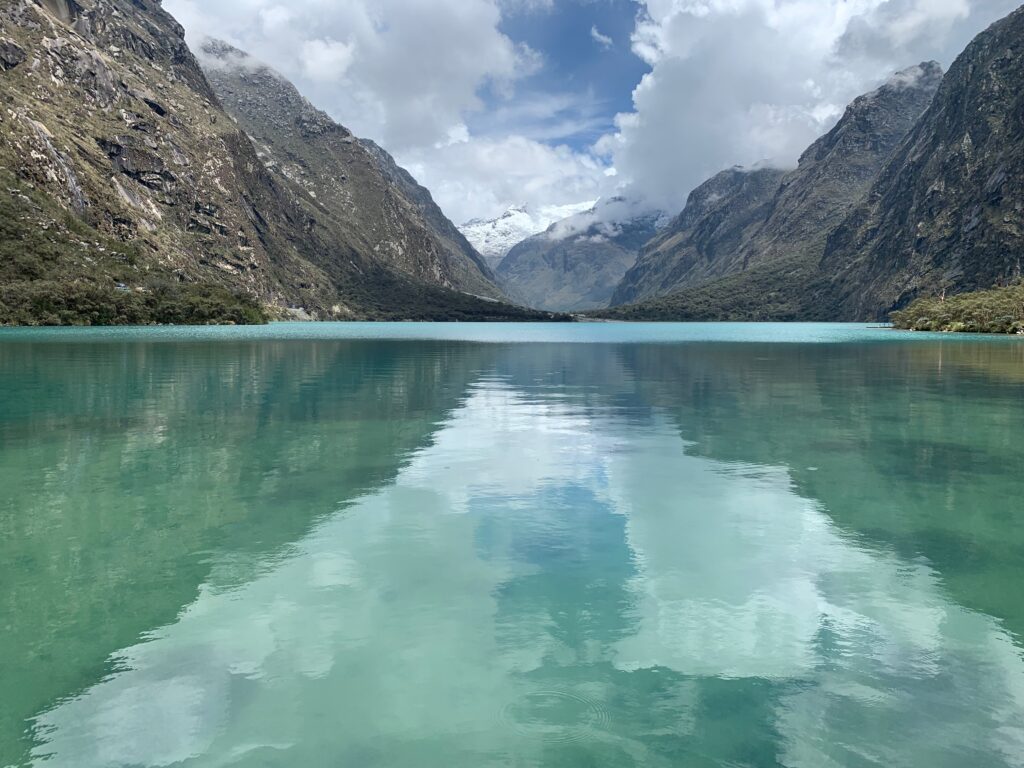 It all looks vast but also calm. There are two lakes up there, Chinancocha and Orconcocha, blue pools of tranquillity and great photogenic draws for visitors. The wild beauty of the place is captivating but don't be fooled: this is a place of great instability and hence danger too. In 1970, an earthquake caused by the volcanic nature of the mountains, sent 80 million tons of ice, rocks and mud crashing down the valley, through which I had just ridden, at 300 km/h, burying Yungay and killing more than 20,000 in and around the town, as well as 20,000 more in Huaraz. Final estimated were of 67,000 fatalities and 800,000 people made homeless.

Workers were spilling truckloads of fresh gravel and mud onto the road as it passed the lakes and the road beyond, and right around back to the main Ruta3N was another 175kms. Happy at my distance covered, I turned around, rejoined the road north at Yungar and headed off again. Slowly, and then quite quickly, the road north changes character: after Yungar, initially it was the same, two lane normal tarmac road I had traveled before and after Huaraz, essentially following the same course as the Rio Santa, along what was quite a wide valley, with towns and farm land along the way. But then, both road and river take a turn west, and begin their journey to the Pacific — a journey through a lengthy and most dramatic steep-sided, narrow valley gorge. The road shrinks to a single lane, twisting and turning, hugging a steep cliff face on the left, and, on the right, revealing a huge drop, in places some hundreds of feet, down to the bottom of the gorge, frequently with no barrier whatsoever to deter vehicles plunging into the ravine. The landscape all around is bare rock with almost nothing growing anywhere, save for the very bottom of the gorge. The mountainside is technicolour extreme shades of brown, rust, red, black and grey — its like the minerals are shouting at you. It is both terrifying and exhilarating landscape to traverse and such is the dramatic change, you start to wonder "have I taken a wrong turn?" or "did I miss the sign saying R3N this way" or "am I in the middle of a giant mine?"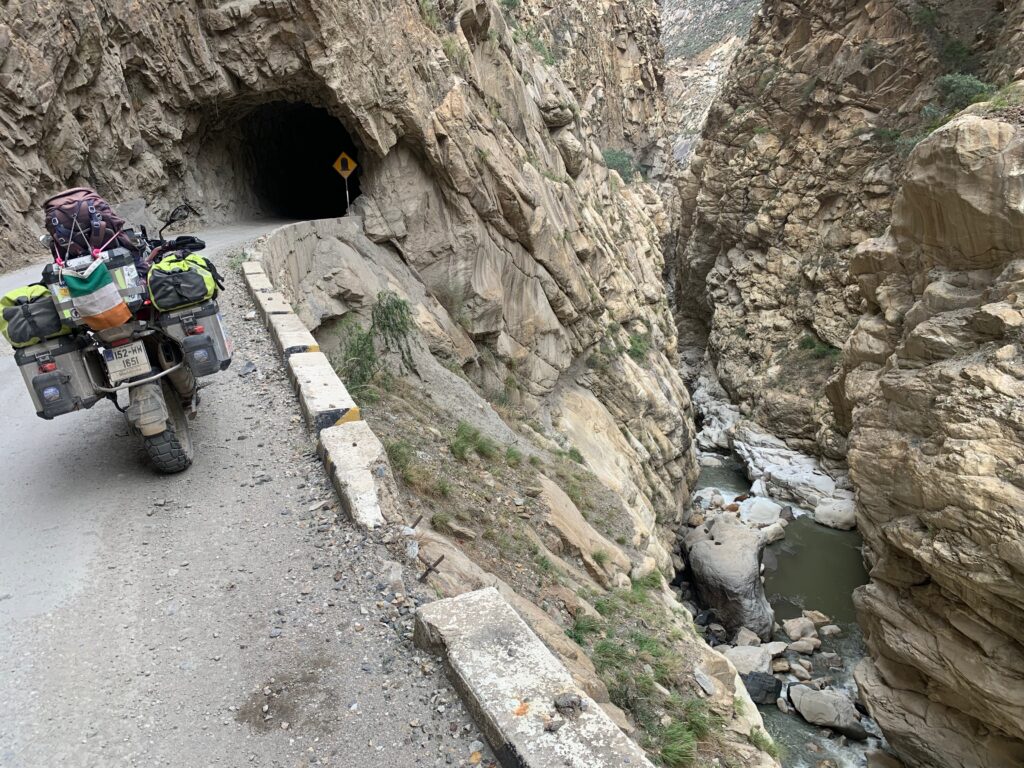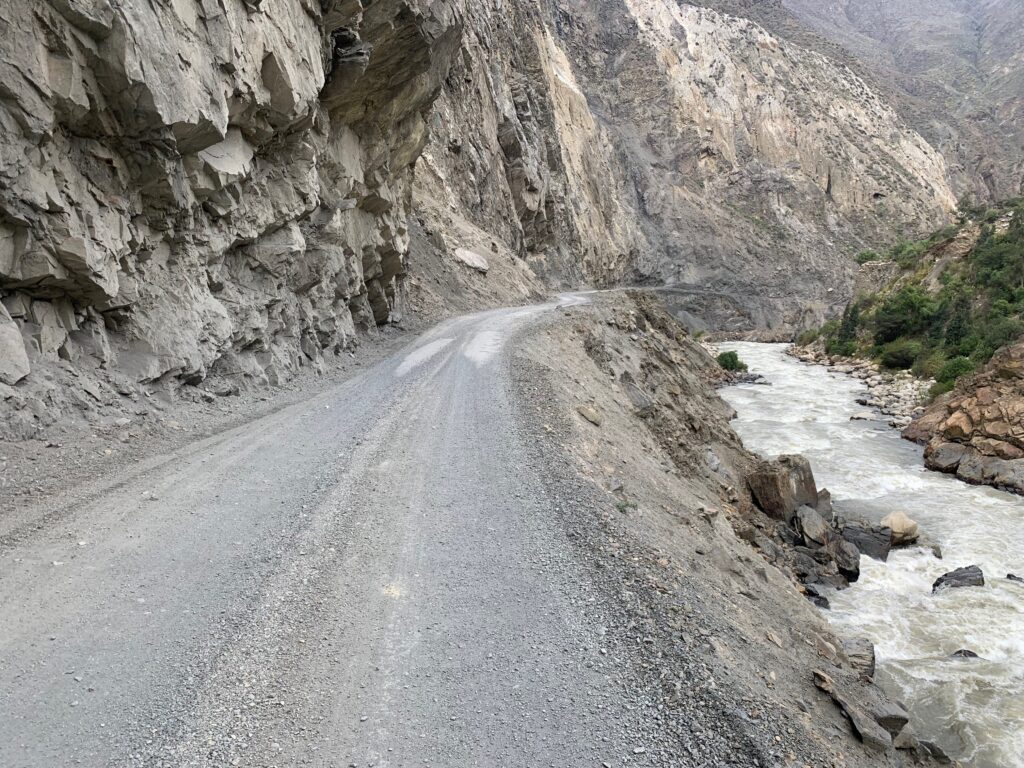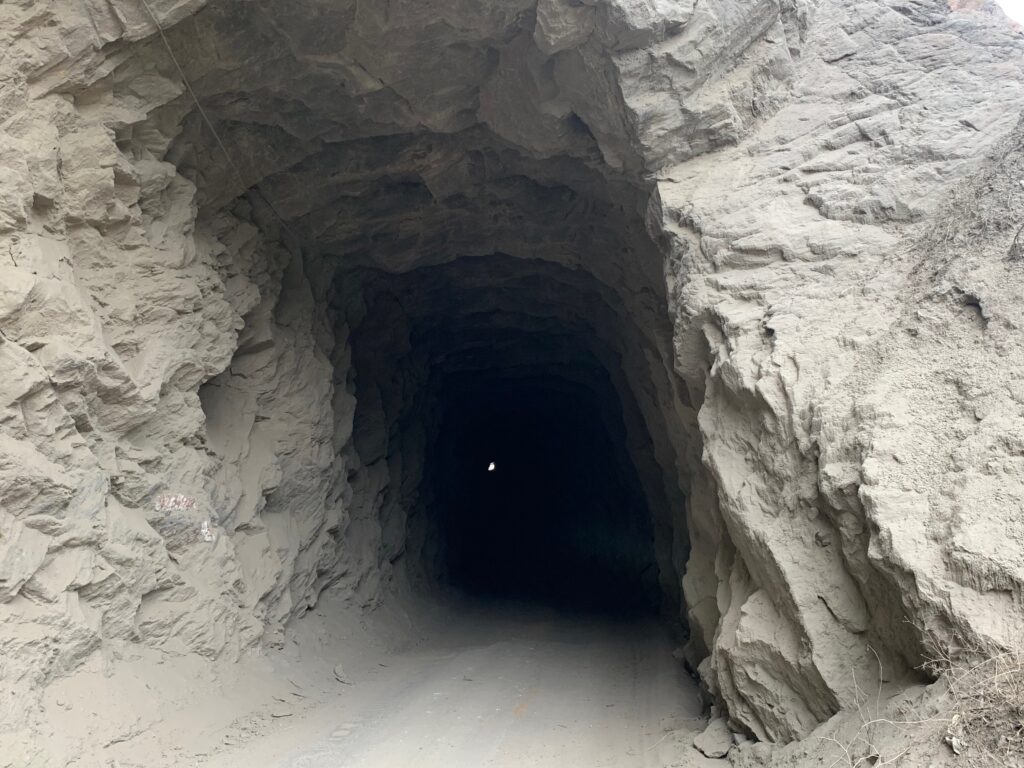 A steep-sided gorge and tunnel after tunnel — the end of this one is the tiny light in the center . . .
Then the road starts entering tunnels — one after another, some quite short, maybe no more than a few feet, the length of a car, say; one close to a kilometer long. The tunnels are little more than crude holes knocked through the mountainside, as it plunges down into the ravine. The sides of the tunnels are not encased in concrete but left as they were made, holes smashed through the mountain rock. There are no supports to stop them caving in, and there are no lights. The road surface in many of the tunnels is non-existent, just pounded mud and rubble and potholes. It's pitch black inside, save for one's own lights, and there are no passing places, just width sufficient for a single vehicle. If you stopped a car, for instance, in places I'm not sure you'd have room to open the door. And there's no way of telling if another vehicle has entered the tunnel at the far end, unless the tunnel is straight, which many are not, and you can see their lights. You just enter yourself, sometimes seeing no more than a tiny white dot in the distance, the light, literally, at the end of the tunnel, and you drive cautiously, hoping nothing's coming at you, especially a large truck. Blow your horn, say signs at the entrance, not very helpfully.

And when you exit the tunnel, quite literally blinking into the light of day, the gorge and the great plunge to the bottom is right there, a foot or two at most to your right. Truly, this has to be one of those Peruvian caminos de la muerte one reads about. That said, I recall seeing only one roadside cross. At Cañón del Pato, emerging from a tunnel, quite suddenly, there appears a large dam and hydroelectric plant, the size of which and noise from give one a jolt and somehow, quite irrationally, frightens. I stop and, dug out of the mountain behind me there is, for no obvious reason, a huge hole, a hole large enough to fit an articulated truck into but its empty and gaping at you, cave-like.

I'm not sure how long this goes on for — 10 kms, I'd estimate. But it is, without doubt, one of the most terrifying and amazing roads I have ever traveled. The open road resumes, and then more tunnel, open road again, followed by more tunnel . . . a pattern that ends at Campamento Hidro Cañon del Pato, a place that exists solely to serve the hydroelectric operation and those who work in it. It is all red roofs and has an institutional look about it, the way military barracks often do — which is why, I guess, it's called campamento. Somewhat oddly, a real town, Huallanca, which has shops, hostels, homes and a church, exists a few kilometers down the road but still manages to appear dead.
After Huallanca, the road returns to something one would call normal. But it's still hugging the side of a giant gorge and there's lots of potholes and the light is fading. At a tiny place (which still has a police station, mind) the Ruta3N resumes its north-bound trajectory. I stay west-bound on the R12 and eventually come to the town of Santa. I had little choice but to carry on, even after it got dark but it was great to get there. Santa really does exist, I promise, and he serves beer . . .