February 8th 2023, Quito
Even before arriving in Quito, things were starting to look good. When I'm biking, I tend to just ride and when I'm hungry, I stop somewhere that looks vaguely OK and eat whatever is going. Well, rattling along the Panamericana E35 highway through northern Ecuador, the options were not plentiful. And then, perhaps 12 kms south of the city, I pulled into a Premax petrol station which appeared to have a decent looking cafe. It turned out to be what I reckon is the best petrol station forecourt cafe on planet earth!
It is called Ukllana and is the brainchild of a fellow named Gerardo Carbo. Judging by his LinkedIn profile, he is a CEO, an entrepreneur, a banking expert and a doctor of law, he's on the board of this, that and the other, lectures here and there (Harvard gets a mention) and has also penned a book, entitled Born For More. In short, I don't think that Dr Gerardo is lacking in the self-confidence department. But, the proof of the pudding, as is said. . . His petrol station caff is stunning — a gem to behold and deserves all the praise I can give it.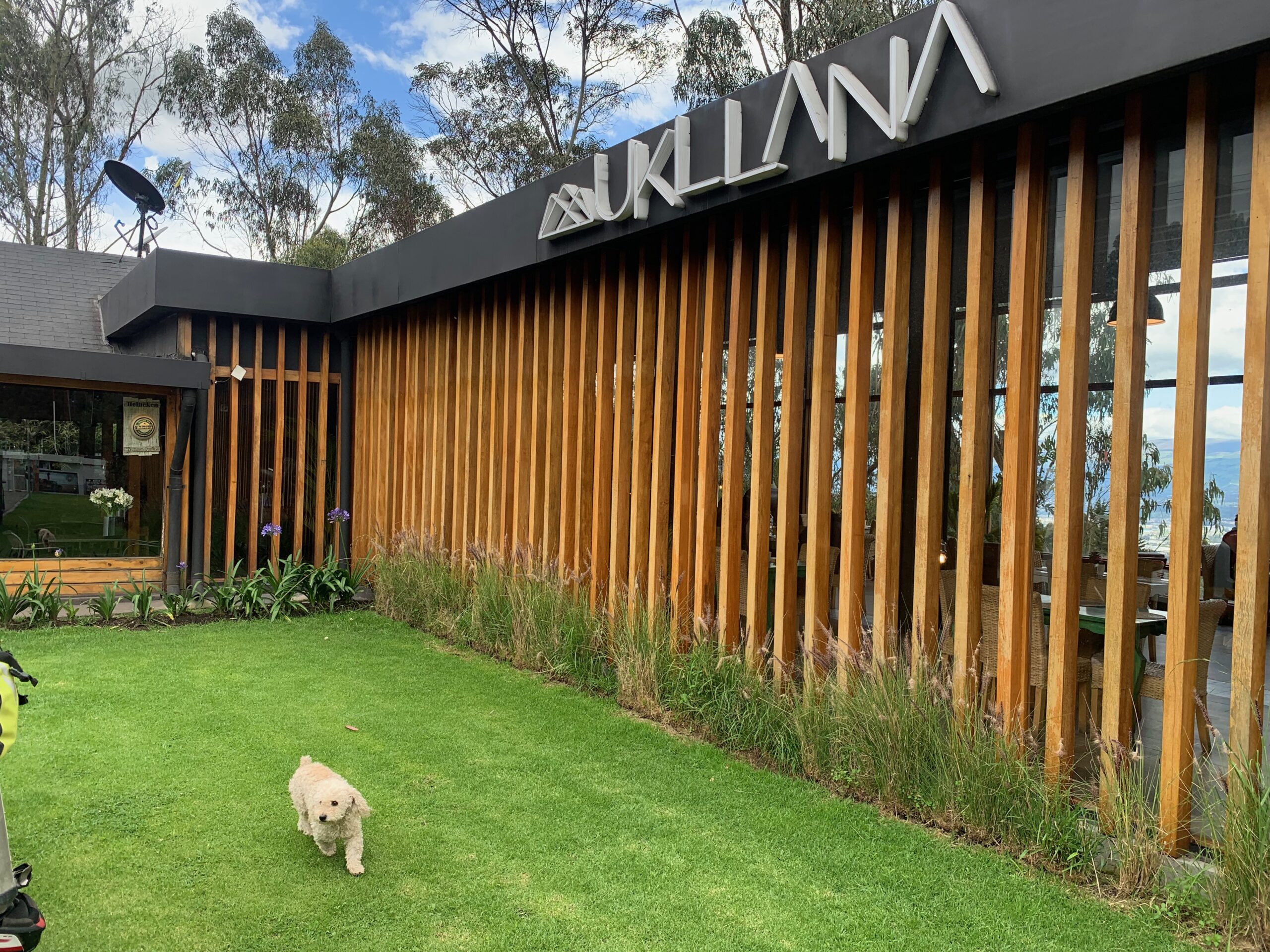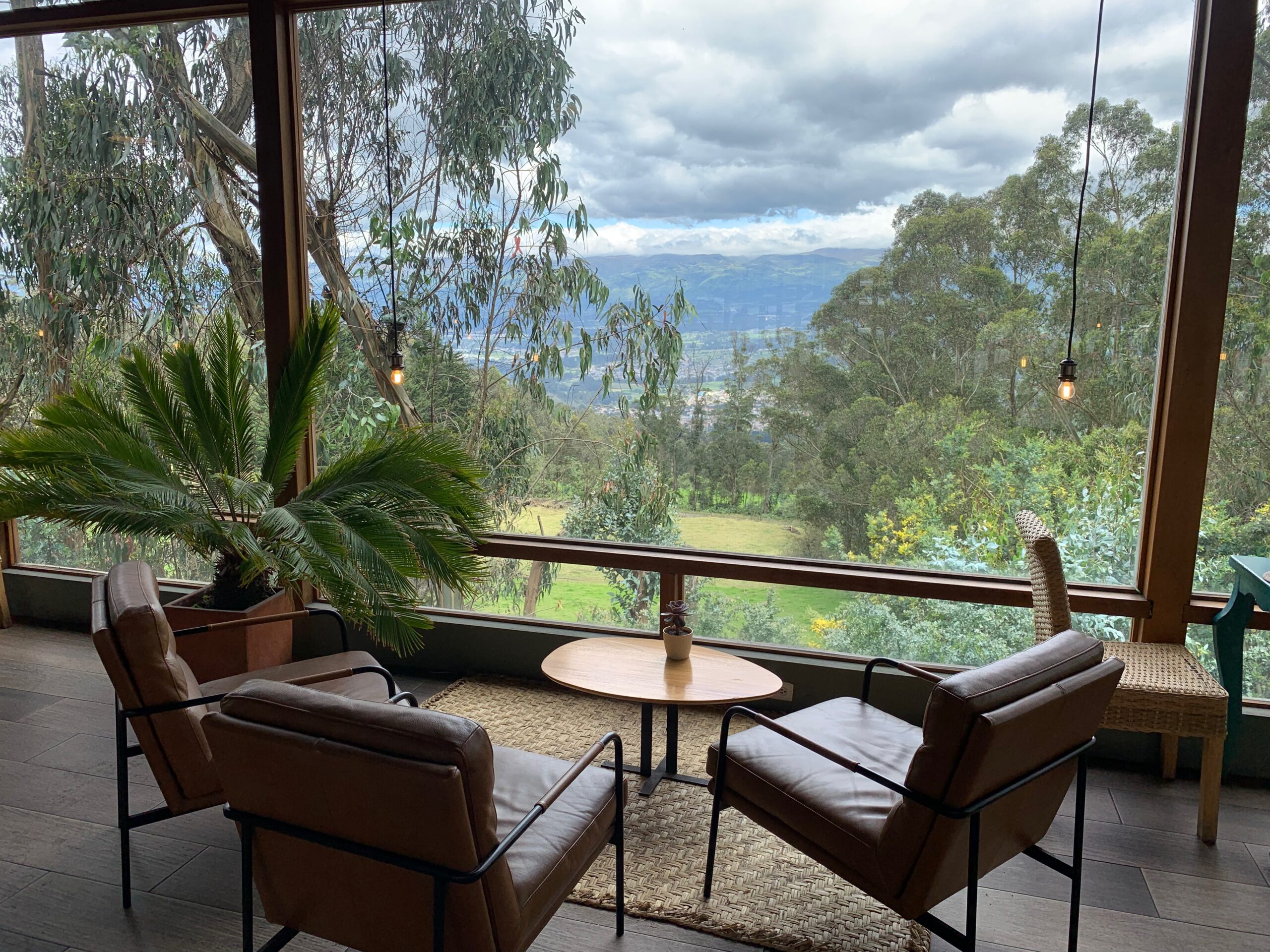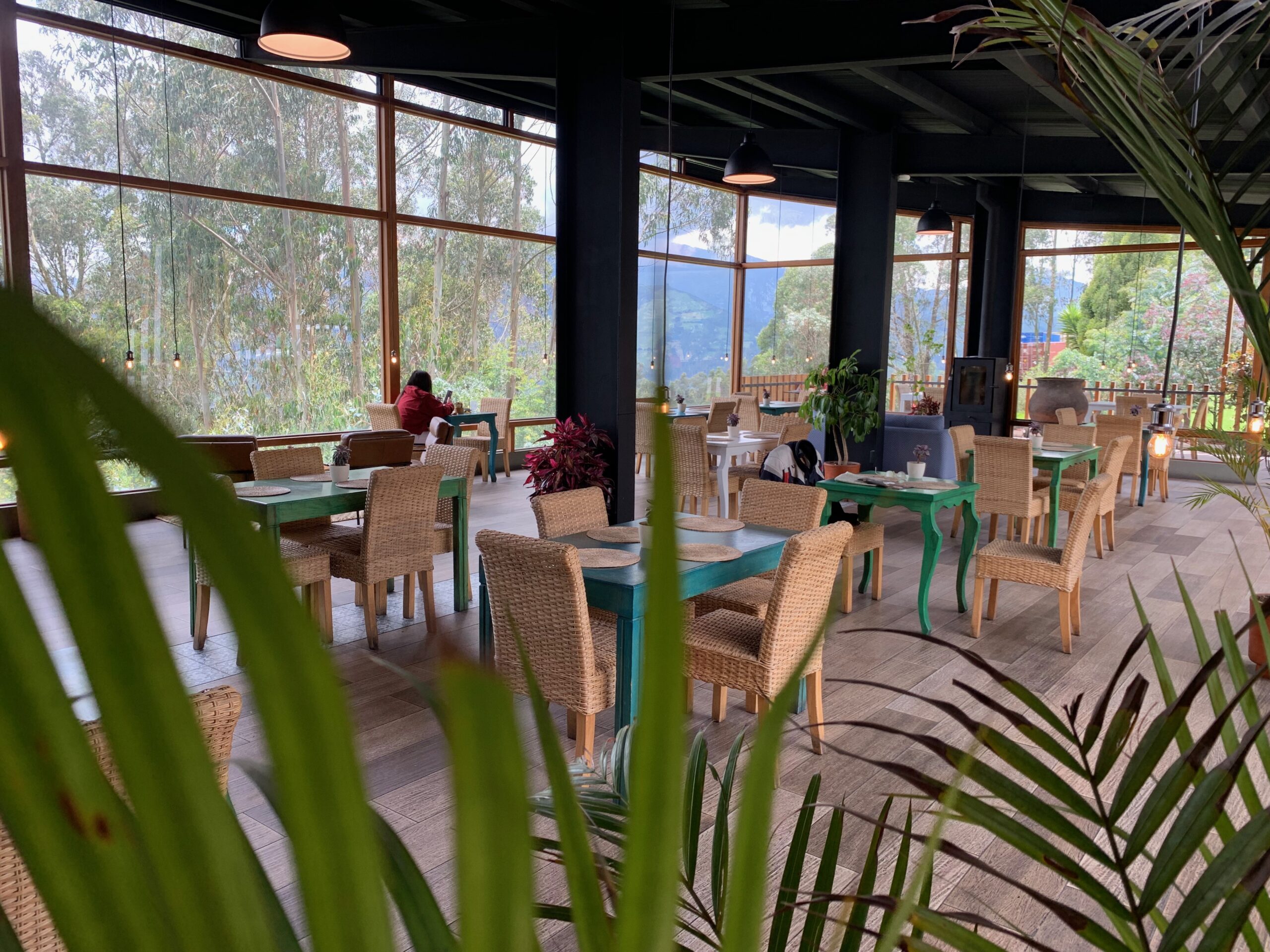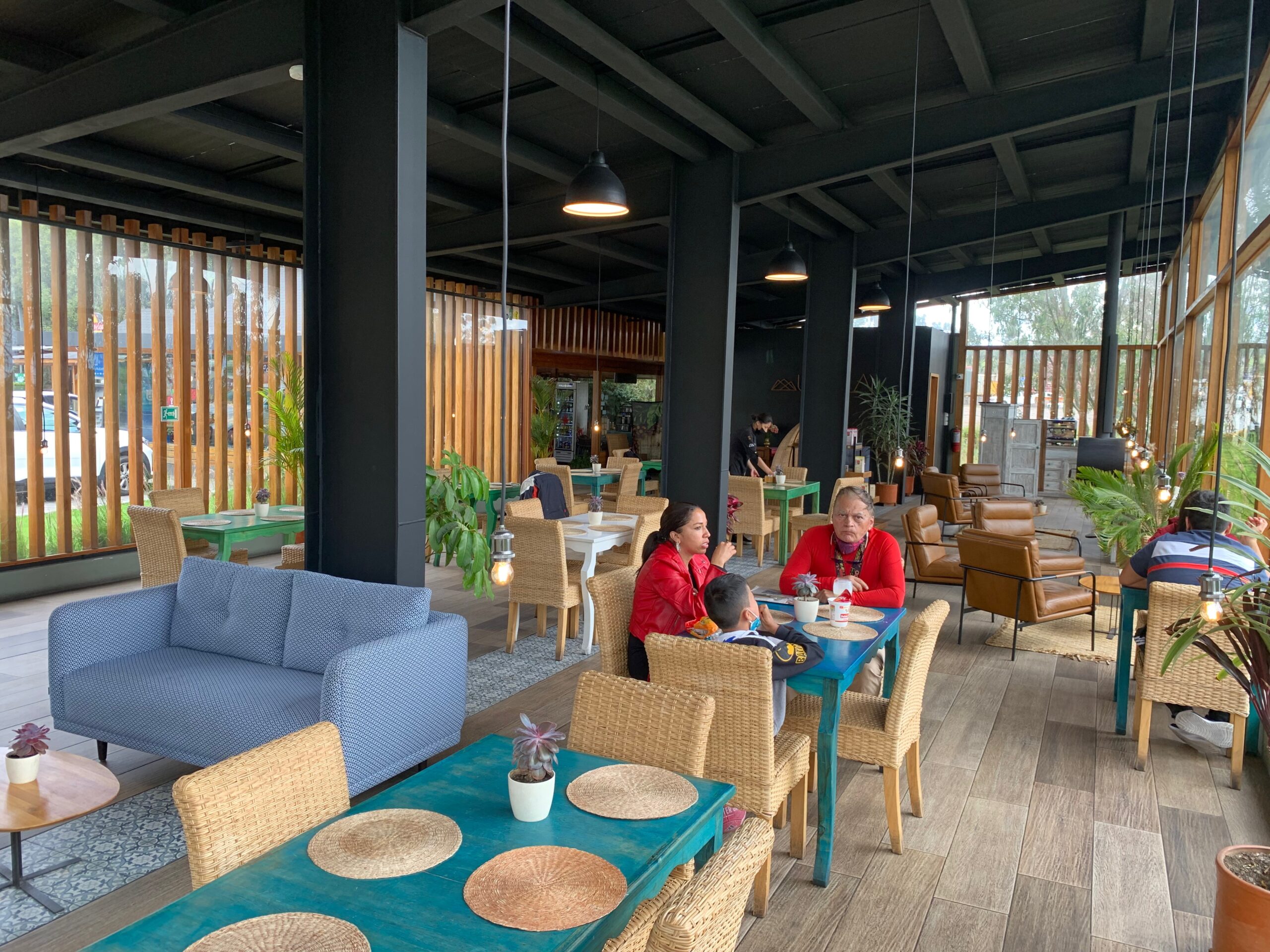 You enter via the usual shop but this one is so far up market, it's almost out of sight. There's a super selection of wines and chocolates and then, the little shop balloons into a fabulous architect-designed, cantilevered rectangular room than overlooks the valley in which, further along the way, Quito itself sits. But for now, the panoramic view through floor to ceiling windows, running the length of one side of the room, is of lush vegetation, eucalyptus trees and, in the distance, that valley with, on the other side, Andean mountains. The room is furnished in a minimalist way, with wicker chairs and wooden, glass top tables painted in an apple-green wash, wood-effect floor tiles and potted plants that help bring the outside inside. There are low tables and Danish-looking chairs if you just want to lounge by that picture window and enjoy the view and a coffee. I installed myself at one of the tables and asked for the menu . . . which only advertised empanadas. Not what you'd expect in such a place but they were delicious and served with the sort of panache — on a rattan place mat, with freshly made blackberry juice and an individual flower — that was worthy of the place itself.
I had to keep reminding myself that I was in a petrol station caff!
In Quito, I headed for the Centro Historico, riding towards the spires of what I assumed was the city's cathedral. It is a strategy that I have found by experience generally brings one to the nicest parts of almost any city and is especially useful when blundering around on a huge motorcycle and not really knowing where you are going. On a narrow street on a hill leading into the Plaza de San Francisco, I noticed a slightly scruffy hotel entrance with a narrow alleyway — somewhere to park the bike, always a major consideration — and so I swung into it. The location was terrific even if the Hotel Boutique Portal de Cantuña didn't look all that promising but how wrong can you be?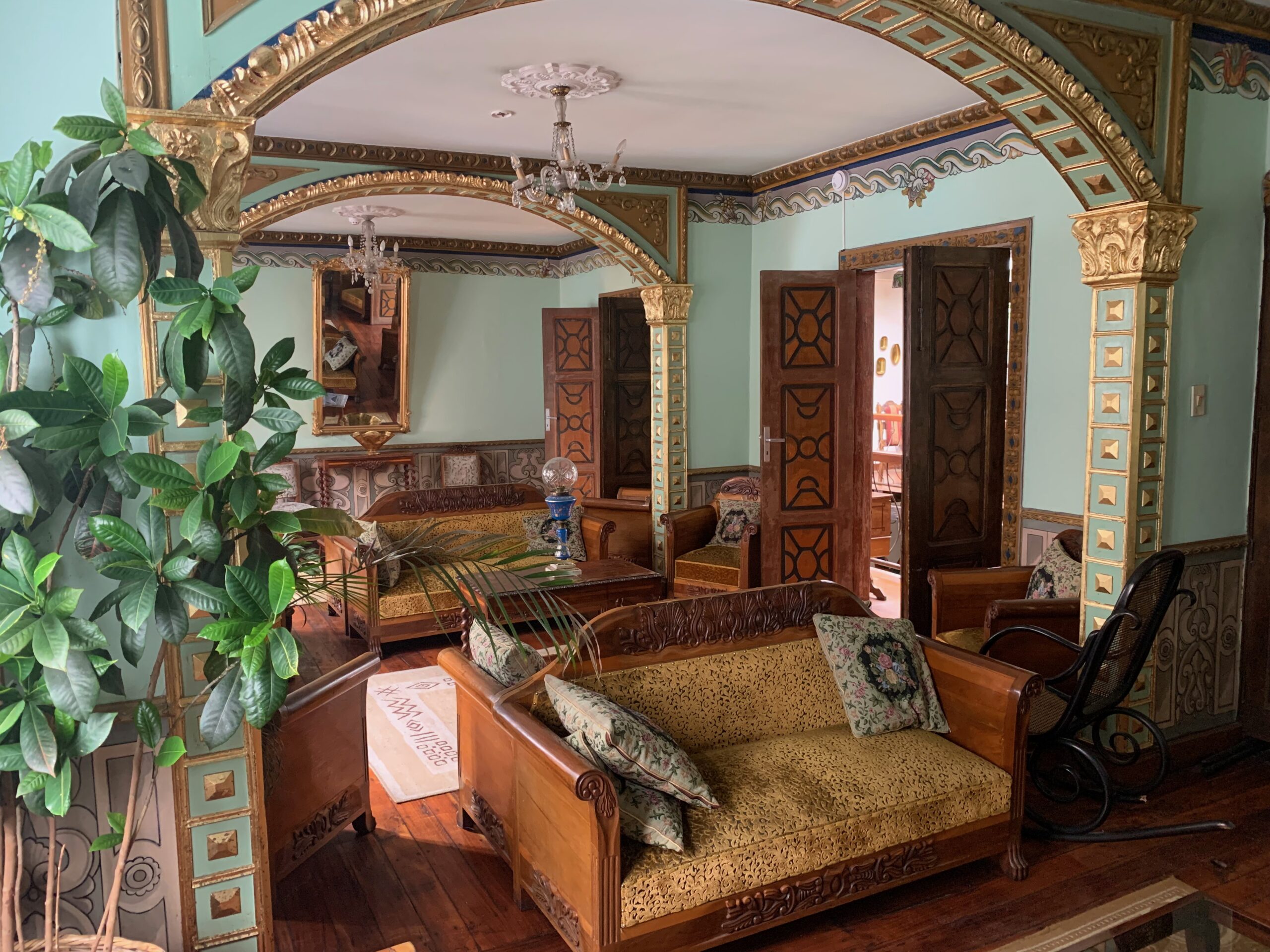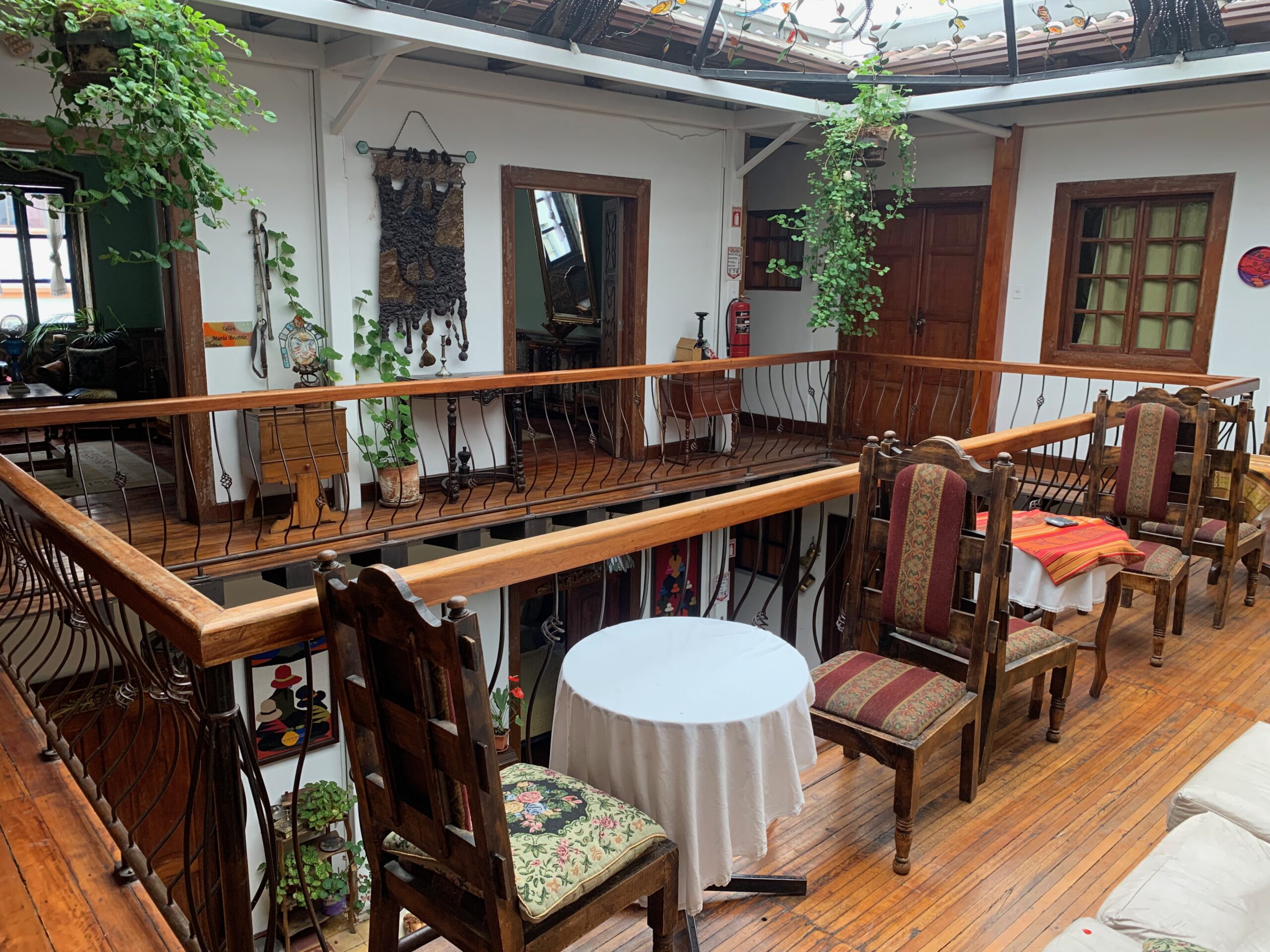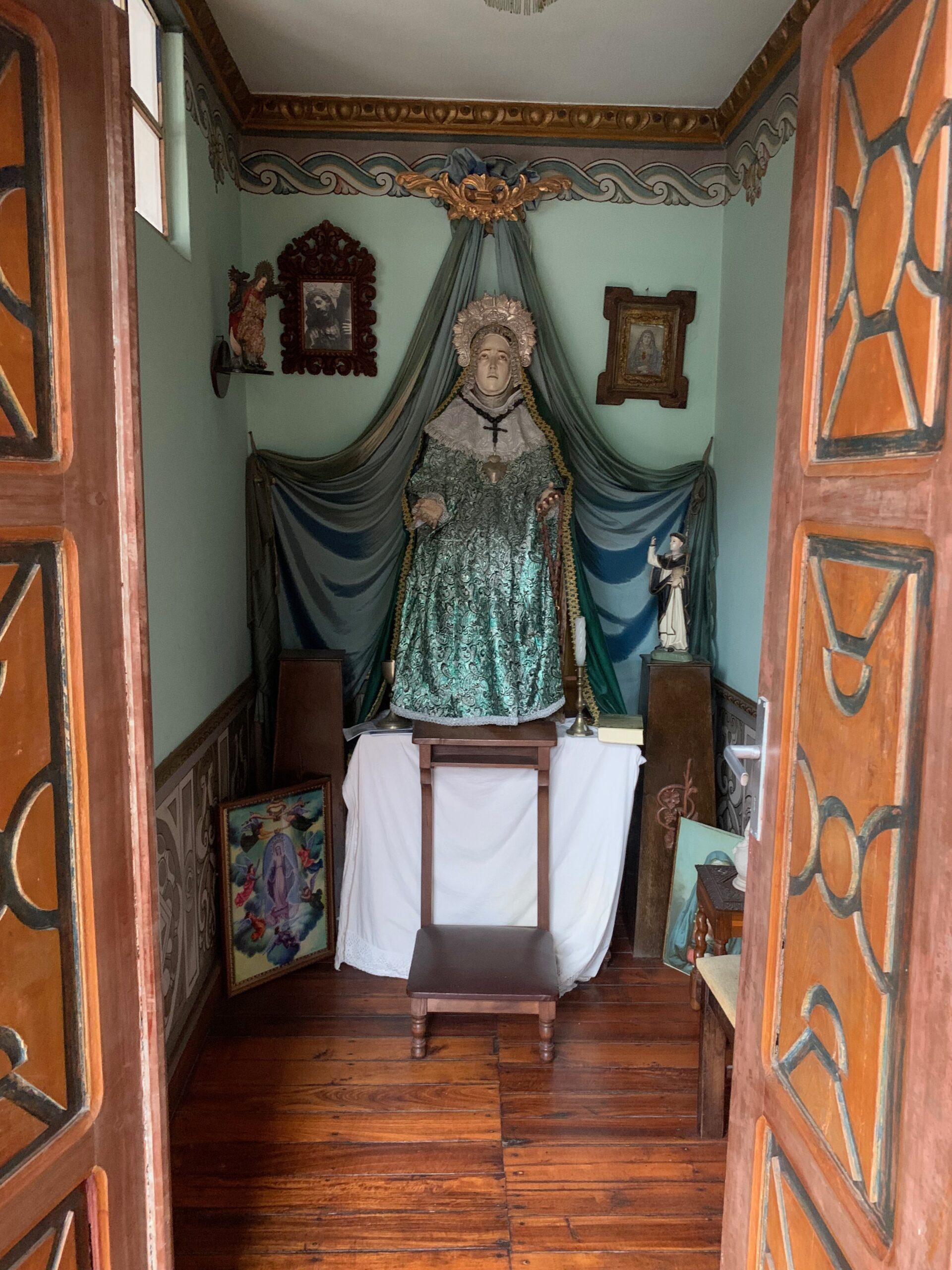 Stairs to the first floor opened into a gorgeous old atrium, with nicely worn old tiles and armchairs that said "flop into me!" There were potted plants, dark wooden furniture, old paintings and bits and pieces and beautifully polished tall wooden doors around the quad leading into other rooms. Looking up, a gallery walkway on the next floor indicated more rooms and, to cap it all, there was a huge skylight dome with a filigree depiction of toucans and parrots and jungle vegetation.
"I am the fourth generation of my family to own this," said Bernardo Sanchez, while relieving me of a paltry $40 for a double bedroom, with bathroom and small anteroom for working.
The place used to be home to monks — hence the cell-like layout of rooms, off both the first floor, with those inviting arm chairs, and also the second floor gallery corridor. Later nuns attached to the nearby convent lived here and after that, it came into the ownership of the Sanchez family. Several of the rooms have been kept as they were when the place was their home — notably a large lounge and an old dining room on the second floor. Slightly weirdly,  they had also kept a tiny room, also on the second floor, with a statue of the Virgin Mary, dressed in a rather fetching, what appeared to be a heavily embroidered ice blue silk gown, and a prayer kneeler. "The church," I was told.
For a real church, one has to go no further on into the plaza and the extraordinary Convento y Iglesia Católica San Francisco that dominates one whole side of the square. It is an astonishing 40,000 square meters in size (the largest such site in all of South America) and is the most important religious complex in all of Ecuador. Building it began just three years after the Spanish founded the city, dating it from the mid-16th to mid-17th centuries. Walking inside the church is to have one of those "knock you off your feet" moments, such is the opulence of the place. If there was a square inch of wall or ceiling that wasn't covered in gold, I missed it. In that, I exaggerate but only slightly. It is truly astonishing and, despite the vulgarity of such opulence and the questions as to where it all came from, it is very, very beautiful.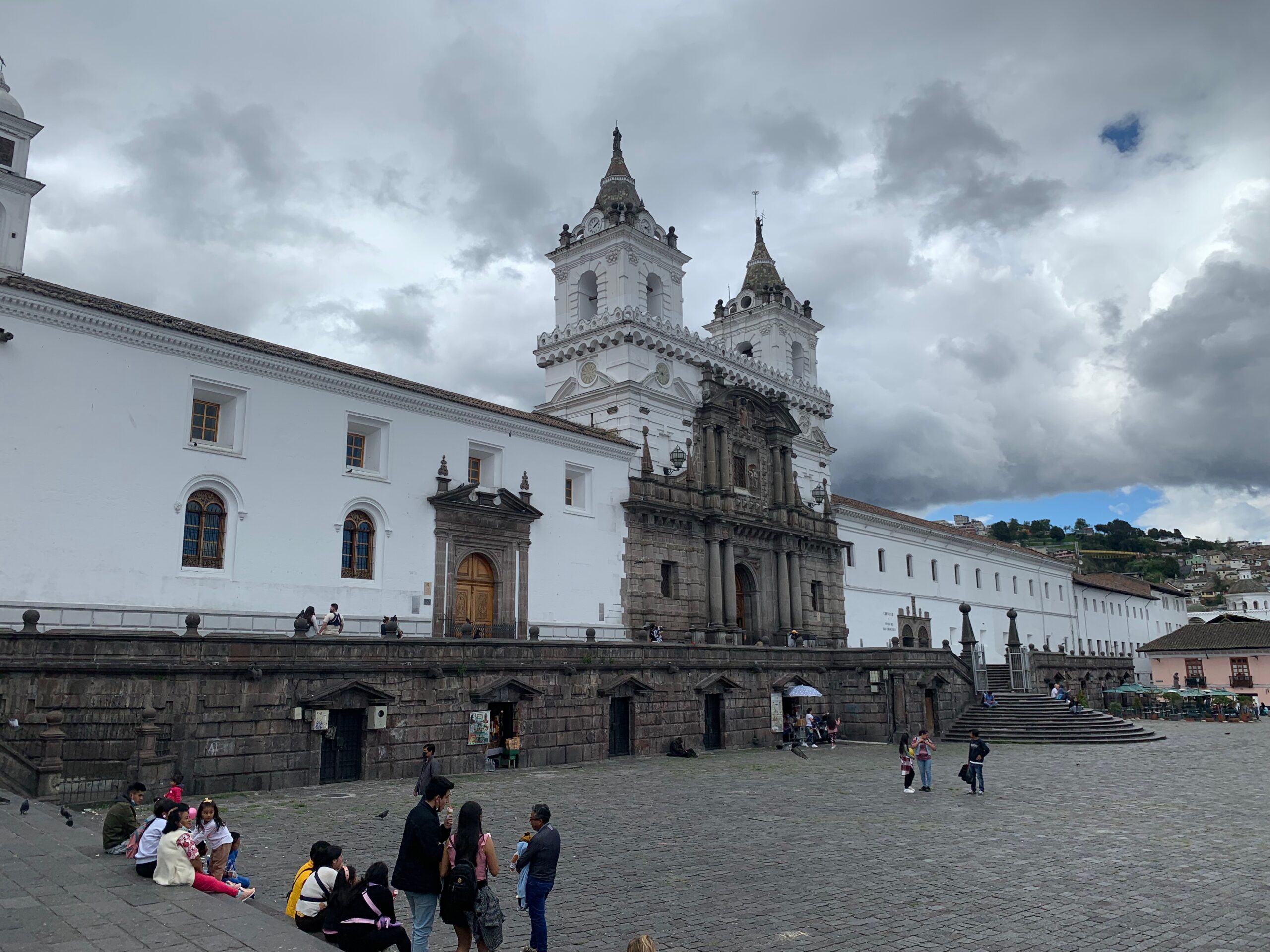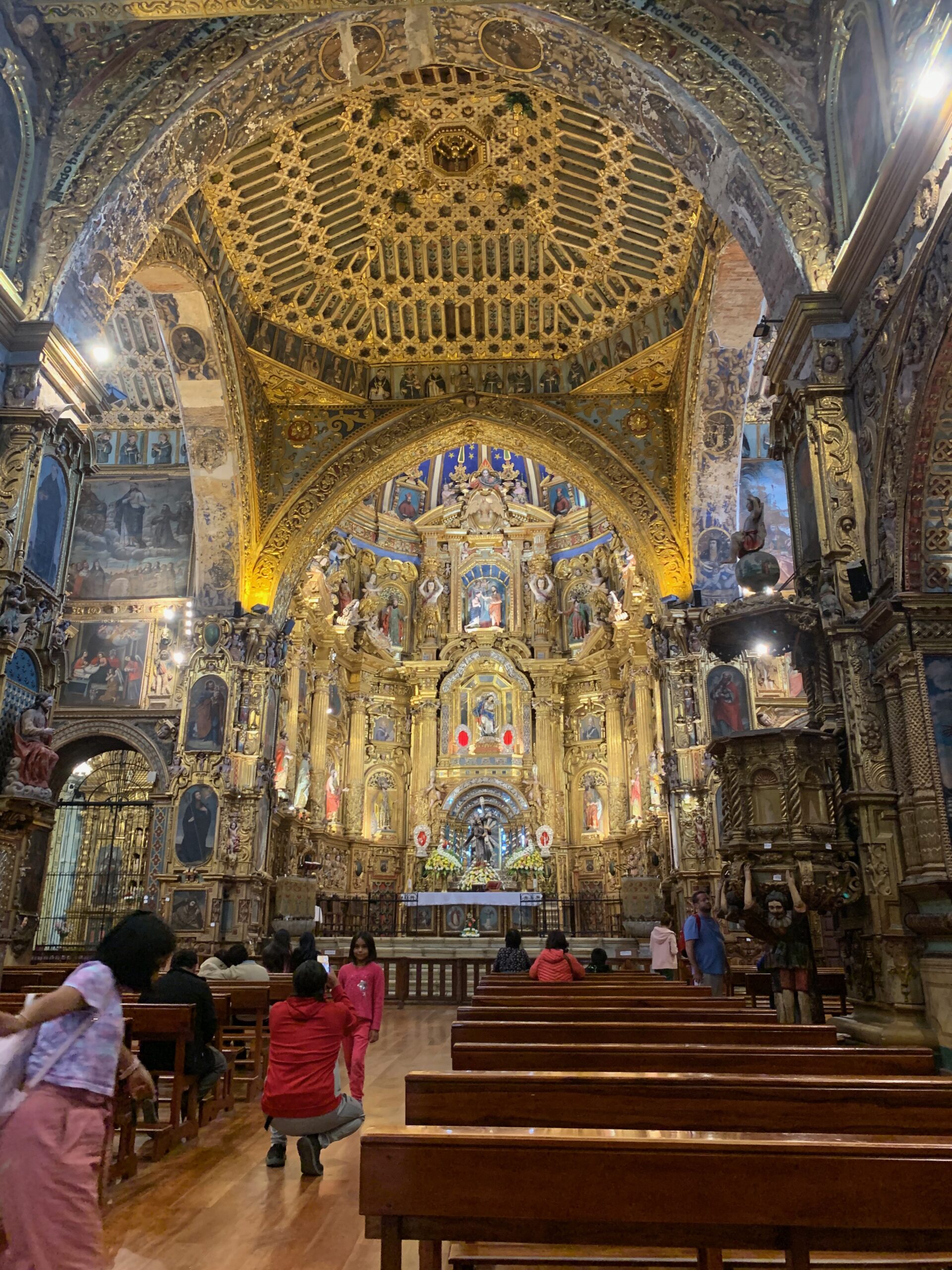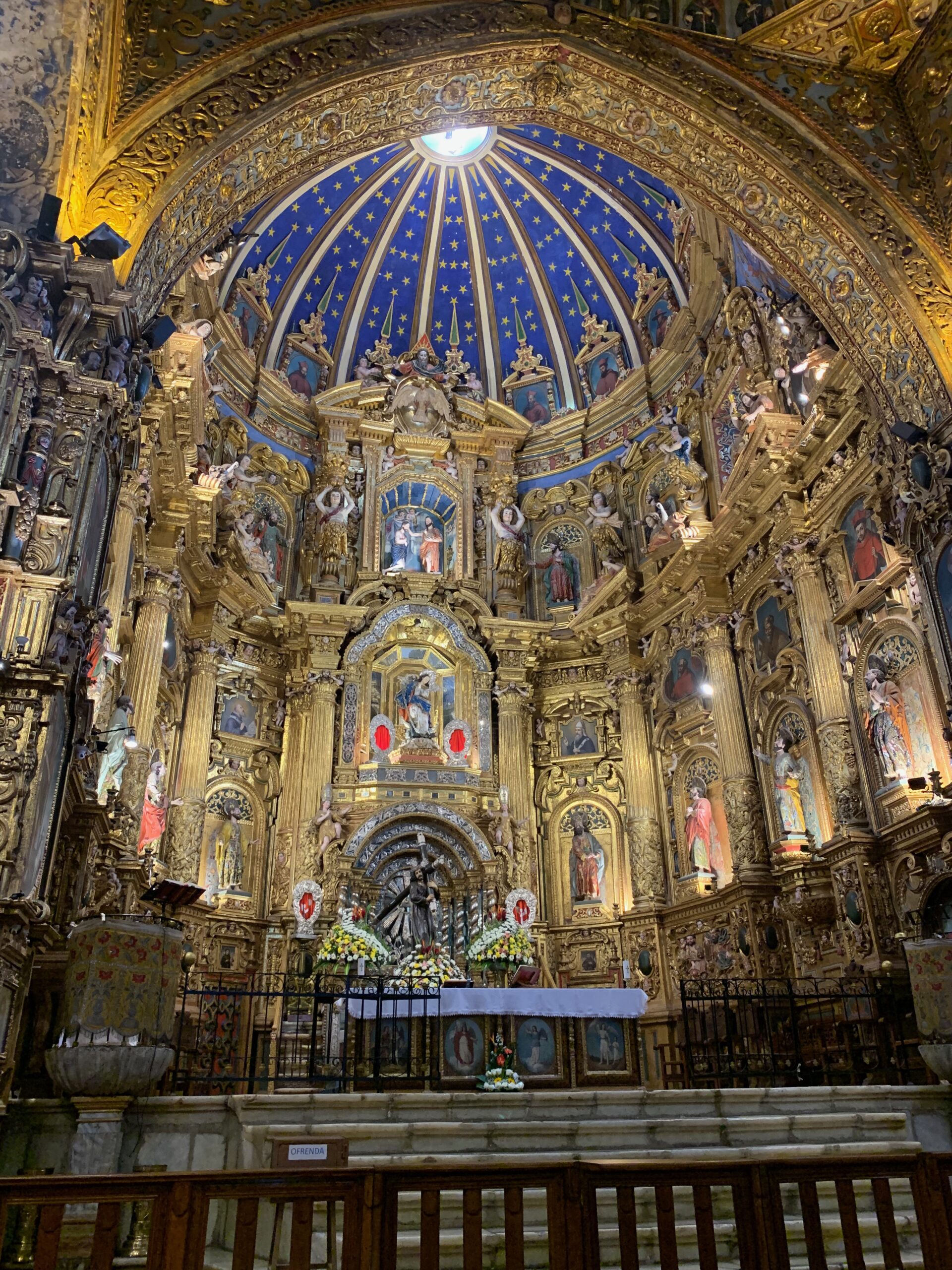 Beside the church, is the convent, now largely a museum. I was told there were perhaps 15 residents left in the whole institution — a place that must surely have housed hundreds in its day. The convent includes a well-manicured, geometric quadrant garden, complete with privet hedging and lawns, flowering geraniums and giant palm trees, and a cloister perfectly engineered so that a whisper to the wall in one corner may be heard by an ear placed on the adjoining wall.
Upstairs, a gallery corridor mirrors the cloister below, with cells, now mostly empty, off it. From here, you may also enter the choir room, with its beautifully carved chorister seating, double organ loft and an elevated view down into the church. The stairway up has what is said to be the largest painting in all of Ecuador — an 18th century genealogical representation of the Franciscans. At the bottom of the tree is St Francis himself and then, above him, like an espalier fruit tree, row upon row of various luminaries of the order — 589 in all. They look, I have to say, strange.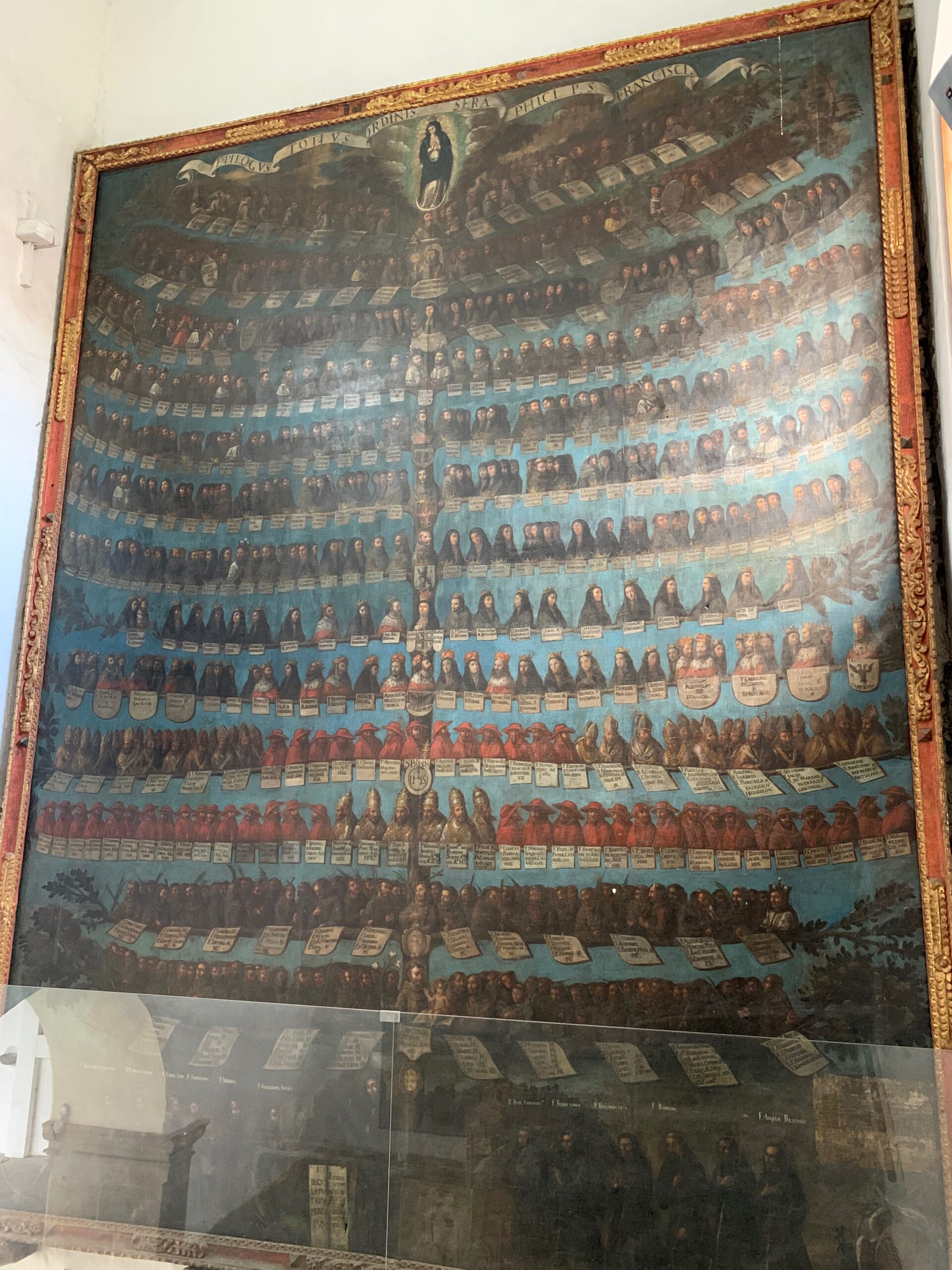 At the top of the bell tower, a young woman and I peer out over the city rooftops. She points to the cathedral, to which I never got, and then the vast complex diagonally across the square — the Jesuits, she said. And then, in the near distance, another vast church, that of Santo Domingo — the Dominicans. Between these three huge, sprawling complexes is essentially the entirety of Quito's historical centre. All the streets running between them, now filled mainly with tourist shops and restaurants were, one imagines, all part of the infrastructure supporting the religious institutions in their heyday.
In Plaza Grande, just a few feet away from where the Jesuits used to dominate, is Plaza Grande — not as grand as San Francisco but a lot prettier and beautifully maintained. A troupe of clowns is entertaining a large crowd on onlookers, adults and children alike, with staged idiocies and death defying antics on unicycles. I sit and watch and have a beer and think what a wonderful place this is . . . and what awful stories must be hidden in the massive, and at times very beautiful structures, all about me.
Next morning, I ride the short distance north of the city to Mitad del Mundo — where the equator slices East/West across Ecuador, marked by a 30m tall obelisk made of volcanic stone holding up a giant stone globe. From the obelisk, there comes a thin yellow line painted onto the ground — the equator itself (hence the name Ecuador) — which you may straddle, one foot in the northern hemisphere, the other in the southern. The yellow line continues on through a complex of (inevitable) souvenir shops and cafes, and into a church, right up to the entrance door. A teenager is delighted with herself when she manages to balance an egg on a nail head hammered in a piece of wood on the yellow line. Its allegedly easier to do this here than anywhere else on the planet because of the supposed strength of the magnetic field at the equator and also the Coriolis force. This, as readers will know, is -2m (w x v'), where w is angular velocity, and both it and v (velocity) = 0. Spoilsports say this is wholly unproven and basically a load of hooey but I daren't tell that to the teenager.